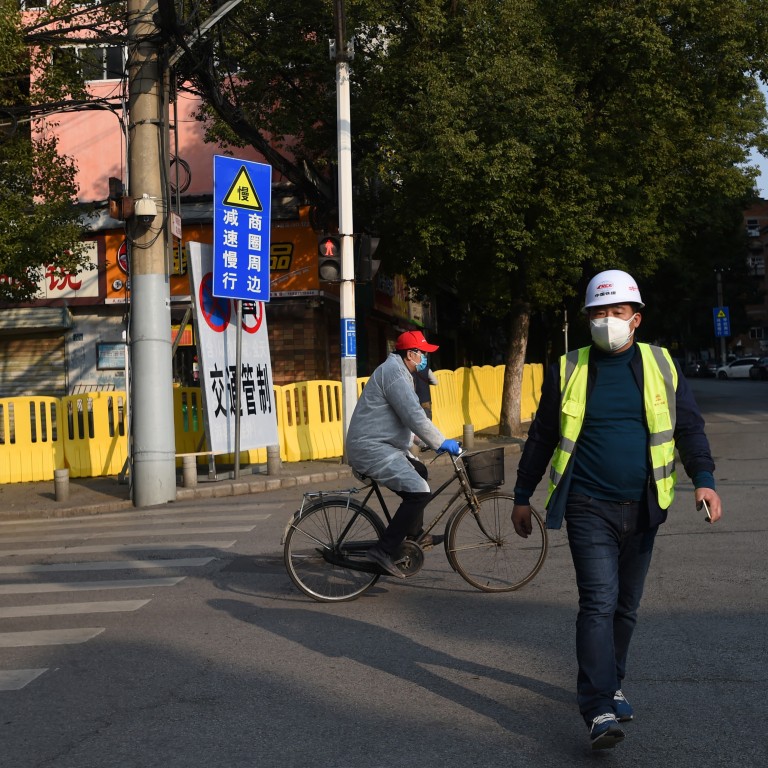 Confusion in Wuhan as move to ease coronavirus lockdown is reversed
Notice saying visitors without symptoms who were trapped in the city could leave is revoked three hours after it is issued
Local government says it was released without approval and those responsible had been reprimanded
Just three hours after announcing that visitors trapped in Wuhan – the Chinese city at the heart of
the coronavirus epidemic
– could leave on Monday, authorities reversed the decision, saying it had been made without approval.
The local government revoked the notice it said had been issued by a subordinate working group from the city's disease control command centre without approval from their superiors.
The centre, headed by Wuhan mayor Zhou Xianwang, said the officials who had issued the order without authorisation had been reprimanded.
"Wuhan resolutely adheres to the spirit of Chinese President Xi [Jinping] … strictly controls every exit from Wuhan and the management of personnel, in order to prevent the spread of the [coronavirus]," it said in a statement retracting the earlier notice.
The retracted order would have allowed non-residents who did not have symptoms of the virus and had not had contact with infected patients to leave the city.
It had also said locals involved in disease control efforts or essential daily services such as utilities and the delivery of necessities, as well as those who needed specialist medical treatment outside Wuhan, could leave without permission.
After a month under lockdown, the confusion added to frustration for people in the city. One resident, surnamed Wang, said he was unhappy that his father, who is from Suizhou in the north of the province, still could not leave the city.
"I thought my father would be able to go back, then the policy was revoked," Wang said. "Now he'll have to stay here for longer."
A traffic control official in the city meanwhile said a lot of people had tried to get out of the city after the initial notice was issued.
"Many cars were queuing at the highway entrance trying to leave Wuhan, but we didn't receive any order from our superiors so we just had to stop them all and ask them to turn back," he said. "This is a big mess."
It was not clear whether Hong Kong residents and foreign nationals would have been allowed to leave the city under the now-retracted notice, which appeared to apply only to Chinese citizens. An estimated
2,000 Hongkongers are stuck in Hubei
, including Wuhan.
A Wuhan official, speaking on condition of anonymity since he was not authorised to talk to the media, said the local government had wanted to signal that the city's situation was improving on Monday, but the decision was rejected because it was not in line with Xi's instructions.
Xi on Sunday said areas that were at lower risk from the epidemic could adjust their prevention and control strategies and move towards getting back to normal. But high-risk places should continue to focus on epidemic prevention and control.
"Obviously Wuhan is classified as a very high-risk area, so relaxing these restrictions is definitely not a priority, and the initial decision was rejected," the Wuhan official said.
According to Taoran Notes, a social media account affiliated with the official Economic Daily newspaper, the earlier notice had been issued by one of Wuhan's five deputy mayors without authorisation, but it did not name the official.
The U-turn drew criticism across the country, including from Hu Xijin, editor-in-chief of state-run nationalist tabloid Global Times, who said it had damaged the local government's credibility
"How is it that the team in charge of Wuhan's traffic control has the guts to issue a notice in the name of Wuhan's anti-coronavirus committee? … If this is really what happened, the internal administration of the committee needs to be strengthened," Hu wrote on Weibo, China's Twitter, referring to the subordinate working group handling traffic during the lockdown.
"More importantly though is Wuhan residents' disbelief of the explanation from authorities … this kind of explanation is far from convincing," he said.
Purchase the China AI Report 2020 brought to you by SCMP Research and enjoy a 20% discount (original price US$400). This 60-page all new intelligence report gives you first-hand insights and analysis into the latest industry developments and intelligence about China AI. Get exclusive access to our webinars for continuous learning, and interact with China AI executives in live Q&A. Offer valid until 31 March 2020.