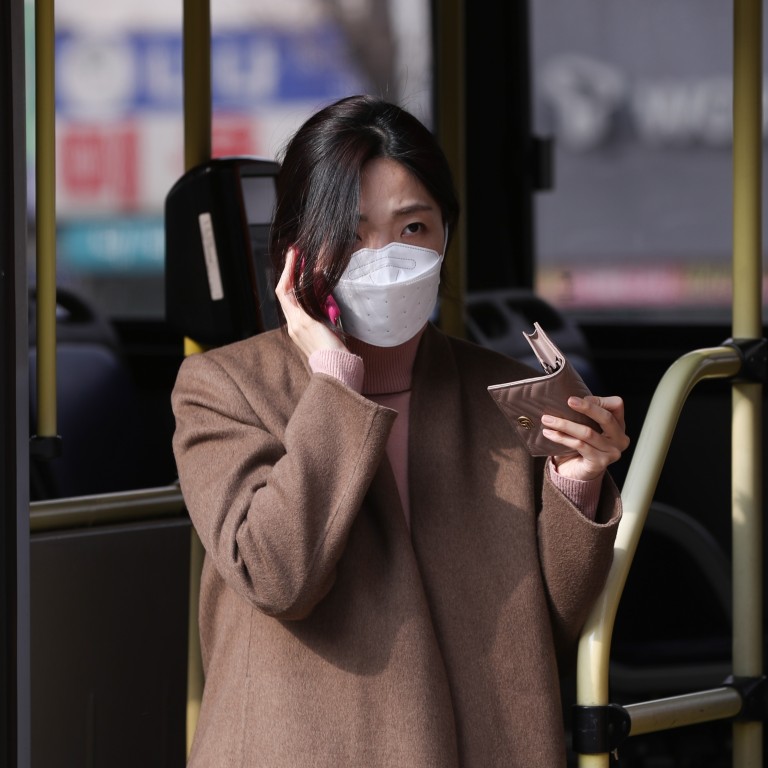 Number of new coronavirus cases reported in South Korea tops China for first time
Seoul reports 505 people were infected with Covid-19 – the largest jump the country has seen in a single day
Leading Chinese respiratory specialist says number of infections could have been greatly reduced if country had acted earlier
The number of daily
coronavirus infections
in South Korea has exceeded those in China for the first time, with 505 new cases on reported on Thursday compared with 433.
In South Korea 171 more cases were recorded on Thursday afternoon in addition to the 334 reported in the morning, bringing its total infections to 1,766, Yonhap News Agency reported.
It was the country's highest number of infections reported in a single day, and a further death raised the country's toll to 13.
Iran, another hotspot, reported 141 confirmed cases and 22 deaths on Thursday.
China's National Health Commission said 409 of its new cases had been reported in Hubei province – the epicentre of the epidemic.
So far, 78,497 people on the Chinese mainland have been infected. There were 29 new deaths reported on Thursday morning, bringing the death toll to 2,744. The commission said a total of 32,495 patients had recovered from the illness.
But the number of new cases outside Hubei rose to 24, up from nine and five cases respectively in the previous two days.
South Korea spread widens
South Korea reported its 13th death from the outbreak, a 74-year-old man who had reported symptoms such as fever and cough on February 20. He died of cardiac arrest in hospital on Thursday morning.
Jung Eun-kyeong, head of the Korean Centres for Disease Control said: "The patient died while waiting for a hospital bed as he was having fever and breathing difficulties"
The South China Morning Post reported that Chinese authorities are screening members of the Shincheonji Church of Jesus in China.
The South Korean military has also reported at least 25 infections, and has confined most troops to their bases.
So far, 13 people have died in South Korea from the fast-spreading virus. Other major provinces and cities have also reported some infections, with the capital Seoul reporting another six cases.
Early action would have limited outbreak
Zhong Nanshan, China's top respiratory disease expert, said the number of patients would have been greatly reduced if China had taken action in early December, or even in early January. China announced human-to-human transmission of the virus on January 20, and Zhong said a delay of just a few more days could have led to well over 100,000 infections.
"There have been three coronavirus outbreaks since the beginning of the 21st century. We should take action to prevent it spreading whenever there is a coronavirus infection case. This is a big lesson for us," Zhong said.
He also called for more authority to be given to the Chinese Centre for Disease Control and Prevention (CDC) and its local branches. Currently CDC branches report to the local authorities who decide what action to take on.
"In other countries, the CDC can report to the central government, and even alert the public directly under 'special circumstances'. Although our expert team announced on January 20 that human to human transmissions had occurred, that (the transmission) was discovered much earlier … nobody paid attention to it," Zhong said.
He said doctors, including Li Wenliang, had raised the alarm in mid to late December but it was not reported to the government until December 30, adding that the local government had not paid attention to the warnings, "or they did not understand what it was. That is why the spread has not been stopped".
Outbreak could be 'under control' by April
Zhong said he was confident the coronavirus outbreak would be "basically under control" in the country by the end of April.
"Although there was a large outbreak in Wuhan, we did not see massive outbreaks in other cities," he said. "We predicted earlier that the peak should take place in mid or late February, due to the strong intervention by the state and the cancellation of travel peaks after the Lunary New Year Holiday.
"It turned out the number of cases began to drop after February 15. Our forecast was similar to some other foreign authoritative experts, and we are confident that the epidemic will be basically under control in April," he said.
Zhong said forecasts by foreign experts – some of whom said more than 160,000 would be infected – did not take into account interventions by the Chinese government. He said an article by his team, which predicted around 70,000 patients, was submitted to an international publication but the paper was not accepted.
China 'must improve' cooperation
Zhong said one infected patient on average infected a further two to three people and that China should improve cooperation and share its experience with other countries, as cases were rising rapidly in countries like South Korea, Italy and Iran.
When asked if foreign cases may be imported into China, he said China must improve cooperation with other countries and share its experience. He also said China should see what it could do to help South Korea, adding that he was willing to join regional forums to share his country's expertise.
First case 'may not have originated in China'
Zhong said even though the outbreaks had started in China, the first case of the coronavirus may not have occurred there.
"When we were making forecasts, we only thought about China and not other countries. But now outbreaks are taking place in other countries.
Though the outbreaks started in China, it does not necessarily mean China was the source," he said.
Zhong said many wild animals could be the carriers of the virus causing Covid-19, not just pangolins. The source of the virus was still unknown, he said.
Iranian vice-president infected
A state-owned newspaper in Iran said Masoumeh Ebtekar, a vice president a spokeswoman for the 1979 hostage-takers at the US embassy in Iran, has been infected.
The report came from the English-language IRAN daily newspaper via its Twitter account.
Ebtekar was known during the hostage crisis as "Mary."
Australia implements emergency response
Australia's Prime Minister Scott Morrison said his country's mainland China travel ban would be extended by at least one more week, as Australia kicked off emergency measures to restrain the spread of the disease.
Morrison said the world would soon enter a coronavirus pandemic and called for action to prevent the spread. "The advice we have received today is … there is every indication that the world will soon enter a pandemic phase of the coronavirus," he told a televised news conference in Canberra.
"As a result we have agreed today and initiated the … coronavirus emergency response plan," he added.
Lancet retracts 'front-line' letter
The Lancet retracted a letter from two Chinese health workers purporting to be on the Wuhan front line, saying the authors had requested that it be withdrawn because it was not a first-hand account.
In the letter, published in the medical journal on February 24, the authors who said they were from Guangdong province described the challenges of working long hours in extreme conditions.
They made an unusual global appeal for help, asking "nurses and medical staff from countries around the world to come to China now, to help us in this battle".
On Wednesday, a medical team sent by Guangdong province to help in Wuhan posted an online statement saying the two were not part of the team and their description of conditions was not accurate. The authors could not immediately be reached for comment.
Viral load remains high weeks after infection
A Hong Kong study of Covid-19 patients found their viral load remained high, up to three weeks after their diagnosis.
The University of Hong Kong (HKU) team analysed the first 23 confirmed cases in the city and found that patients had the highest viral load on their first day of admission to hospital.
Ho Pak-leung, a leading microbiologist at HKU, said the viral load remained high – even after 14 and 21 days of infection – and added that the amount of virus in saliva and sputum was up to 100 million per millilitre.
Beijing cluster reported
Coronavirus infections in Beijing jumped on Wednesday, with 10 new cases reported after days of zero or single-digit cases in the city.
The cluster – nine cleaners and one cook at a government-sponsored institute – were all close contacts of a cleaner who returned to her home in Handan, Hebei province on February 3 and was later confirmed to have been infected.
The first case in the cluster showed symptoms on February 18, and the infection was confirmed on February 24. All of those in the cluster live in a basement dormitory or work nearby.
The institution was not identified by the local authority, which said only that numerous cases had been reported there.
First case of community outbreak in US
The US Centres for Disease Control and Prevention (CDC) statement was released soon after President Donald Trump said in a White House press briefing that he had appointed Vice-President Mike Pence to lead the effort to contain the spread of the illness.
Community transmission – in which multiple cases are detected without any clear source of infection – could significantly weaken the effectiveness of containment measures such as travel restrictions.
China reports first 'imported' case
The risk of the coronavirus being imported to China rose on Wednesday, with the small autonomous region of Ningxia reporting a case of a patient who had travelled from Iran.
Local health authorities in the north-central Chinese region said the patient had worn an N95 mask while travelling from Iran to Moscow on February 19.
He stayed in the Russian capital for 16 hours before boarding another flight to Shanghai.
The patient then travelled by train from Shanghai on February 22, arriving at Lanzhou, in the northwestern province of Gansu, a day later. He took another train and arrived in Zhongwei, Ningxia on February 24. Health authorities said the patient had worn a mask during train journeys.
First province sets back-to-school date
Guizhou province become the first in China to announce a date when pupils could return to school.
The epidemic control command in the southwestern province announced that final-year students would return to the classroom on March 16. It said the date for resuming other classes would depend on how the situation developed.
Saudi Arabia suspends religious visits
Saudi Arabia has temporarily halted religious pilgrimages to Mecca and Medina – the Islamic world's holiest cities which draw millions of people a year – to help prevent the spread of the coronavirus.
The foreign ministry said entry to the kingdom for the purpose of Umrah – the Islamic pilgrimage to Mecca which can be undertaken at any time of year – and visiting the Prophet's Mosque had been temporarily suspended.
Iran has emerged as a major hotspot in the region, where 15 people have succumbed to the disease.
More than 40 countries affected
Greece confirmed its first case on Wednesday, while Finland and Sweden both reported their second cases. All three patients had been to northern Italy. Norway also announced its first case, a patient who had returned from China late last week. Denmark confirmed its first infection, a person who had returned from a skiing holiday in northern Italy.
Separately, Georgia – bordering Russia and Turkey – confirmed its first case, a 50-year-old Georgian national who had arrived from Iran, which has the most fatalities outside China. Pakistan also reported its first two cases of novel coronavirus on Wednesday.
The virus has now spread to six of the seven continents, with Brazil confirming its first case on Wednesday. The patient is a 61-year-old Sao Paulo resident who recently travelled to Lombardy – one of two northern Italian regions at the centre of the outbreak in Europe – for work from February 9 to 21.
North Macedonia also confirmed its first case of coronavirus infection, a Macedonian woman who recently returned home from Italy.
Japanese patients test positive after treatment
A coronavirus patient in Japan who was discharged from hospital after recovery has again tested positive, officials said on Thursday, as the country grappled with rising public unhappiness over the slow pace of virus testing.
The woman, a tour guide in her 40s, had been treated at a hospital in Osaka prefecture and left early in February, NHK reported. She was on a bus carrying tourists from Wuhan, the central Chinese city where the coronavirus outbreak originated last December.
China to take wildlife off the dining table
Chinese authorities plan to outlaw wildlife markets for the purposes of trade and consumption in the fight to curb coronavirus outbreaks, the National Forestry and Grassland Administration, said on Wednesday.
The body, which oversees ecological and wildlife conservation, told a meeting it would comprehensively clean up and regulate wildlife breeding institutions, revoking licences for farms which breed wildlife for consumption and prohibiting the transport and sale of wildlife for eating.
The decision was passed by the standing committee of the National People's Congress on Monday. It required multiple bureaus, including those responsible for forestry, police, market supervision and transport, to inspect wildlife trade markets and restaurants to completely prohibit the consumption of wild animals.
China lodges formal protest over 'racist' article
China would take further action if the US added more restrictions to Chinese news agencies in the US, according to Hua Chunying, the ministry's head of information.
Hua hit back at US Secretary of State Mike Pompeo's remarks that China's expulsion of three Wall Street Journal reporters – in retaliation for the article – was a violation of press freedom.
The newspaper commentary, headlined "China is the real sick man of Asia" triggered condemnation among Chinese officials and the online community.
Additional reporting by Agence France-Presse and Reuters