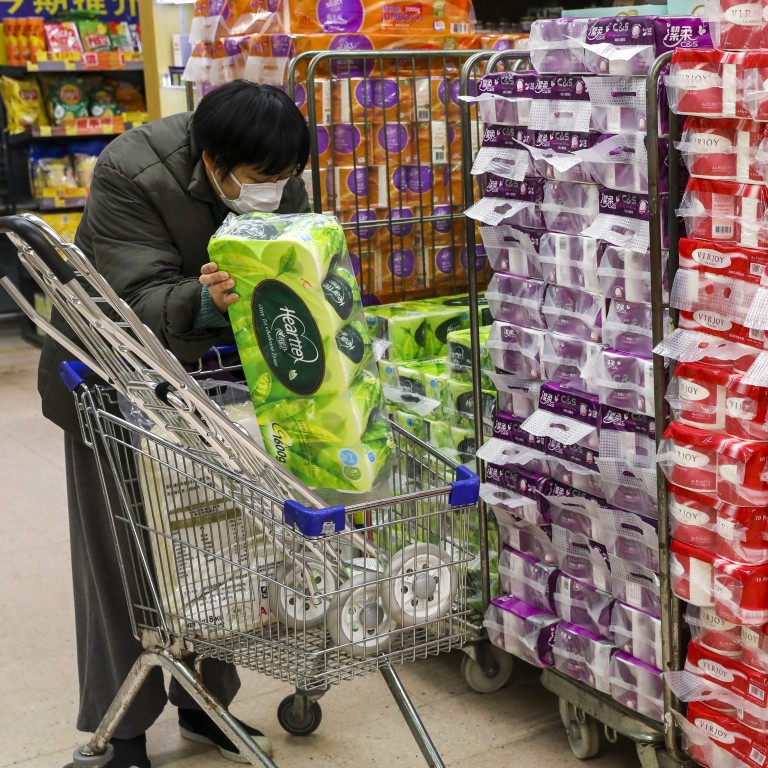 Coronavirus fears prompt panic buying in cities in Europe, Asia, US
Armed group steals toilet rolls from a man in Hong Kong, while shoppers in Singapore and Seoul stock up on vegetables and noodles
Stockpiling of essential items also witnessed in Romania, New Zealand and Hawaii, according to newspaper reports
For a few days earlier this month, it appeared as if parts of Hong Kong, Singapore and
Seoul
were simultaneously struck by a zombie apocalypse as residents spooked by the
coronavirus outbreak
rushed to clear supermarket shelves of everything from fresh vegetables to toilet rolls and instant noodles.
Perplexed at why people were panic buying, Singaporean trade minister Chan Chun Sing accused citizens of the city state of engaging in "monkey see, monkey do behaviour" in a private conversation with businesspeople. A leaked audio clip of his comments went viral.
"You want to stock rice, stock noodle, I can tahan ["live with it" in Malay]. Then why stock toilet paper? If you eat all the rice and instant noodles you confirm [sic] diarrhoea," he said in remarks laced with the city state's famed "Singlish" lingo.
Hong Kong's police were also tut-tutting after armed robbers held a man at knifepoint to steal 50 packs of toilet rolls.
As the Covid-19 outbreak shows signs of making further beachheads around the world, authorities outside Asia – from the US to Europe and the Middle East – could find themselves making similar rants in the days to come.
The number of confirmed cases in Europe exploded from a few dozen through most of February, to 774 as of Thursday, largely due to an outbreak in northern Italy.
While the virus has spread to more than half of EU member states, Italy now has 650 of the total cases, and 17 of the 19 deaths. As the number of confirmed cases spiked, pictures of bare supermarket shelves in the northern city of Milan circulated on social media.
Milan mayor Beppe Sala said on Twitter on Monday that citizens should spend time taking care of the frail and elderly, rather than "rushing to supermarkets to buy food".
Italian Prime Minister Giuseppe Conte appealed for calm, telling the public there would be no shortages.
Panic was a "completely unjustified reaction", he said in an interview with Corriere della Sera on Wednesday. "Food supply will be ensured with appropriate measures especially in the 'cluster' areas," he said.
In the Romanian capital Bucharest, residents this week were not so concerned about toilet rolls; but the Brussels-based EU Observer news portal reported that supermarket shelves were bare as citizens bought "weeks of groceries in one go".
The country has had one confirmed case of the coronavirus that has struck over 85,000 people and caused almost 3,000 deaths.
Local media reported that some shops in towns where the first confirmed cases were reported on Wednesday had run low on stocks.
Health Minister Victor Costache, who said about 1,000 people were in isolation at home, met a national association of retailers to discuss public health measures, and advised people to buy more of their provisions online to avoid gathering at supermarkets.
Bucharest's zombie apocalypse vibes were mirrored thousands of kilometres away in the New Zealand city of Auckland, with The New Zealand Herald reporting that queues were forming at supermarket entrances as early as 7.30am.
In Hawaii's Oahu island – where a Japanese man was holidaying earlier this month before returning home ill with Covid-19 – the local Costco hypermarket was full of customers buying up boxes of canned goods, bottled water, toilet paper and paper towels, the local Khon2 news portal reported.
"It's always a good idea to stock up with things that are protein items, like albacore [longfin tuna], or things that have a shelf life, like black beans," local resident Marlene Nations was quoted as saying. "Yeah this is just an extra precaution but no panic."
In food-crazy Italy, one report said "pasta biscuits and canned goods" were in short supply but fruit and vegetables remained abundant in Milan's supermarkets.
His chief of staff Mick Mulvaney on Friday said his response to a question on calming jittery Wall Street – which suffered its worst week since the financial crisis – was for Americans "to turn their televisions off for 24 hours".
But stockpiling food and drugs before a pandemic is actually recommended by the US Department of Homeland Security, which advises homes to maintain a two-week supply of food and water, and a stock of medicines such as pain killers and cold remedies. But its message is to prepare, not panic.