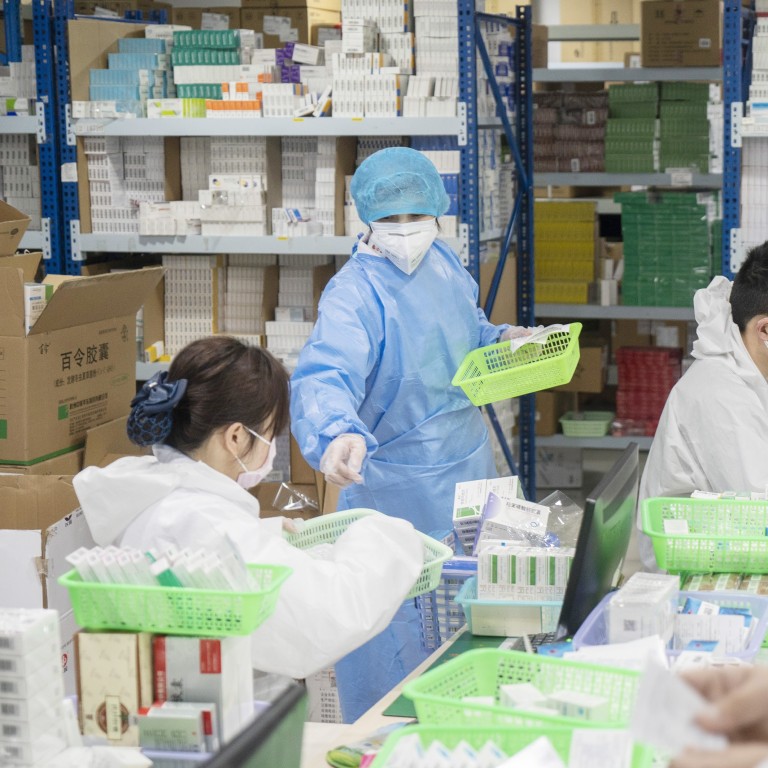 Coronavirus could cause global medicine shortages as China's factory closures hit supply chains
Factory activity in China – the top producer of active pharmaceutical ingredients – hit all-time low in February after measures to halt outbreak
US and Europe monitoring short-term delay to supplies, with antibiotics, diabetes medications, HIV drugs and ibuprofen among those heavily reliant on China
China's efforts to contain the
coronavirus
by initially shutting down factories and keeping workforces at home could have global ramifications for public health around the world, including regarding diabetes, blood pressure, headaches and fevers.
As the world's top producer of active pharmaceutical ingredients, including the ones used to manage those conditions, China's disrupted factory output has the potential to upset global supply chains, and regulators have been watching with concern.
The United States' Food and Drug Administration (FDA) last Thursday announced that one drug was already in short supply after production of its active pharmaceutical ingredient was affected by the coronavirus. It declined to name the drug or say where it was made.
"The FDA has been closely monitoring the supply chain with the expectation that the Covid-19 outbreak would probably impact the medical product supply chain, including potential disruptions to supply or shortages of critical medical products in the US," FDA commissioner Stephen Hahn said, adding that the administration had identified 20 drugs with active ingredients sourced solely from China.
Europe has been bracing for a similar impact. The European Union's European Medicines Agency said last Thursday it was "analysing and monitoring" the potential impact of the outbreak on pharmaceutical supply chains into the EU, although it had yet to receive any reports of supply disruptions.
Antibiotics, blood pressure and diabetes medications, antiretroviral treatments for HIV and Aids, common household products such as the pain and fever reducer ibuprofen, and the steroid hydrocortisone all fall within China's sprawling industrial production of generic drugs and their active ingredients.
Those ingredients, which in most cases are no longer under patent, had a combined export value of over US$30 billion in 2018, according to the latest figures from the China Chamber of Commerce for Import and Export of Medicines and Health Products.
Eighty per cent of the active pharmaceutical ingredients in the United States are imported, with the majority coming from China and India.
Last year, the proportion of US imports of medicines that came from China included 95 per cent of ibuprofen, 91 per cent of hydrocortisone, 70 per cent of paracetamol, 40 to 45 per cent of penicillin and 40 per cent of heparin, according to data from the US Commerce Department.
Tracking which of those ingredients are used in generic medicines stocked in pharmacies and hospitals around the world is not straightforward, according to Michael Osterholm, director of the Centre for Infectious Disease Research and Policy at the University of Minnesota, because ingredients are often shipped from China to drug manufacturers in India before heading elsewhere in the world.
But knowing exactly which products may be vulnerable is critical to ensuring supplies, he said.
"In an outbreak, sometimes some of the worst suffering can come from the collateral damage as we try to contain it," said Osterholm, who leads a research project that has been combing through shipping and licensing records and working with industry and international groups to gather more information on the supply chains.
"The drug supply situation is emblematic of a lot of issues in manufacturing: there was an explosion of offshoring of manufacturing to China, but we didn't understand the strategic risk involved for a lot of these very important products."
Reliance on China for pharmaceutical ingredients has made US lawmakers uneasy, with China and the US also engaged in a prolonged trade and strategic rivalry. The subject prompted a hearing of Congress' United States-China Economic and Security Review Commission last summer, and was included in the commission's annual report last November.
Those concerns have been thrown back into the spotlight by the coronavirus.
China has taken sweeping measures since late January to control the outbreak. Beijing extended the Lunar New Year holiday for a week, with several provinces announcing further extensions until mid-February.
On Saturday, China announced that its manufacturing purchasing managers' index – a measure of factory activity – had in February
slowed to an all-time low
. The previous low had come during the global financial crisis in November 2008.
Pharmaceutical manufacturing was also in contraction, according to Xinhua, the state news agency.
China's factories were struggling to restart production lines after the extended holidays, with some travel restrictions and other control measures remaining in place, making it difficult for workers to return to work and necessary supplies to be delivered.
Over 90 per cent of state-owned enterprises had resumed production,
the body overseeing them said on Saturday
. However, Zhang Kejian, China's deputy minister of industry and information technology, said only 43 per cent of small and medium-sized manufacturing firms had resumed normal operations.
If production in pharmaceutical factories can be boosted quickly, there may be only limited impact on global supply chains, according to Xiaoqing Boynton, vice-president of Washington-based business strategy firm Albright Stonebridge Group, who advises foreign companies on China's health care industry.
"With factory and city shutdowns, in the short term it's manageable, but in the medium to long term there will be an impact, and raise the question of whether there is a need for companies to shift supply chains," she said.
For now, a short-term impact seems most likely, with pharmaceutical supply chains making up for missed production time, according to industry observers.
"Clearly there are some shortages, but there's no reason to believe that by the end of the next month there wouldn't be a catch-up in production," said Helen Chen, China managing partner of consulting firm L.E.K., adding that although Wuhan is a major drug production area, the industry is spread around China.
Jia Xu, PwC China's lead consulting partner of pharma and health care, agreed that the impact of disruptions to the domestic market and global supply of medicines "will relieve as China resumes production as soon as possible".
"At present, China's competitive advantage remains strong," she said in a speech on Sunday. "The production of bulk active pharmaceutical ingredients, in particular, is not easily replaced by other countries."
But for US companies, Washington's concerns may now resonate more strongly.
"The outbreak really sheds some more light on how fragile and interdependent we are in our global supply chain," Boynton said. "For a lot of companies, the factory shutdowns really bring this point home."
Purchase the China AI Report 2020 brought to you by SCMP Research and enjoy a 20% discount (original price US$400). This 60-page all new intelligence report gives you first-hand insights and analysis into the latest industry developments and intelligence about China AI. Get exclusive access to our webinars for continuous learning, and interact with China AI executives in live Q&A. Offer valid until 31 March 2020.
This article appeared in the South China Morning Post print edition as: Drug disruption risks having global outcome