China may have 'no new coronavirus cases' outside Hubei epicentre by mid-March
As new infections continue to decline, senior researcher working to control epidemic predicts situation could improve in Wuhan by end of month
But death of 36-year-old man after he was discharged from hospital raises concern over whether patients are being released too soon
A senior researcher involved in efforts to contain the coronavirus epidemic is predicting there may be no more new cases in mainland China, except for the Hubei province epicentre, by mid-March, but the
death of a patient after being discharged from hospital
has added a worrying new aspect to the spread of Covid-19.
Zhang Boli, one of 14 members on a research team working to control the outbreak, had an optimistic outlook, as new infections in mainland China continued to decline on Thursday.
"We have analysed the infections trend. So far, the daily infections in places other than Hubei have almost gone down to zero since late February," Zhang told the official People's Daily.
"According to our analysis of the statistics, we expect cities other than Wuhan in Hubei province will be basically free of [new] coronavirus patients in the middle of March. The hope is that Wuhan won't have daily new cases in late March."
Zhang, who is also director of the Tianjin University of Traditional Chinese Medicine, said people in other parts of China might be able to remove their masks in April, but that did not mean the coronavirus would be completely gone and there could still be cases, including among people arriving from overseas.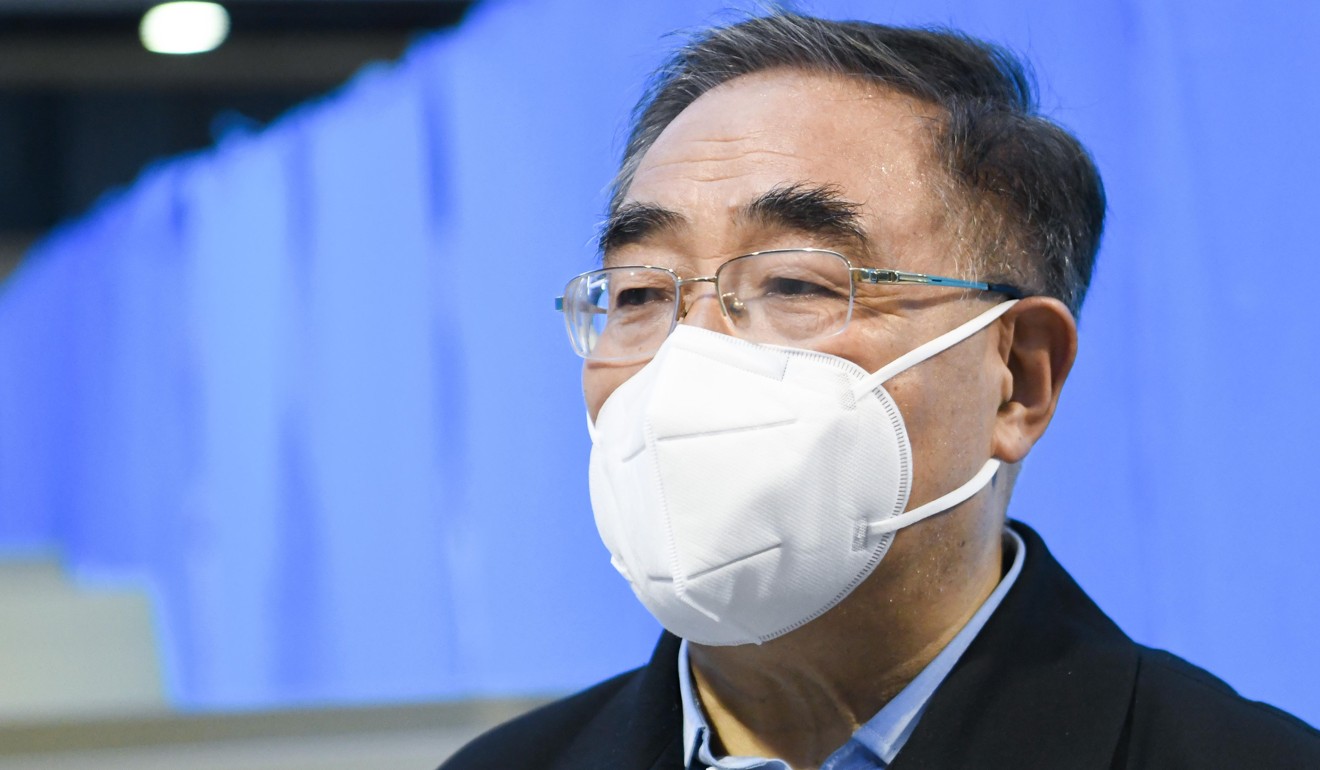 China's National Health Commission reported 139 new cases on Thursday, up from 119 a day earlier, and 31 new deaths. Of the new infections, 134 were in Hubei and 131 in Wuhan.
In a reflection of the worsening situation outside China, Germany reported 109 new cases, bringing the total to 349. In
Iran
, 107 people were reported dead and 3,153 infected. And a woman in Switzerland died after contracting the virus, the country's first death from the outbreak.
Despite the progress made by China, the death of a 36-year-old man from respiratory failure in Wuhan – five days after he was discharged from hospital, having "recovered" – raised new concerns as to whether patients were being released prematurely.
Li Liang's death certificate issued by the Wuhan health commission said the direct cause was Covid-19, and listed respiratory blockage and failure as the symptoms that could have led to his death.
He was admitted to the Hanyang Fangcang Hospital – one of 16 makeshift facilities
built to treat patients with mild symptoms
– with fever in early February. Li was discharged on February 26, with the hospital saying his temperature was normal for three days and two nucleic acid tests were negative, though a CAT scan three days earlier still showed signs of pneumonia,
Caixin
reported.
Li was told to stay in quarantine at a hotel for 14 days after he left hospital, but on March 2 he told his wife he felt ill and he was taken to a hospital where he died that afternoon.
Li's wife, who identified herself as Wang Mei, confirmed the details to the South China Morning Post.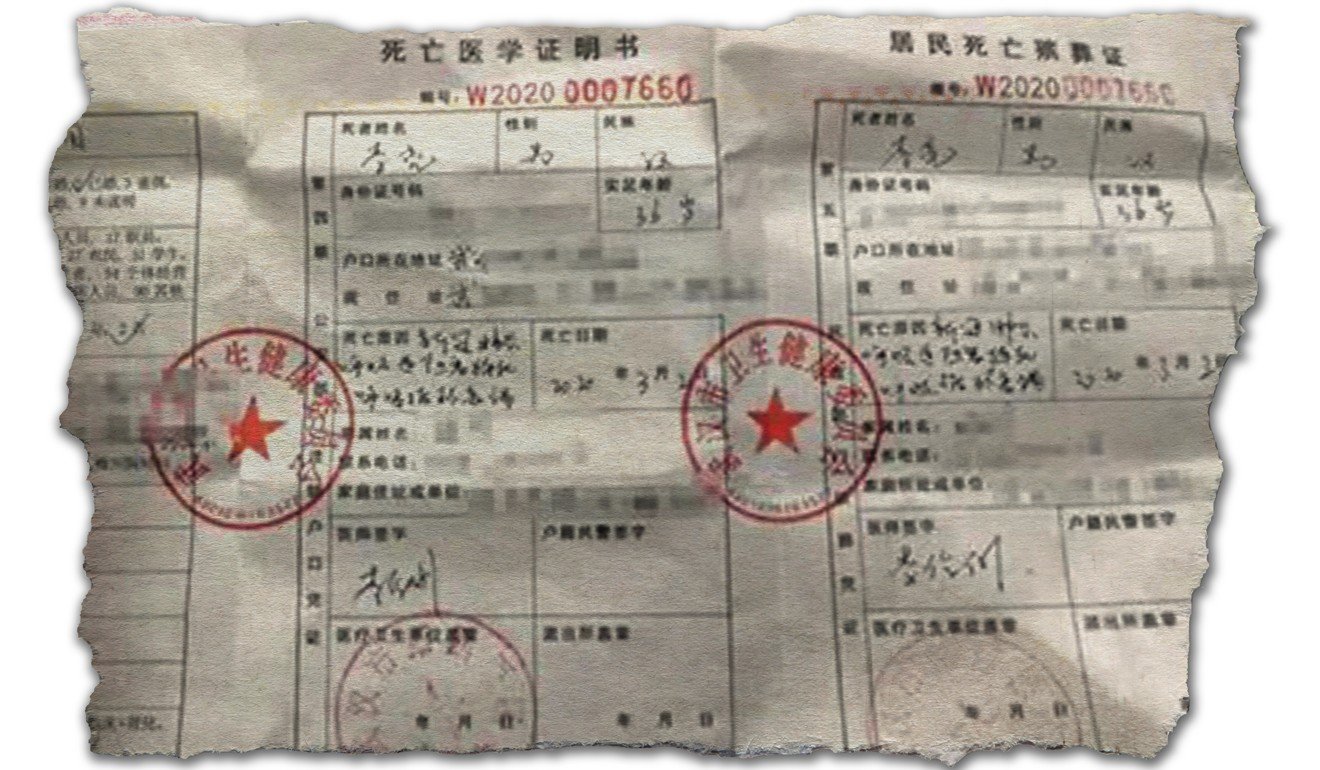 Yang Xinghai, head of the Hanyang Fangcang Hospital, told Caixin that its discharge criteria were stricter than the National Health Commission guidelines, but the city's makeshift facilities had been told not to discharge patients after Li's death.
"This is not us saying we won't discharge patients – it was an order from the authorities, and we're not the only place [doing it]," he said.
Shanghai-based news portal Thepaper.cn reported that another of the temporary facilities for coronavirus patients, Jiangan Fangcang Hospital, had issued an emergency notice on Wednesday saying more discharged patients had been readmitted after they fell ill again. The hospital said it would conduct antibody tests on all patients before they were discharged from Thursday to make sure they had fully recovered.
On Monday, Wuhan closed the first of its makeshift hospitals after discharging the last 34 of its patients.
According to an expert from the Centre for Disease Control and Prevention in Xiaogan, a city near Wuhan, Li could have been discharged prematurely.
"The testing kits are not sensitive enough so it's best to conduct three throat swab tests – one more than is the current practice – as well as an anal swab to determine whether a patient has recovered or not," said the expert, who did not want to be identified.
"But now there are too many patients waiting to be discharged, so there's not enough time and doctors to perform all these tests, meaning some patients may be discharged before they've fully recovered."
Jeremy Rossman, a lecturer in virology from the University of Kent in Britain, said it was difficult to make an assessment on the case without full information.
"It is possible that these discharge criteria are not stringent enough and more negative viral tests are needed over a longer period of time. It is possible that when the virus is at very low levels in the body it is not being accurately detected and so it might be missed on two tests and identified on a third," Rossman said. "This is not a failing of the test, it just can be very hard to detect low levels of a virus in the body."
He added that it might be useful to repeat virus testing a week or two after discharge.
David Hui Shu-cheong, a respiratory medicine expert at the Chinese University of Hong Kong, said there could have been a problem with the specimen.
"Maybe the patient did not cough up a good quality specimen. I think most likely that would be the case," Hui said. "We haven't seen anyone discharged in Hong Kong return with any problem."
Isabella Eckerle, an infectious disease specialist at the University of Geneva, said recurring symptoms after a negative test could also be the result of co-infections.
"There is now data that Covid-19 can also be associated with other viral infections and that patients can then be tested positive for two viruses, for example. The test for Sars-CoV-2 would still be positive due to the remaining genetic information, but the symptoms come from a new, different disease," Eckerle said.
There is no official data in Wuhan on the percentage of patients who have fallen ill again after being discharged from hospital. But in Guangdong 14 per cent of patients have tested positive days after they left hospital, according to the provincial Centre for Disease Control and Prevention.
Additional reporting by Phoebe Zhang
Purchase the China AI Report 2020 brought to you by SCMP Research and enjoy a 20% discount (original price US$400). This 60-page all new intelligence report gives you first-hand insights and analysis into the latest industry developments and intelligence about China AI. Get exclusive access to our webinars for continuous learning, and interact with China AI executives in live Q&A. Offer valid until 31 March 2020.