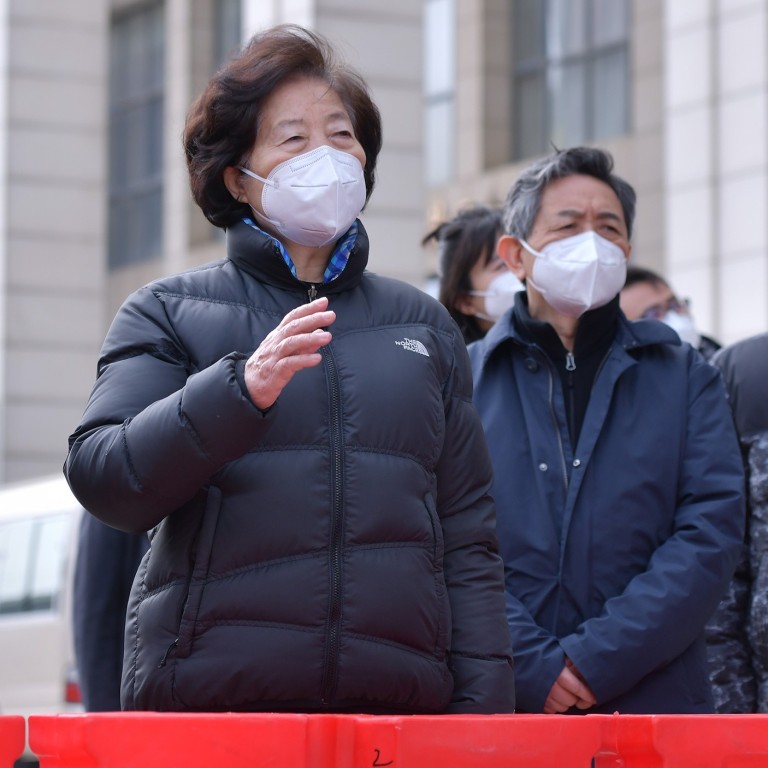 'It's all fake!' Angry residents shout at Chinese vice-premier in coronavirus-hit Wuhan
As Sun Chunlan walks through locked down estate, locals yell out that it was cleaned up and grocery deliveries arranged in time for her visit
She had been inspecting the distribution of necessities to households and afterwards told officials to face up to the real problems
A visit by a senior Chinese official to a community in Wuhan – ground zero of
the coronavirus epidemic
which remains in lockdown – was disrupted by angry residents shouting at her that what she was seeing was staged.
"It's all fake!" a handful of locals yelled from their apartment windows at Vice-Premier Sun Chunlan and her entourage as they visited the Kaiyuan Gongguan estate on Thursday morning, according to videos of the dramatic scene posted on social media.
But as she walked through the grounds of the complex, residents protested, saying the management company responsible for the estate had quickly cleaned up before she came and arranged for fake volunteers to deliver groceries to its locked down households, according to Taoran Notes, a social media account linked to the official Economic Daily.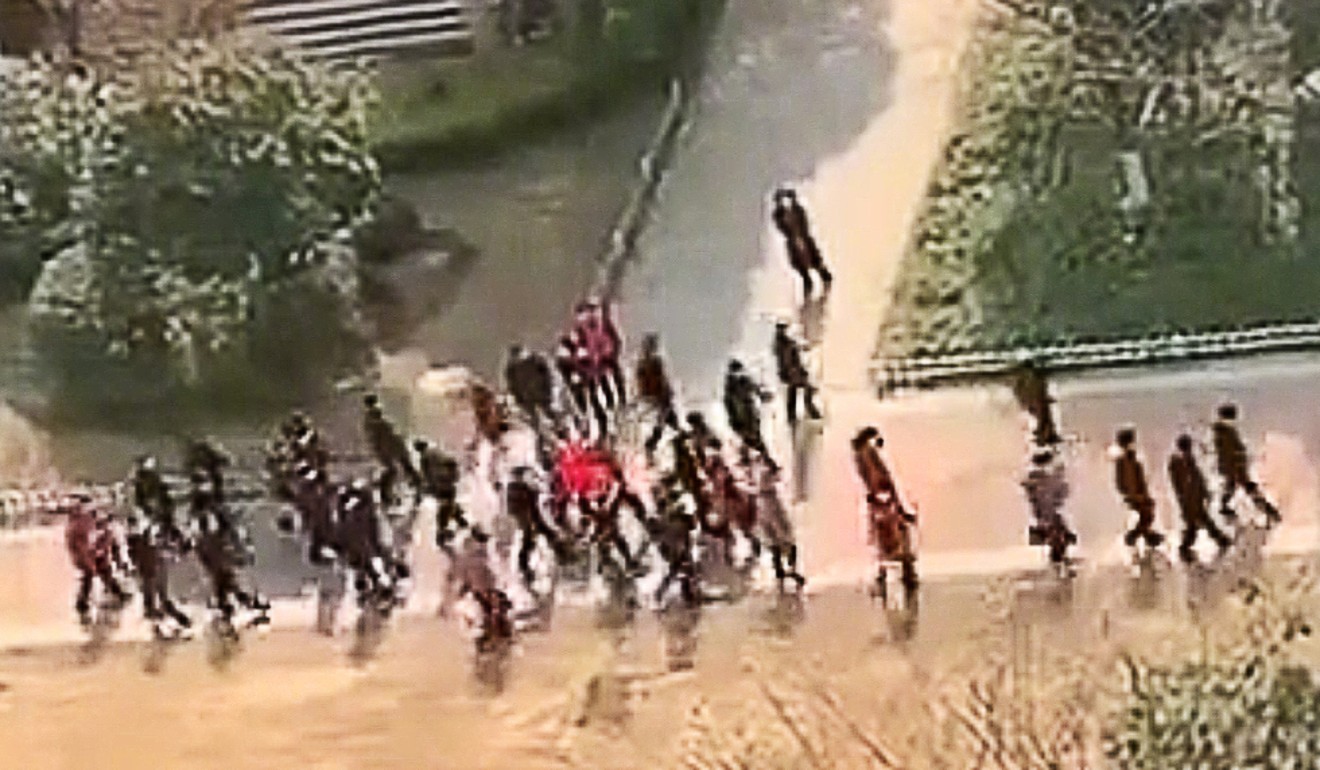 The episode has been much discussed online and, unusually, it was also covered by Chinese state media – including Communist Party mouthpiece People's Daily, which ran a commentary slamming the estate manager for trying to deceive the visiting officials.
Wuhan, a city of 11 million people where the new virus strain first emerged in December, has been in lockdown since January 23 in a bid to limit the spread of the disease. All residents have been barred from leaving the city since then, and from February 10, with some exceptions, they have had to get approval to even leave their homes. Other cities in Hubei province, where Wuhan is located, have also been locked down in an unprecedented mass quarantine effort.
Vice-Premier Sun had been inspecting the distribution of daily necessities to residents at the estate in Wuhan when she was heckled. Afterwards, she told local officials to face up to the real problems and do away with bureaucratic formalities, according to official news agency Xinhua.
Zhu Lijia, a professor at the government-affiliated Chinese Academy of Governance, said there was a general agreement in Beijing to put an end to staged inspections by politicians.
"There is a wide consensus to chip away at such bureaucratic formalities," Zhu said. "But it has been the practice for a long time, and getting rid of it will be a long-term task."
Inspections of factories and neighbourhoods by senior Chinese officials have long been criticised as staged and an ineffective way to gather information on the ground.
Beijing has allowed more public criticism of such inspections in recent years, as President Xi Jinping has repeatedly vowed to get rid of bureaucratic formalities and fake reports by lower level officials.
In this year's annual Lunar New Year gala, broadcast live on state-run CCTV, a comedy routine even poked fun at the inspections, with an official making a staged visit to a hospital and only caring about posing for a publicity shot.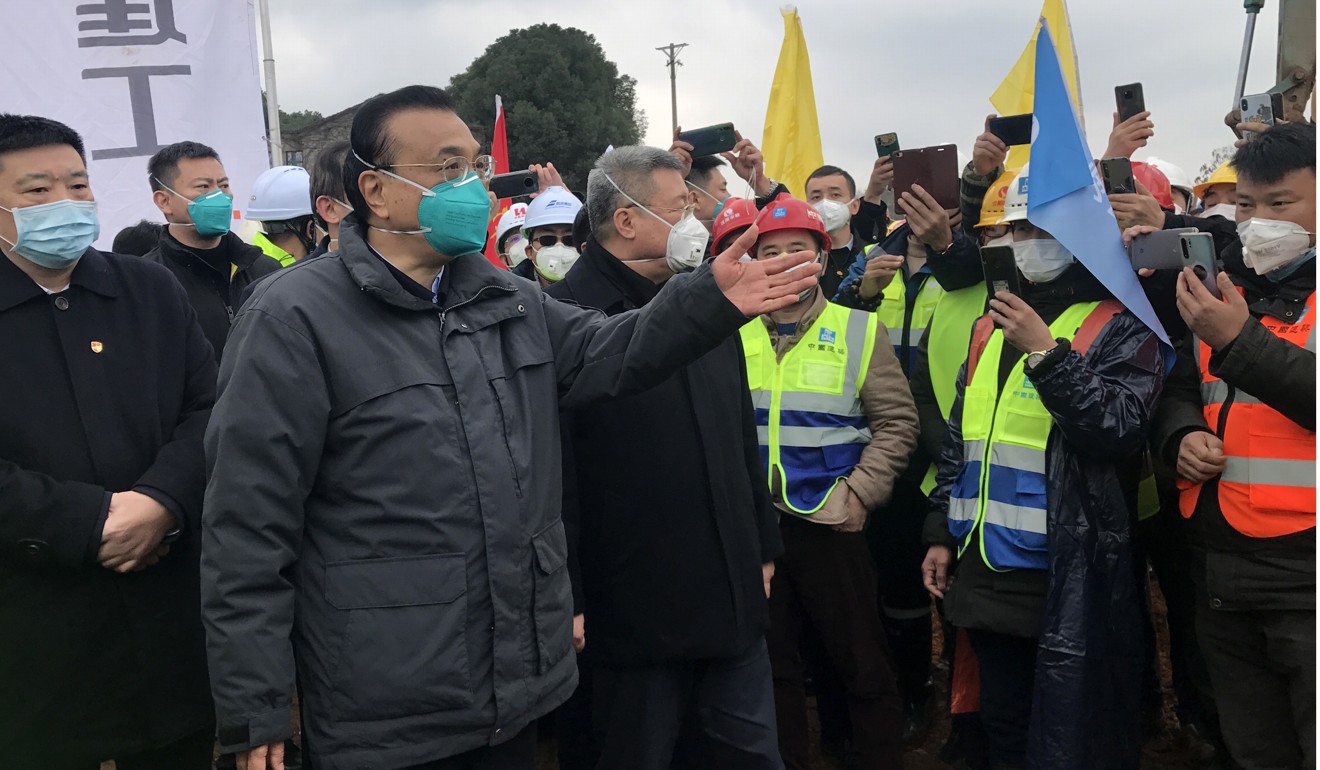 Ying Yong, the new party chief of Hubei province
brought in to handle the crisis
, was taken aback during a similar visit to a residential compound in Wuhan on February 26, according to a video carried by local media.
When he shouted up to residents asking if there were any problems that needed to be resolved, the reply was loud and clear: "There's no problem at all."
Puzzled, he tried again. "I'm sure there are problems, but let's solve them together," he said.
Premier Li Keqiang got the same response in late January when he asked workers rushing to build a new hospital for virus patients in Wuhan if they needed anything.
"We don't have any problems," Li was told, according to local media footage of the exchange.
It was later reported that some of the workers at the site had not been given enough masks to wear during the construction and a few had contracted the disease after they joined the project.
Purchase the China AI Report 2020 brought to you by SCMP Research and enjoy a 20% discount (original price US$400). This 60-page all new intelligence report gives you first-hand insights and analysis into the latest industry developments and intelligence about China AI. Get exclusive access to our webinars for continuous learning, and interact with China AI executives in live Q&A. Offer valid until 31 March 2020.
This article appeared in the South China Morning Post print edition as: Angry residents yell 'it's all fake' at senior official during visit to Wuhan community