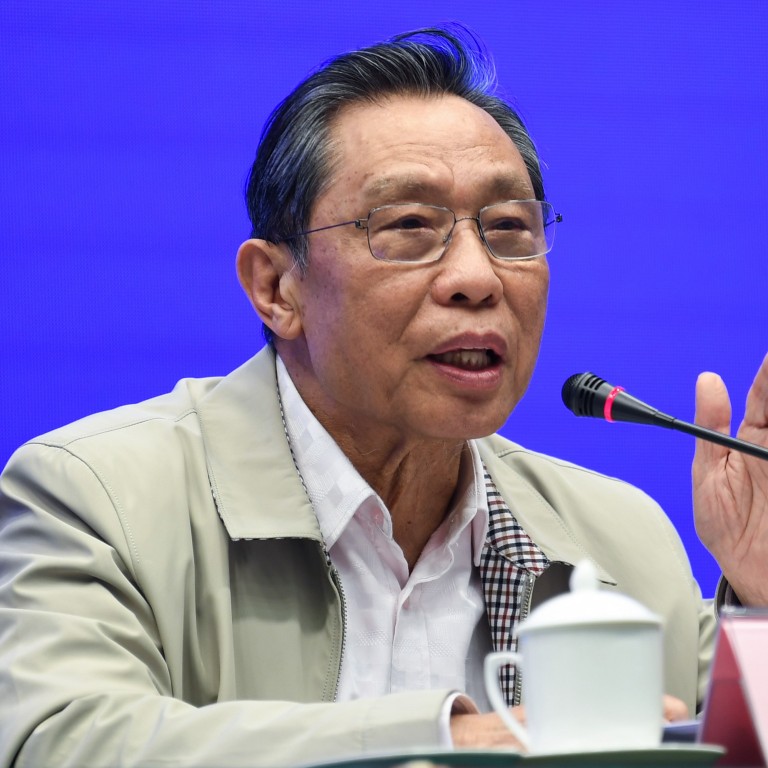 Coronavirus: China confirms Boao Forum postponed
Annual gathering of government and business leaders put off to help contain epidemic
22 new deaths in China, and 40 new infections with all but 4 occurring in Wuhan, as nearby airports are told to prepare to resume flights
China has recorded 40 new
coronavirus
cases – its lowest daily increase – with all coming in the city of Wuhan, the epicentre of the outbreak, except four imported cases in Gansu province in the country's northwest, the National Health Commission said on Monday morning.
It was the lowest number recorded since mainland China started reporting daily figures on January 20, and the second day in a row that all non-imported cases were in Wuhan.
There were 22 new deaths, with one in the southern Guangdong province and the rest in Hubei province in central China, of which Wuhan is the capital. That took the country's death toll to 3,119, with a total of 80,735 confirmed cases.
The four imported cases recorded in Gansu involved people on flights from Iran to Lanzhou, the province's capital. These took the total number of imported cases recorded in China to 67.
Boao Forum postponed
China has confirmed it will postpone its annual Boao Forum for Asia as the country tries to contain the spread of the coronavirus, Chinese media reported on Monday.
The Davos-like forum was originally expected to start on March 24 in the town of Boao in the southern island province of Hainan, where it has been held annually since 2002. The forum brings leaders of government and business from around the world to discuss global development issues.
The South China Morning Post reported in late February the forum would be postponed.
Chinese expert predicts spread until June
Leading Chinese epidemiologist Zhong Nanshan has said he estimates that the epidemic will spread globally until at least June.
In a clip released on Sunday by Guangdong Television, Zhong also reiterated that China's focus needed to shift from containing the spread to preventing imported cases, especially for Guangdong province, which is a major international travel hub.
"Health checks at borders need to be strengthened and quarantine policies should be set for travellers from overseas regions affected by the epidemic," Zhong said. "For areas seriously impacted by the new coronavirus, Guangdong may need to send aid such as protective gear, test kits [and] treatment technology."
Beijing warns foreigners against unnecessary travel
Beijing's municipal government has warned foreigners in the city against unnecessary travel due to multiple cases recorded in the capital from people returning from abroad.
"The city is facing mounting pressure due to rising numbers [of cases] that came from abroad," said Li Hui, deputy director of the local Beijing government's Foreign Affairs Office, at a press conference on Monday. "I would like to remind foreigners in Beijing to refrain from unnecessary travel as the government works to contain the coronavirus outbreak, and please wear masks when you are out."
China's Qinghai province first to resume schools
Northwestern China's Qinghai province has become the first region to resume schools.
High schools and secondary vocational schools in Qinghai have been asked by the government to reopen their doors this week, starting from Monday.
Middle schools in the province will gradually open next week.
As of Sunday, Qinghai has not recorded any new confirmed or suspected coronavirus cases for 32 days.
Africa's first coronavirus death
Egypt recorded Africa's first fatality from the coronavirus on the weekend as the country reported a flurry of new infections on a Nile cruise ship.
Health ministry spokesman Khaled Megahed said the patient had fever after arriving in Hurghada on Friday, where he tested positive for the coronavirus the next day at the General Hospital of Hurghada. He was then placed in intensive care after refusing to be transferred to an isolation hospital, when he suffered respiratory failure caused by acute pneumonia. He died on Sunday.
The man's death came hours after Egyptian health officials confirmed 33 new cases on a tourist ship in the country's south that travelled from Aswan – a city in the south of the country – and docked in Luxor, on the east bank of the Nile River. The cases included 19 Americans and 14 Egyptians, the ministry said. Seven more cases were confirmed on Monday, pushing up the total number of coronavirus cases in the country to 55.
IMF calls for economic stimulus
Governments should deploy "substantial" stimulus and international coordination to counteract the economic impact of the spreading coronavirus epidemic, the International Monetary Fund's chief economist said on Monday.
Gita Gopinath said that given the "acute shocks" caused to economies, consumers and businesses, "policymakers will need to implement substantial targeted fiscal, monetary, and financial market measures to help affected households and businesses".
That includes "cash transfers, wage subsidies and tax relief", as well as interest rate cuts and financial market support by central banks.
Given the international economic linkages, "the argument for a coordinated, international response is clear", she said.
Wuhan airport still shut
Before the new low in reported cases, Wuhan Tianhe International Airport posted a statement on Weibo dismissing an online rumour that it would soon reopen.
"There is heavy preparation work for the airport to resume normal operations," Saturday night's statement by the airport authority said. "Ahead of the reopening, we have prepared training for staff [and] conducted safety checks and equipment maintenance work. All of these are normal and reasonable arrangements. It does not mean the time of reopening has been scheduled."
However, the authority did not deny the authenticity of a notice from its parent company that was being circulated online, directing Hubei's airports on preparations for resuming operation by Thursday.
The notice was published by Hubei Airports Group, which manages four airports in the province including Tianhe, the busiest airport in central China.
"All sub-airports are to finish preparation work for flight resumption before March 12," the notice said, adding that other related companies should finish preparation work by March 16 and the group would check on their work on March 17.
Wuhan has been locked down since January 23.
Outside Wuhan, there have been no new confirmed cases in the rest of Hubei's 16 cities and counties for four consecutive days.
Three counties on Saturday had their risk assessment downgraded to low. The local governments have said "manufacturing and living routines" would return to "normal", including pharmacies and farmers' markets opening and restaurants resuming takeaway services, with no human touching involved.
Italian cruise ship to dock in Singapore
The Costa Fortuna, whose home port is Singapore, is carrying about 2,000 people, including dozens of Italians. The liner, which is on a 14-day voyage, left Singapore last Tuesday.
"The doctor on board will check on passengers and crew to ensure they are healthy before disembarkation," the Maritime and Port Authority of Singapore said in a statement on Monday. "All passengers entering Singapore are required to undergo temperature screening."
The ship has declared that none of its passengers have symptoms of respiratory disease. Any who show fever or respiratory symptoms on arrival will have to do a swab test as part of Singapore's efforts to contain the spread of the virus.
"Passengers who are identified for Covid-19 swab testing but refuse to do so will not be allowed entry into Singapore," the port authority said.
'Time to review South Korea ban'
South Korean deputy foreign minister Lee Tae-ho has urged countries that have banned travellers from South Korea to review the restrictions.
"I would like to emphasise that any travel measures should be commensurate with facts rather than on vague fear," Lee said on Monday, adding more than 40 countries had imposed such a ban.
He added that apart from restricting entry from travellers from Wuhan, South Korea did not plan to limit incoming passengers.
As of Sunday, 47 foreigners in South Korea were infected with the coronavirus, 31 of whom were from China, according to authorities in Seoul.
Hang Seng Index plunges
The Hang Seng Index plunged by as much as 4.3 per cent, the worst one-day drop since the 5.1 per cent plunge on February 6, 2018. At the lunch break, the Hang Seng was down 3.5 per cent.
The plunge was mirrored elsewhere in Asia in every market currently trading, from Seoul to Wellington.
Global toll rises
The Netherlands confirmed two deaths on Sunday, taking the country's toll to three. The victims were an 86-year-old man in the southeastern town of Uden and an 82-year-old man in the southeastern municipality of Sittard-Geleen.
Switzerland reported a second death, a 76-year-old man from the canton of Basel-Landschaft.
Each of the six continents with confirmed cases has reported at least one death. South America became the last continent excluding Antarctica to report a fatality when Argentina confirmed the death of a 64-year-old man in Buenos Aires on Saturday.
Japan limits arrivals from China and South Korea
Nearly 3 million visas already issued to nationals of China – including Hong Kong and Macau – and South Korea have been invalidated.
All arrivals from the two countries, including Japanese and other foreign nationals, will be asked to undergo a 14-day voluntary quarantine.
Japanese assemblyman 'sorry for mask auctions'
A local assemblyman in central Japan apologised on Monday for price gouging after it was revealed he made 8.9 million yen (US$87,000) by selling face masks via online auctions.
Hiroyuki Morota, a 53-year-old independent member of the Shizuoka prefectural assembly, admitted auctioning packets of 2,000 masks online from February 4 at vastly inflated prices.
"I had a moral responsibility and I regret that I lacked consideration as an assembly member," Morota said at a press conference, adding that he made 89 shipments, each auctioned for between 30,000 and 170,000 yen.
Morota, who runs a trading company that sells items imported from China, said he now planned to put the profits towards fighting the coronavirus in Shizuoka prefecture.
Congressmen in self-quarantine
US Senator Ted Cruz announced on Sunday that he was undergoing a 14-day self-quarantine after a brief interaction with a person who tested positive for Covid-19.
The Republican said he made the decision "out of an abundance of caution" to remain at his Texas home after having a brief conversation and handshake with an infected attendee of the Conservative Political Action Conference (CPAC) in late February.
"The physicians further advised that testing is not effective before symptoms manifest, and my brief interaction with the individual does not meet the [US disease control authority's] criteria for self-quarantine," he said. "The medical authorities explicitly advised me that, given the above criteria, the people who have interacted with me in the 10 days since CPAC should not be concerned about potential transmission."
Cruz added that he was not experiencing symptoms and felt "fine and healthy".
Arizona Republican representative Paul Gosar also said he was self-quarantining at home after coming into contact with the infected person at CPAC.
US President Donald Trump and Vice-President Mike Pence attended the conference but did not come into contact with the patient, according to the White House.
Asymptomatic infection with the coronavirus has been reported, but it is not yet known what role asymptomatic infection plays in transmission, according to the US authorities.
North Korean flight departs
A special North Korean flight thought to be carrying dozens of diplomats and other foreigners left for Russia's far east on Monday as the country tightened a lockdown intended to fend off the coronavirus.
North Korea has not publicly confirmed a single case of the Covid-19 illness, but its state media has indicated thousands of people have been quarantined as part of strict prevention measures.
Dozens of passengers, most of them masked and some accompanied by children, lined up at Pyongyang International Airport, as North Korean health workers wearing white protective suits scanned them for fever. It was not immediately clear how many were on the flight to Vladivostok.
The North lifted a month-long quarantine on foreign diplomats based in Pyongyang last Monday, allowing them to leave the country if needed.
Lockdown in Saudi Arabia
Saudi Arabia on Sunday cordoned off an oil-rich Shiite stronghold, suspended air and sea travel to nine countries, and closed schools and universities, to try to contain the coronavirus.
The lockdown on Qatif, an eastern area that is home to about 500,000 people, is the first action of its kind across the Gulf region, which has confirmed more than 230 coronavirus cases – most of them people returning from religious pilgrimages to Shiite-majority Iran. Saudi Arabia has blamed arch-rival Iran for its spike in cases, all 11 of which have been recorded in Qatif.
The government temporarily suspended travel by citizens and residents to the UAE, Kuwait, Bahrain, Lebanon, Syria, South Korea, Egypt, Italy and Iraq, as well as suspending entry for people arriving from those countries.
Saudi Arabia also announced it was closing all public and private universities and schools across the country from Monday until further notice, and has suspended the "umrah" year-round pilgrimage over fears of the outbreak spreading to the holy cities of Mecca and Medina in the west. The unprecedented suspension of the umrah has raised uncertainty over the annual haj pilgrimage, scheduled for the end of July.
Additional reporting by Agence France-Presse, Kyodo, Associated Press, Jevans Nyabiage