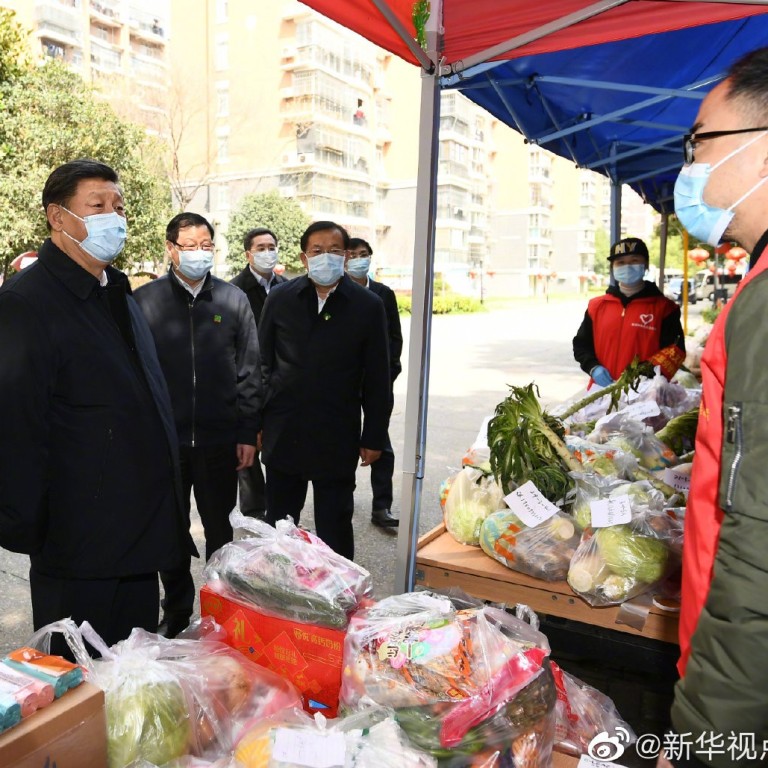 Coronavirus update: Xi Jinping visits Wuhan as China numbers fall, Italy's soar
Italian leader puts entire country in lockdown as cases rise to 9,172
Wuhan continues to be only site of new domestic cases on Chinese mainland
Chinese President Xi Jinping arrived in Wuhan – epicentre of the coronavirus outbreak – on Tuesday morning, as the number of new infections in mainland China continued its downward trend on Monday, with just 19 cases of Covid-19, the disease caused by the virus.
Italy is in lockdown, after a climb in the number of infections there to 9,172, overtaking South Korea as the worst affected country outside China. South Korea reported 7,513 infections as of midnight on Tuesday, while Iran has confirmed more than 7,000 cases.
"Now that the virus has a foothold in so many countries, the threat of a pandemic has become very real," WHO director general Tedros Adhanom Ghebreyesus said on Monday.
Stock markets in Hong Kong and Shanghai bounced back in early trading on Tuesday, after stocks fell more than 7 per cent in the US, the Dow's single-day biggest point drop ever.
Man rescued from coronavirus hotel ruins
A man was pulled alive from the rubble of the Xinjia Express Hotel in Quanzhou in eastern China on Tuesday, three days after the building collapsed, according to state media.
Xinhua reported that the man was rescued and sent to hospital just after 4.30pm.
The hotel had been converted into a coronavirus quarantine facility for visitors from other outbreak hotspots, and collapsed on Saturday night, killing at least 20 people.
More than 40 people were injured and about 10 remain missing, according to the Ministry of Emergency Management.
Last converted hospital in Wuhan closes
Wuhan's last remaining converted hospital to treat Covid-19 patients with mild symptoms, closed on Tuesday in a sign the epidemic there is now largely under control.
The closure of the Wuchang Fangcang Hospital was reported by Chinese online news portal ThePaper.cn, and coincided with Xi's visit to the city. At least 14 buildings, including sports stadiums and convention centres, had been converted into makeshift hospitals, adding more than 20,000 beds to treat patients and prevent the spread of the virus.
All but two of China's latest cases are in Wuhan
The Guangdong case related to a Chinese student who took Cathay Pacific flight CX320 from Spain to Hong Kong on March 8, and then transited to Guangdong through the Shenzhen Bay checkpoint.
There were a further 17 deaths in China, all from Hubei province, bringing the national death toll from the disease to 3,136. China has now recorded a total of 80,754 confirmed cases of Covid-10. It is the third consecutive day that China has reported new domestic cases only in Wuhan.
Hubei prepares to go back to work
Officials in Hubei should prepare for business to return to normal, the local party chief Ying Yong told a provincial coronavirus containment strategy meeting on Monday.
"[We should] fully support companies that have global export chains, flagship engineering projects and agricultural-related corporations to return to work, and [we should] assist other companies to gradually resume business at safe and suitable times," said Ying, who was appointed last month, according to provincial newspaper Hubei Daily on Tuesday.
Hubei to launch app tracking residents' health
Authorities in Hubei province announced the launch of a mobile app to identify residents' health status as the provincial government prepares for business to return to normal.
The system will identify residents according to three categories: green, yellow and red. "Green" residents can travel freely in low- and medium-risk areas in the province, which has been on lockdown since January 23.
Similar QR code systems to track the health of people in China have been used in at least 15 provinces and cities during the coronavirus outbreak. Conditions are assigned based largely on online questionnaires, but some apps tracking users' movements have sparked concerns over data privacy.
Pope tells priests to help the sick
Pope Francis urged Catholic priests on Tuesday to "have the courage" to go out and help those with the coronavirus, hours after Italy was placed on a nationwide lockdown.
"Let us pray to the Lord also for our priests, that they may have the courage to go out and visit the sick … and to accompany the medical staff and volunteers in the work they do," the pontiff said during a mass in Vatican City.
St Peter's Square in the Vatican – in the centre of Italy's capital Rome – was almost empty on Tuesday with only a few dozen people walking around, most of them without masks.
Italy's Patient No 1 leaves intensive care
Italian doctors celebrated a small victory in their battle against the coronavirus after a 38-year-old man was moved out of intensive care for the first time since he tested positive on February 21 and became known as the country's Patient No. 1.
Mattia, a Unilever employee, was initially sent home when he went to hospital on February 18 complaining of flu-like symptoms. He returned the next day after his condition worsened dramatically. He had not been to China and was only tested after doctors learned he had been in contact with a man who had visited the country in early February.
By then, however, he had infected his wife and several doctors, nurses and patients at the Codogno hospital, creating what was thought initially to have been Italy's main cluster. Mattia's China contact tested negative, prompting experts to believe the virus had been circulating widely and quietly in northern Italy since at least the second half of January.
Mattia began breathing on his own on Monday, with just a small amount of oxygen assistance, and was moved to a sub-ICU unit and was speaking with doctors, according to Francesco Mojoli, head of intensive care at the San Matteo hospital in Pavia.
Italy in lockdown
Italian Premier Giuseppe Conte urged all 60 million Italians to stay at home – extending the measures imposed on a quarter of the country two days' earlier. The only travel permitted in Italy will be for proven work reasons, health conditions or other cases of necessity. The nationwide restrictions will be in place until April 3 and include closures of schools and universities. Pubs, eateries and cafes will close at dusk.
Hong Kong orders quarantine for Italy arrivals
The restrictions cover all of Italy as well as the Bourgogne-Franche-Comté and Grand Est regions in France, North Rhine-Westphalia state in Germany, and Hokkaido in Japan.
The Hong Kong government was also monitoring the situation in Spain and India, the sources said, though travellers from these countries would not have to undergo quarantine for now.
Russia cancels key economic forum
Russia's flagship St Petersburg International Economic Forum has been cancelled over coronavirus concerns, its organiser confirmed.
The annual forum, which was expected to run from June 3 to 6, has been postponed until 2021 after the WHO's decision to declare the coronavirus outbreak a global emergency, Roscongress Foundation, the organiser, said on Tuesday.
Last week, Russia's First Deputy Prime Minister Andrei Belousov said the forum, one of the key events on President Vladimir Putin's economic agenda, would be cancelled as a precaution against the coronavirus.
China announced earlier it would postpone the Davos-like annual Boao Forum for Asia, originally expected to start on March 24.
French culture minister contracts coronavirus
French Culture Minister Franck Riester has contracted the novel coronavirus and is staying in his Paris home but is "doing fine", his office said on Monday.
"The minister tested positive today" after displaying symptoms, the ministry said.
It reported Riester spent several days last week at the country's lower house National Assembly in Paris, where five virus cases were confirmed earlier.
The prime minister's office said the rules for ministers with the virus "are the same for all French people", including acting with caution and taking measures to minimise the chance of the disease spreading.
Taiwanese generals in quarantine
Taiwanese Defence Minister Yen Te-fa confirmed on Tuesday that more than 2,000 military personnel, including two generals, had been in quarantine at home for 14 days since late January after either visiting or transiting through coronavirus hotspots.
But so far no infections had been reported, Yen said.
He said personnel had disinfected military compounds and drafted contingency plans to deal with infections.
On Tuesday, Taiwan also confirmed two new cases, bringing the total number of infections to 47, including one death.
Passengers leave stricken cruise ship
The long process of offloading passengers from the Grand Princess is underway at an unused Port of Oakland dock in California, after the ship spent days circling waters off San Francisco. At least 21 people on board tested positive for the virus, all but two are members of the crew.
A California man who sailed on an earlier voyage by the ship, which is owned by the same operators as the Diamond Princess, died in his home state last week from the virus, prompting state and federal officials to hold the vessel offshore until a suitable landing point could be identified.
Most of the more than 3,500 people on board will be taken to military bases in California and elsewhere for testing and quarantine after disembarking, which is expected to take two days. The crew will remain on board and return to the Pacific Ocean for the quarantine period.
Early rise for Hong Kong stocks
Markets in Hong Kong stocks rose in early trading on Tuesday, one day after their biggest fall in two years. The Hang Seng rose 0.9 per cent to 25,268.28 at opening on Tuesday, after closing down 4.23 per cent the previous day. Tech giants Tencent and Alibaba were among those advancing on the Hong Kong market.
The Shanghai Composite Index opened 0.6 per cent up at 2,961.07, then began see-sawing between small gains and losses.
First deaths in Canada, Germany
Meanwhile, Germany reported its first two deaths, with the initial fatality occurring in the far western county of Heinsberg, which has seen the highest concentration of infections in the country so far. The second death, an 89-year-old woman, occurred in the city of Essen.
Also on Monday, Britain reported two fatalities – one in Woverhampton and the other in Surrey – bringing its death toll from the disease to five. Both were in their 70s with underlying health conditions. San Marino reported its second fatality on Monday while in Spain the number of confirmed cases has now surpassed 1,000, with at least 28 deaths.
In Iran, the judiciary's Mizan news agency said authorities had temporarily released some 70,000 prisoners over concerns about the virus spreading in the country's prisons, up from the 54,000 previously announced.
Death toll rises at collapsed quarantine facility
Mongolian cities in lockdown
Mongolia on Tuesday barred anyone from entering or leaving its cities for six days after the country reported its first coronavirus case – a French energy company employee who flew in from Moscow.
"The capital Ulan Bator and all provincial centres are quarantined until March 16 to curb the outbreak," deputy prime minister Enkhtuvshin Ulziisaikhan said.
Has Trump been exposed to virus?
There were concerns in the US that President Donald Trump may have been exposed to the coronavirus as US stocks plummeted on Tuesday, feeding a growing national anxiety. Two Republican lawmakers had been in contact with Trump after meeting a person last month – at a conservative conference – who later tested positive for the disease.
One of them, Matt Gaetz, travelled with Trump aboard Air Force One on Monday while the other, Doug Collins, was with the president on Friday during a briefing at the Centres for Disease Control and Prevention headquarters. Congressman Paul Gosar and Senator Ted Cruz had also been in contact with the individual.
The White House later confirmed that Trump had not been tested for the coronavirus.
Additional reporting by agencies