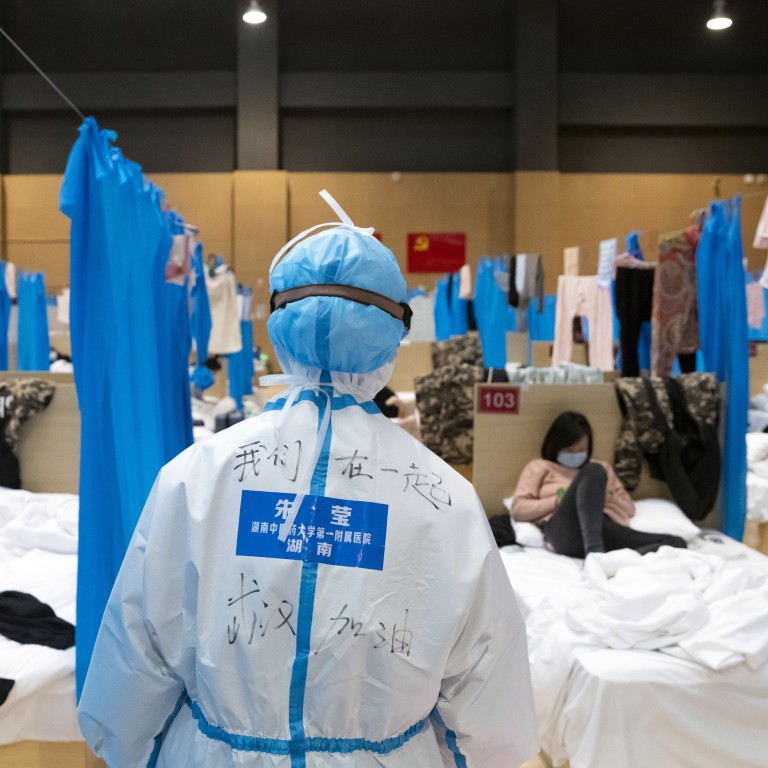 A coronavirus lesson from China: don't make patients pay for tests and treatment
People with lower incomes will be deterred from seeking treatment if they face health care costs, worsening the epidemic, specialist says
But 'aggressive testing was not realistic in most countries'
A coronavirus test reportedly costs about 370 yuan (US$53) in China. And in the southern city of Shenzhen, the average cost of treating the disease ranged from 23,000 yuan for elderly patients to about 5,600 yuan for minors, Chinese Hospital Management journal reported on February 28.
Some of the country's treatment methods such as extracorporeal membrane oxygenation – which artificially oxygenates a patient's blood for a limited period of time – are expensive but they are all covered by the government, which has earmarked 110.48 billion yuan for treatment, subsidies for medical staff and medical equipment.
In the US, where there have been 25 deaths among 696 confirmed cases, public anxiety is growing over the cost of testing.
The US government does not charge for coronavirus confirmation tests at designated laboratories but a trip to the hospital will incur other hefty expenses, in one case over US$3,200. Insurance lobby group America's Health Insurance Plans said individuals needed to check their insurance providers for coverage of costs related to Covid-19.
As of Monday, only 1,707 people had been tested by the US Centres for Disease Control and Prevention. More tests may have been conducted at lower level public health laboratories but the number of infections could also be bigger, according to a new Cedars-Sinai study, which estimated that between 1,043 and 9,484 people in the US may have been infected by March 1.
South Korea, with 7,513 Covid-19 patients by Tuesday, announced in January that the government and insurance companies would cover the expenses associated with examination, isolation and treatment for coronavirus patients. The country has greatly expanded testing stations to include drive-through services and tested about 15,000 people a day.
Japan designated Covid-19 as an infectious disease in February, making it the government's responsibility to pay inpatient bills related to the coronavirus infection.
In Britain, about 18,000 people have received free testing since last month, and 373 have been confirmed as infected.
Professor Dirk Pfeiffer, chair professor of One Health at City University's Jockey Club College of Veterinary Medicine and Life Sciences, said affordability would hinder the epidemic control efforts.
"Clearly, wherever you have to pay for health care, individuals with mild symptoms in the lower-income groups will hesitate to visit a health care facility, and that may also be the case in some individuals with severe disease. These behaviours will extend the epidemic," Pfeiffer said.
But he said aggressive testing was not realistic in most countries and social distancing would continue to be the most important risk mitigation measure.
"I don't think large-scale testing is realistic in most countries because of the sheer number of tests required. And even where it is feasible, it will not eradicate the virus from the population. Therefore, testing would have to remain risk-based, focusing, for example, on those in contact with known cases," he said.
Pfeiffer said that in Western democratic societies, social distancing would be based mostly on voluntary compliance in contrast to China where tests were mandatory under the country's infectious disease control regulations.
"The consequence of this difference will be that the epidemic will take longer in the countries where social distancing is voluntary," he said.
Ni Feng, director of the Institute of American Studies under the Chinese Academy of Social Sciences, said China and the US had different conditions and it was understandable they used different strategies, but China's success in bringing the epidemic under control could be a good opportunity for both countries to work together.
"This is the least-sensitive area. There are many fields where the two countries can cooperate. We saw some solid cooperation in the past with Sars, H5N1 and H7N9 aviation influenza outbreaks, but not this time," Ni said.
Purchase the China AI Report 2020 brought to you by SCMP Research and enjoy a 20% discount (original price US$400). This 60-page all new intelligence report gives you first-hand insights and analysis into the latest industry developments and intelligence about China AI. Get exclusive access to our webinars for continuous learning, and interact with China AI executives in live Q&A. Offer valid until 31 March 2020.