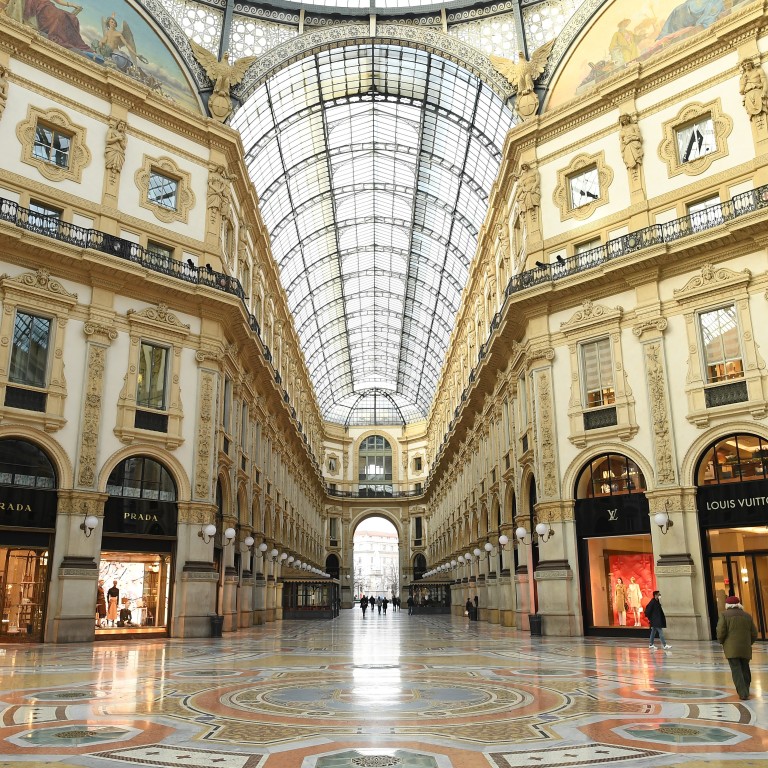 Coronavirus latest: China's imported cases rise as Italy reports deadliest day
New infections in mainland China included 10 which originated overseas, while all but one of the remainder occurred in Wuhan
Italian death toll rises to 631, with more than 10,000 confirmed infections in just over two weeks
The number of
coronavirus
cases imported to China continued to rise, with 40 per cent of the latest 24 infections reported on Wednesday morning originating from overseas, bringing the total to 79.
The National Health Commission said six of the cases had been reported in the capital Beijing, with five of the patients travelling from Italy and the sixth from the US. A further case was confirmed in the northwestern province of Gansu, among a group of people under observation after arriving from Iran. There was also one imported case in Shanghai and another in Shandong province in eastern China.
Of the remaining 14 new infections reported by the commission, all but one were in Wuhan, the central Chinese city in Hubei province where the new coronavirus emerged in December. The commission said 22 more people – all in Hubei province – had died, bringing the national death toll from Covid-19, the illness caused by the virus, to 3,158. China has now reported a total of 80,778 cases.
Italy's deadliest day
Locked-down Italy on Tuesday recorded its deadliest day of the novel coronavirus outbreak, with its toll rising by 168 to 631 dead, and 10,149 people now infected in just over two weeks.
A slew of airlines halted flights to Italy for the next few weeks and neighbouring countries clamped down on their borders with the worst-hit country outside China. A number of European countries announced school closures and bans on mass public events.
Infections also continued to rise in the US, with a jump of 224 new cases, as of Tuesday, bringing its total to 696.
Hubei prepares for gradual return to normal
Plans were announced in Hubei province on Wednesday for a gradual return to normal, after nearly two months in lockdown. A notice issued by the local government stipulated that most businesses in the provincial capital Wuhan would not resume work before March 20.
However, ports, state construction projects and finance industries can gradually return to work in the province's high risk regions, the notice said.
For low to middle risk regions in the province, construction sites and legal and accounting firms can also gradually resume operations. Exceptions are businesses which encourage gatherings of people – including cinemas, bookshops, bars, karaoke and gyms. In these areas, traffic restrictions will also be gradually lifted, while public transport and domestic flights will begin to resume.
Not all of the measures apply to Wuhan, although some industries – businesses which provide daily necessities for residents, as well as those related to medical and agricultural products – have already begun returning to work.
Honda announced on Wednesday that production had partially resumed production at its Wuhan facility, with manufacturing now rebooted at all of its sites in China after operations were disrupted by the coronavirus.
Beijing tightens quarantine for visitors
Beijing has tightened quarantine measures for visitors to the capital city, imposing a 14-day self-quarantine on foreign travellers.
The policy was announced in a local government briefing on Wednesday afternoon. Beijing recorded a total of 20 imported cases out of its total of 435 as of Wednesday midnight.
The new policy will also require those who are on "short business trips" to stay in "designated hotels" to be tested for the virus. They will not be allowed to leave the hotel before testing results are out.
Beijing first imposed a 14-day self-quarantine last week on locals and travellers from some of the worst-hit countries, including Italy, Iran, South Korea and Japan.
Limited reopening for hotpot chain
China's biggest hotpot chain Haidilao said it would reopen 85 of its restaurants in 15 mainland cities – including Hangzhou and Chengdu – from Thursday.
The publicly listed chain, which operates 593 outlets in 118 Chinese cities, closed all of its restaurants in mainland China from January 26, the second day of the Lunar New Year, because of the coronavirus outbreak.
Haidilao is also well known outside China, with outlets around the world including the US and Australia.
'Most' Germans could become infected: Merkel
German Chancellor Angela Merkel has backed the cancellation of all non-essential public events, and said that up to 70 per cent of Germans, or almost 58 million people, could become infected with the new coronavirus, according to tabloid newspaper Bild.
The projection was apparently disclosed at a meeting in Berlin where Merkel spoke with lawmakers from her Christian Democratic Union party, according to the newspaper. However 80 per cent of cases may only experience mild or even no symptoms, according to Health Minister Jens Spahn.
As of Tuesday afternoon, Germany had 1,296 confirmed cases of Covid-19.
Tokyo Olympics delay 'inconceivable'
The Japanese minister responsible for the 2020 Olympics, due to begin in Tokyo in July, has said a possible delay to the games would be "inconceivable".
Seiko Hashimoto was responding to a Wall Street Journal report which quoted a member of the organising committee who suggested a postponement of up to two years – while unlikely – could be possible.
Hashimoto – a former speed skater with the most Olympic appearances of any Japanese athlete – said a delay was not under consideration. She did however acknowledge that the final decision rested with the International Olympic Committee.
Premier league match postponed
Arsenal's game at Manchester City was postponed on Wednesday after players from the London club were put into quarantine, making it the first Premier League fixture to be called off because of the new coronavirus.
Arsenal said players would be isolated for 14 days after coming into contact with the owner of Greek club Olympiakos, who has tested positive for Covid-19.
The first postponement in the Premier League, which has a worldwide following of billions of TV viewers, comes after UEFA's Champions League and Europa League were both forced to arrange matches behind closed doors.
Japan reports biggest one-day rise in cases
Japan experienced its biggest one-day rise in new coronavirus infections – with 59 new cases – since the start of the outbreak, according to public broadcaster NHK.
Total infections in Japan have reached 1,278 cases, including 696 from the Diamond Princess cruise ship and 14 returnees on charter flights from China, NHK said. One new infection was reported early on Wednesday, in the western prefecture of Hyogo. Japan has now seen 19 deaths from the virus, including seven from the cruise ship.
Chinese city reverses easing of restrictions
One of China's first cities to introduce a complete travel lockdown in response to the coronavirus lifted all restrictions at midnight on Wednesday, before reimposing them just hours later.
The county-level Qianjiang city in Hubei would have been the first in the coronavirus-hit province to remove traffic controls and get all businesses back to work, if the original notice – announced on Tuesday by official news platform Cnqjw.com – had not been declared void soon after it was issued.
"The city will continue its restrictions on movement of traffic and residents," the latest notice from the county-level city said.
South Korea numbers rise again
In South Korea, the worst-hit country in Asia outside China, an increase of 242 new cases brought the national numbers to 7,755, as of midnight on Wednesday.
It was the first rise in new coronavirus cases after a five-day run of declining numbers which raised hopes the South Korean outbreak was coming under control.
South Korea was the first country to report significant coronavirus numbers outside China, and remains one of the world's worst-affected countries, despite being overtaken by both Italy and Iran in declared cases.
More countries report first fatalities
Indonesia reported its first fatality
from the coronavirus on Wednesday afternoon. The 53-year-old woman, a foreign national, had already been in critical condition when she was admitted to hospital, according to a health official. UK media later reported that the woman was a British national.
Belgium's health ministry also reported the first coronavirus death in the country, a 90-year-old patient.
Morocco's health ministry said on Tuesday the country had recorded its first death linked to the new coronavirus, an 89-year-old woman who had been living in Italy and suffered from chronic health problems.
She returned to Morocco in late February, before testing positive for the virus and was transferred under medical supervision to a hospital in Casablanca, according to the health ministry.
Meanwhile, Panama also confirmed its first death from the coronavirus.
British health minister ill
In Britain, total cases reached 382. Among them was a junior British health minister
Nadine Dorries
, 62, who said she had taken "all the advised precautions" as soon as she was told of her positive diagnosis.
The Times
reported Dorries met hundreds of people in Parliament in the past week and had attended a reception with Prime Minister Boris Johnson.
Earlier on Tuesday, the death toll in the UK from the coronavirus outbreak rose to six. The patient was in their 80s and had underlying health conditions.
Search goes on at China's collapsed quarantine hotel
The search for a remaining three people continues in China's southeastern province of Fujian where a hotel that was being used as a quarantine facility collapsed on Saturday in the city of Quanzhou.
As of Wednesday morning, 26 of the 68 people rescued from the rubble of the
Xinjia Express Hotel
had died, according to
People's Daily,
the official Communist Party mouthpiece.
Additional reporting by agencies
Purchase the China AI Report 2020 brought to you by SCMP Research and enjoy a 20% discount (original price US$400). This 60-page all new intelligence report gives you first-hand insights and analysis into the latest industry developments and intelligence about China AI. Get exclusive access to our webinars for continuous learning, and interact with China AI executives in live Q&A. Offer valid until 31 March 2020.