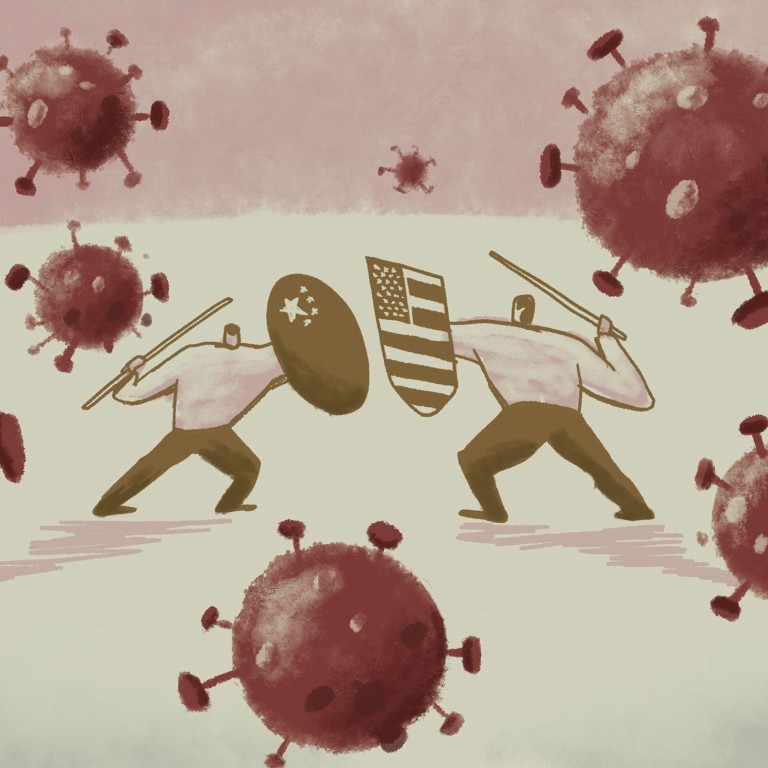 Clash of the titans: how the coronavirus became the new China-US battleground
Rather than joining forces to subdue the pathogen, Beijing and Washington have used the pandemic to try to score points against each other
The health crisis has shifted attention away from other areas conflict – but only temporarily, observers say
As the
deadly coronavirus continues
to cut a swathe around the world, inflicting a devastating human and economic cost, one thing has remained constant: the belligerent superpower wrangling between Beijing and Washington.
Hit hard by the pandemic, both countries have effectively been in a national emergency, looking to cut travel links and isolate themselves from the coronavirus.
But instead of leading the world in the face of a global public health threat that has already killed more than 6,000 people, they are locked in great power competition, determined to view each other through a lens of conspiracy theories and hostility.
Since the coronavirus broke out in China late last year, the two countries have markedly dialled up the rhetoric against each other, trading stinging barbs on everything from the origin of the virus, and whether American medical experts should be allowed to visit Wuhan to who should be blamed for the pandemic.
Before the disease erupted, Beijing and Washington were already at odds over a host of hot-button issues, such as the trade war, the South China Sea, Taiwan, Xinjiang, Hong Kong and the fate of Chinese telecoms giant Huawei.
The pandemic could have been a chance to improve those deeply fraught relations, slowing the United States and China down on their tragic, headlong collision course.
"Ironically, although the global spread of the coronavirus has created a rare opportunity for them to set aside differences and cooperate, neither side seemed interested in accepting it," said An Gang, a former Chinese diplomat specialising in US affairs.
With that opportunity missed, US-China relations have plunged deeper as a result in a dangerous cycle of disengagement, with official exchanges largely suspended, travel and cultural links severely restricted or disrupted amid soaring antagonism in both countries and a widening trust deficit.
"It is regrettable but not entirely surprising. I find it hard to believe that they have knowingly chosen the worst option at every turn," said An, a researcher at the Centre for International Strategy and Security at Tsinghua University.
That distrust was evident soon after a
lockdown was imposed on the central Chinese city of Wuhan
, the coronavirus epicentre, on January 23. The US was among the first to evacuate hundreds of its citizens from the city and the State Department raised its alert for China to the highest level, urging Americans not to travel to the country because of the outbreak.
In the weeks since, more than 60 countries have imposed some form of travel restrictions against China and some two dozen countries have evacuated their citizens from Wuhan. But Beijing appeared to be particularly incensed over the US' "overreaction", saying that it "set a bad example" for other countries.
While many analysts shrugged off Beijing's strident criticism as its own overreaction, Beijing insisted that the US moves were based on stigma and politically motivated, which in Wang's words, "triggered unnecessary panic".
"Honestly, at a time of crisis like this, we would expect the US to take the high ground and show more support for China. It turns out that the US continues to pursue its course on China," said Yun Sun, a senior fellow at the Stimson Centre in Washington.
US President Donald Trump has so far not pointed the finger at China, and he praised the country on Friday for its "data sharing".
But not so top officials in his administration, who have been direct in placing the blame on Beijing for throwing the world into chaos.
For example, after China stonewalled for weeks over a White House offer of help with the coronavirus fight, senior officials, including Larry Kudlow, director of the ­National Economic Council, expressed disappointment at Beijing's lack of transparency in disease control and international cooperation.
With signs of the epidemic easing in China
, the tensions have turned for the worse. Beijing appears to be keen to repair its damaged global reputation and particularly sensitive about linking China's mishandling of the crisis in the initial stage with the exploding infections around the world in the past month, analysts say.
Over the past week, Beijing has called out US Secretary of State Mike Pompeo's "despicable practice" of calling the pathogen "the Wuhan virus" despite objections from China and the Beijing-friendly World Health Organisation (WHO).
And after US national security adviser Robert O'Brien said on Wednesday that China's cover-up of the pneumonia-like disease and its slow response cost the world two months when the crisis could have been prevented, Beijing stepped up a gear in its increasingly assertive, and often angry, defence.
Foreign ministry spokesman Geng Shuang accused the US officials of trying to shift the blame to China and claimed China's lockdown and other extreme measures had "bought the world time" to deal with the virulent disease.
His ministry colleague, Zhao Lijian, who was once described by former US national security adviser Susan Rice as "shockingly ignorant", was even blunter. Echoing a popular conspiracy theory, he said on Twitter in both Chinese and English on Thursday that "
it might be US Army who brought the epidemic to Wuhan
", without providing any evidence to substantiate his shocking allegation.
Cui was "very defensive" when US assistant secretary of state David Stilwell delivered a "stern representation" of facts, according to the department.
"The crisis also showed the world the underbelly of the strong China and how the big power is in fact quite vulnerable and fragile inside," said Yun of the Stimson Centre.
According to Yun, there has been a pattern in China's foreign policy, especially in the era of President Xi Jinping. "China is accustomed to 'wolf warrior' diplomacy – it is assertive when it is in an advantaged position, and it is even more assertive when it is vulnerable," she said.
"I think that reputational damage, the loss of face, and the ensuing disrespect of other countries, are the reason China is behaving so assertively in the diplomatic handling of the crisis."
Chinese diplomats led by Wang Yi and his predecessor, Yang Jiechi, have become increasingly assertive in the past few years, especially when the country is on the defensive, such as in its trade war with Washington, and over the anti-government protests in Hong Kong and Beijing's mass internment of Uygur Muslims in Xinjiang.
George Magnus, a research associate at Oxford University's China Centre, said it would have been "nice but unrealistic" to expect the China-US relations to change for the better as a result of the coronavirus crisis.
"In the West we refer to German measles and Spanish flu, and this is not taken as insulting. Referring to the Wuhan virus isn't an insult but a description about origin," he said. "Because China is sensitive to this and the West resists China's rhetoric that the virus may have emanated from outside China, you can see why trust relations are at a low ebb."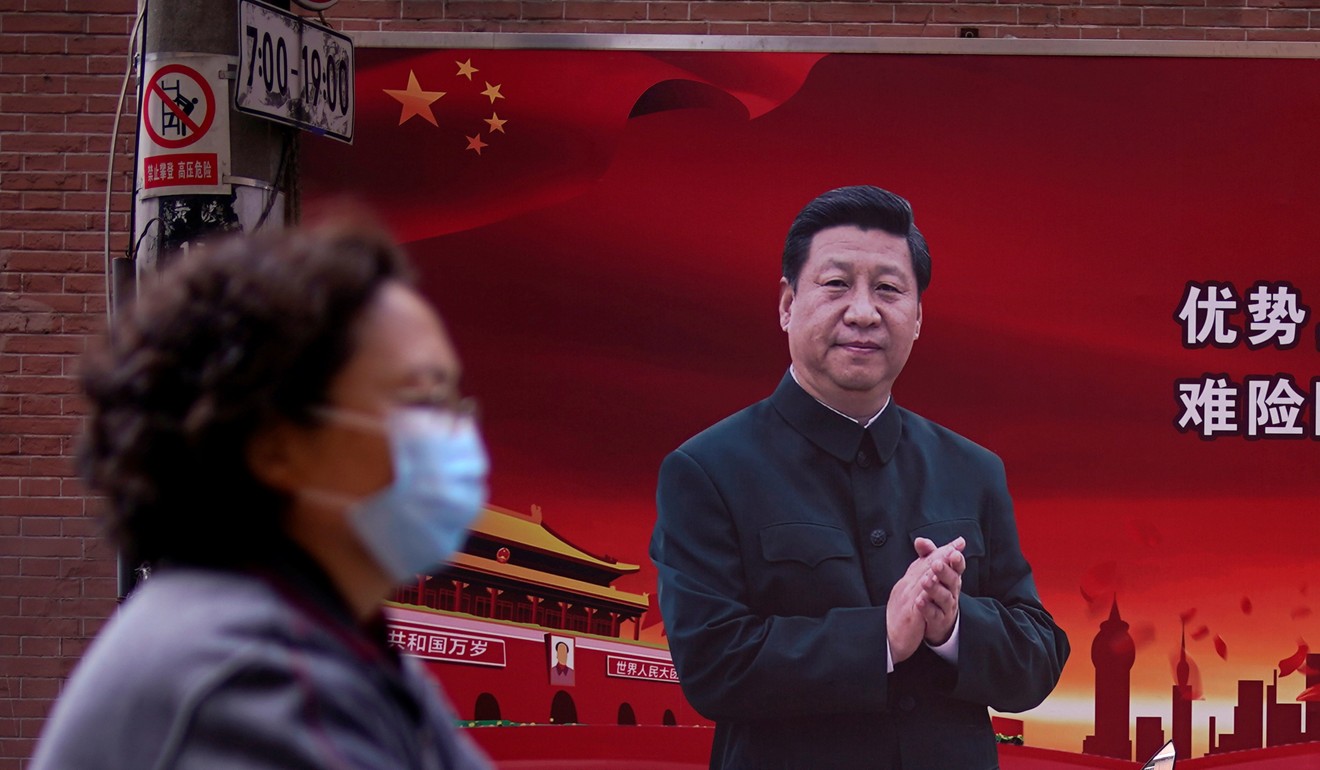 Although Xi and Trump promised to cooperate on fighting the coronavirus outbreak during a phone conversation early February, most observers doubt there's any real chance of this.
But Chen Xi, assistant professor at the Yale School of Public Health, disagreed.
"I still believe the US and China can work together in multiple fronts that are very important," he said, especially on joint research and development of vaccine and therapeutics and the strengthening of the global value chain of medical supplies, such as masks and protective clothing.
Former diplomat An Gang also confirmed that both countries were still cooperating, especially on the vaccine front, which had received scant, if any, media coverage in China.
On the wider front, Bruno Macaes, a former minister of European affairs in Portugal and a non-resident senior fellow at Hudson Institute, said in a National Review commentary this week that the coronavirus pandemic had opened new battlegrounds for the rivalry between the US and China against the backdrop of a renewed clash of civilisations.
Instead of competing within the usual, familiar ground of the US-led global trade and financial system, new threats such as climate change and pandemics were changing the geopolitical power play by exposing the weakness of Western political systems and values and putting China ahead of the game for now.
"The United States now faces a much more delicate and much more dangerous threat than those posed by Chinese manufacturing prowess or key digital technologies. The coronavirus … forces America to compete with China on neutral ground, that of a new and unexpected technological and political threat to social stability," he said.
Magnus and other experts also pointed out that the factors that had chilled bilateral relations would not change, and still be there once the pandemic waned.
As Washington continued to pile pressure on its allies in a bid to
squeeze out Huawei from global 5G markets
to try to bring China to heel over technology supremacy, it also intensified its manoeuvring over the South China Sea and Taiwan.
The USS McCampbell missile destroyer sailed near the Paracel Islands, known as Xisha in China, on Tuesday, according to Chinese state news agency Xinhua, which Beijing slammed as a trespassing and a hegemonic behaviour violating international law. America's so-called freedom of navigation operations have increased since the Trump administration named China as a top security and economic rival in 2017 and hit a record high last year.
And in a move designed to help Taiwan counter mainland China's aggressive attempts to squeeze the self-governing island's international space, both chambers of the US Congress unanimously passed a bill this month.
Along with two other legislation passed in 2018 and Washington's US$8 billion sale last year of advanced fighter jets, the Taiwan Allies International Protection and Enhancement Initiative Act, or Taipei Act, has again underlined the Trump administration's ambition to enlist Taipei in its across-the-board rivalry with Beijing.
While Beijing said the expulsions were because of the US newspaper's refusal to apologise for an opinion piece which referred to China in its headline as "the real sick man of Asia", analysts saw it as a sign of Beijing's tit-for-tat approach to diplomacy.
In response, Washington imposed a cap early this month on the number of Chinese employees for five largest Chinese state media in the US, which would effectively force out around 60 people.
Analysts said that with Washington disengaging from the world under Trump, and an increasingly combative Beijing appearing to be less interested in real reform and opening up, political and economic decoupling seemed inevitable.
Huang Jing, an expert at Beijing Language and Culture University's Institute of International and Regional Studies, said that Washington might even backpedal on the hard-fought trade truce and the so-called phase one deal.
"Washington is keen to take advantage of the outbreak, which has left Beijing vulnerable both domestically and externally. Despite their differences on most other issues, neither Trump nor his opponents can afford to soften their stance on China in the lead-up to the elections later this year. That's why Beijing should be prepared if Washington continues to weaponise the coronavirus in China-US relations," he said.
The epidemic has exposed weakness in both countries and Trump and Xi Jinping have both been criticised for their missteps in handling the epidemic.
Ely Ratner, executive vice-president of the Centre for a New American Security in Washington, has suggested that the Trump administration's fumbling of the epidemic could, like the 2009 global financial crisis, become "another decisive moment for US-China competition" and go China's way.
But Magnus said this was an overstatement because the global perception of China and its governance system was "self-evidently worse than it was then, Trump notwithstanding".
"Trump's mishandling of the virus crisis and the exposed frailties of the US healthcare system do not mean Xi Jinping and China have the moral high ground. Far from it. Both sides have their own weaknesses and shortcomings," he said.
"It could be a decisive moment for Trump in the presidential elections, I doubt it is decisive in terms of relative power."
An Gang also said the downward spiral of bilateral ties had accelerated, entering a new and more risky stage towards confrontation.
"For quite some time, people have been saying the US-China relations are at a crossroads. I am afraid we are past that stage as both sides have made their choices and moved to reduce their interdependence," he said.
He noted there had been some major shifts in public perceptions of each other in both countries, often cited by politicians as justification of a stable US-China relationship.
A survey conducted by Gallup last month showed along with deepening tensions over Huawei, maritime disputes and national security concerns, the coronavirus outbreak has dealt another blow to American perception of China, with favourable views hitting a low since the establishment of bilateral ties in 1979.
Only 33 per cent of Americans see China positively, 20 percentage points lower than the 2018 figure. It was even slightly lower than the 34 per cent level recorded after the bloody Tiananmen Square crackdown in 1989.
Gallup's findings were in line with another survey by the Pew Research Centre in December.
With public support dwindling and both Beijing and Washington becoming increasingly internal-looking, "we have to ask ourselves this question: what kind of US-China relations and external environment are we craving?" An Gang said.
Despite the deep distrust, China should put forward its own initiative for bilateral and international cooperation.
"It is impossible to solve a global crisis without global cooperation. It is imperative for China to act first because the US is in the midst of an unfolding crisis. It's in China's national interests to act like a leader and lay out a set of Chinese solutions and it would help repair and restore China's global image, no matter how the US chooses to respond," he said.
Purchase the China AI Report 2020 brought to you by SCMP Research and enjoy a 20% discount (original price US$400). This 60-page all new intelligence report gives you first-hand insights and analysis into the latest industry developments and intelligence about China AI. Get exclusive access to our webinars for continuous learning, and interact with China AI executives in live Q&A. Offer valid until 31 March 2020.
This article appeared in the South China Morning Post print edition as: An outbreak of animosity