Coronavirus: Chinese students in US face wrenching choice amid global upheaval – stay or return home
With classes moved online and the contagion spreading in the US, many are choosing to buy plane tickets and leave
But after first promoting the narrative that China is now a safe haven amid the pandemic, Beijing is discouraging its citizens from returning
Patricia Chen's New York-based art college closed its classroom doors on March 11 and moved instruction online starting this week. While some of her fellow Chinese students grabbed plane tickets and hurried home amid the deadly coronavirus outbreak, she chose to stay.
The School of Visual Arts respected and understood the choice of those who left, Chen said, and offered ways for students to access emails and online courses while they were in China, where most mainstream US websites are blocked.
As the United State is in semi-lockdown, some Chinese students are in a dilemma over which country is more dangerous to be in while the contagion spreads throughout the world.
When the first dozen cases were confirmed in New York, Kai Zheng, a graduate student at Fordham University, was planning to go back to China. That was before her school moved all classes online. Facing the uncertainty of whether and when she would be able to come back to the US, her parents suggested that she stay.
"I am frustrated that if I go back to China now, I could contract the virus as I have to transit and the plane will be full. I am also stressed while I am here. What if I get sick? Will I get timely medical treatment as I am a foreigner?" said Zheng, 23.
Jingjing Huang, a sophomore at Mount Holyoke College in South Hadley, Massachusetts, made a different decision. She bought a ticket home the day when her school announced that all remaining classes of the semester would be conducted online.
"A major reason why I didn't want to stay in the United States was our school's secluded location," Huang said. "It took two to three hours to drive to New York City or Boston. Nobody could come to help if I needed it."
While announcing that all American students should leave the campus, Mount Holyoke gave international students the choice to stay. Huang received an email from the school reassuring her that returning home would not affect her student status.
She will need to complete online classes, which extend late into the night because of the time difference. "My last resort would be using blackout curtains to simulate the day and night in the United States," she said.
Those returning home also face the uncertainty of travel disruptions and mandatory quarantines. After Huang's first China Southern Airline flight was cancelled, she bought a second one on Asiana Airlines.
On Thursday, Huang landed in Changsha, China, after a 53-hour journey, connecting in Seoul and Guangzhou. She posted her experience in a WeChat group where hundreds of anxious students share information about their homebound journeys.
The matter of quarantining after arrival in China has been inconsistent, with confusing messaging. Some cities allow returning residents to self-isolate at home while others move them to a centralised facility. Before going back, Huang heard from her parents that she would be able to quarantine at home. But once landed, she was told to stay in a hotel until her Covid-19 test result comes out.
US cases of the potentially deadly virus surged past 10,000 on Thursday morning as testing expanded. More than 150 Americans have died.
The topic "#should overseas students go back to China" has been trending for days on Weibo, the Chinese equivalent of Twitter. Most users say it would be safer for the students to return, as long as they honestly fill out customs and medical forms and strictly self-quarantine. There are some malicious comments, as well, saying they should not come home as they "are spreading virus from thousands of miles away to their home country".
As the number of inbound travellers surges in China, and since most of the recently confirmed cases are imported, Chinese authorities have stepped up their oversight measures, with Beijing using its massive propaganda apparatus, surveillance technology and a large network of community watchers to enforce the mandatory quarantine.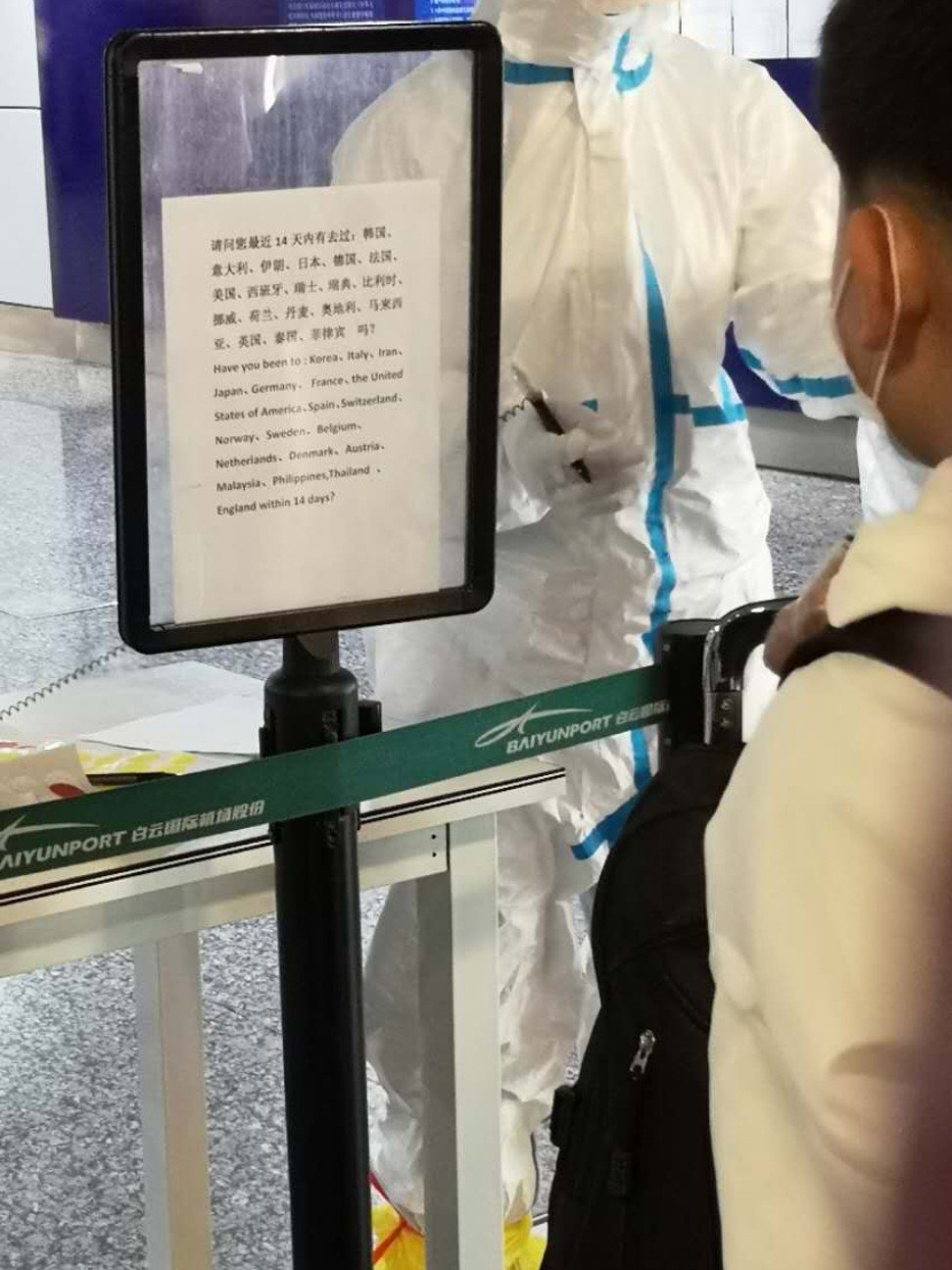 After first promoting the narrative that China has become a safe haven amid the pandemic, the government is now discouraging its citizens from returning. Pang Xinghuo, deputy director of Beijing's Centre for Disease Control and Prevention, said at a press conference on Wednesday that Chinese students overseas should "refrain from coming home unless it's very necessary".
Zhang Wenhong, a well-respected Shanghai doctor who has been hailed during the pandemic, said overseas students should weigh the decision carefully.
"You need to consider how long the contagion will last. Will you have to go back after you come back to China? What if the contagion lasts for another half year? Will you drop out? And if you choose to stay, what can you do [if you get sick]?" he asked.
Nuo Xu, president of the Chinese Students and Scholars Association (CSSA) at University of Washington in Seattle, said the outbreak in that metropolitan area had hastened the departure of some students. There are around 3,500 to 4,000 Chinese students at the university.
"China is imposing more strict measures to stop the spread, and we are less confident in US measures to contain the contagion," Xu said. "Also, we are facing discrimination when we wear masks on campus. One of our students once wore a mask in class and the professor said to him, 'I cannot even tell whether you are a guy or a girl since you are wearing a mask,'" Xu said.
Xu said the Chinese embassy had contacted association members about their concerns, and he said they raised the matter of US President Donald Trump's repeated use of the term "Chinese virus".
"We are very angry about his expression,' Xu said. "He has been inciting hatred towards Chinese. We haven't seen any immediate consequences yet, but we are worried it might affect us later."
The Chinese students' group at Princeton University in New Jersey raised similar concerns. In an email to the university president Christopher Eisgruber, the association requested "a letter from Princeton University to prevent further race discrimination".
"Students at Princeton University, please rest assured. The school is closed but our services will not," wrote Fangyin Wei, president of the Association of Chinese Students and Scholars.
As of Wednesday, five Princeton staff members had tested positive for Covid-19 and two students were awaiting results, according to the latest information on the university website. While undergraduates were advised to leave, graduate students were not asked to do so.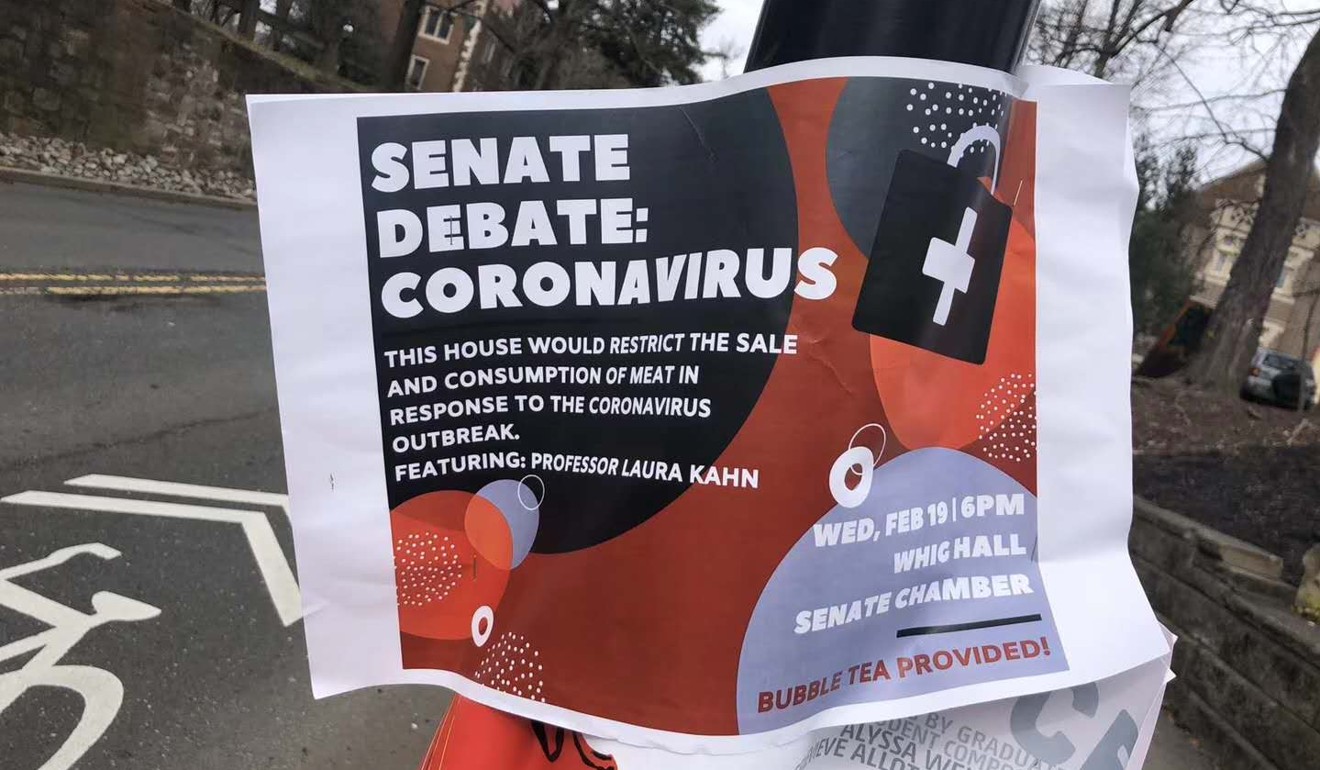 According to Wei, the student group neither encourages nor discourages people from returning home but rather is focused on providing help for students still living on campus.
The difficulties are compounded by the animosity between Beijing and Washington, which have been trading accusations over who is to blame for the pandemic.
Even before Trump began his practice of saying "Chinese virus", there had been xenophobic attacks against Asians in the US. Zheng, the New York-based student, said some Westerners had shouted "Chinese carry virus" at her and her Chinese friends.
"Now the US president is reiterating [it], and that could raise extensive anti-Chinese sentiment as more people would follow him," she said. "I am worried about the potential discrimination that I may encounter when I apply for any internship in the future."
Purchase the China AI Report 2020 brought to you by SCMP Research and enjoy a 20% discount (original price US$400). This 60-page all new intelligence report gives you first-hand insights and analysis into the latest industry developments and intelligence about China AI. Get exclusive access to our webinars for continuous learning, and interact with China AI executives in live Q&A. Offer valid until 31 March 2020.