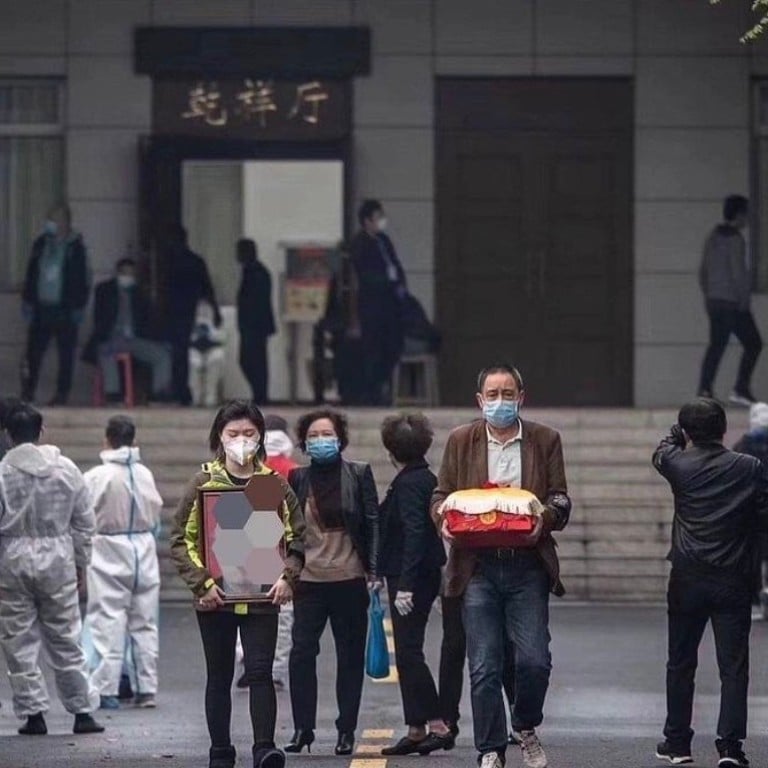 Thousands of people across Wuhan were this week finally allowed to collect the ashes of the loved ones they lost to Covid-19. Photo: Weibo
Coronavirus: Wuhan opens its funeral homes, cemeteries so families can bury their dead
Local man Tim Wang says his mother, who died last month from Covid-19, joked last year about getting a good deal on a family plot where she would one day be reunited with her late husband
On the day she died, he wasn't allowed into the ward to see her, so he sat on the hospital steps and cried for hours
Topic |  
Coronavirus pandemic: All stories
Thousands of people across Wuhan were this week finally allowed to collect the ashes of the loved ones they lost to Covid-19. Photo: Weibo
As Tim Wang queued up to collect his mother's ashes from a funeral home in Wuhan along with thousands of others in the city who have lost loved ones to
"I guess Wuhan people have no more tears to shed," the 41-year-old IT manager said.
At the home in Hankou district that Wang went to on Wednesday, he said there were long queues of people silently waiting in line.
"I waited for the whole morning to get my mum's ashes," he said.
An undated photograph showing a long line of people waiting outside the Hankou funeral parlour was widely shared on Weibo, China's Twitter-like platform, on Wednesday, but later removed without explanation.
According to the city government, 2,535 people have died of Covid-19 in Wuhan since the coronavirus outbreak began in December, with more than 50,000 infected.
However, the actual number of fatalities could be much higher because the official figure does not include those who died before being confirmed as having contracted the disease, as hospitals struggled to cope with the massive influx of patients.
Health officials in Hubei, of which Wuhan is the provincial capital, on Wednesday lowered the risk level for the city from high to medium, after local government data suggested the spread of the pathogen had been brought under control.
Wang said he would be placing his mother's ashes at a small family plot at Biandan Hill Cemetery on the outskirts of the city that she bought a couple of years ago when his father died.
"Last year, she jokingly said it was a good investment, as burial places were getting more expensive," he said.
"I laughed it off and told her that she would not be using it any time soon as she was still healthy. But we didn't continue the conversation as it made us both feel uncomfortable."
According to its website, plots at Biandan Hill cost from about 60,000 yuan (US$8,450) to more than 200,000 yuan. The Wuhan government told cemetery operators in the city to give a 30 per cent discount to all those who lost loved ones to Covid-19.
Wang said his mother seemed to be resigned to her fate when she was admitted to hospital in the third week of January.
"She sent me messages from her sickbed about where she kept her belongings and told me not to worry for her," he said.
"She said she was relieved that she was going to be buried next to my father."
On February 5, a nurse called Wang to tell him his mother's condition had become critical. He rushed to the hospital, even though he knew he would not be allowed in to see her because of the quarantine rules.
She died later that day. She was 72.
"I sat on the hospital staircase and cried for hours after the doctor called me to say she had passed away. I didn't get the chance to say goodbye."
But that was not the end of the sadness for Wang and his family.
"I didn't have much time to grieve as my father-in-law also passed away [from Covid-19], and my mother-in-law is still in hospital," he said.
"We need to buy a new tomb."
This article appeared in the South China Morning Post print edition as: Queues and quiet as Wuhan reopens its funeral homes