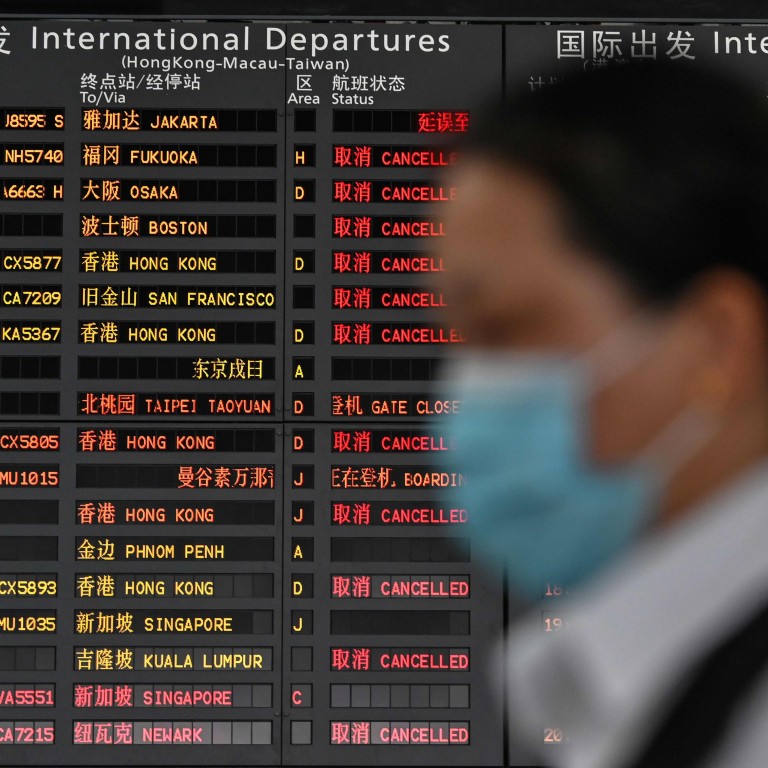 Coronavirus: business group warns China's ban on foreigners casts doubt on efforts to open up economy
EU Chamber of Commerce says denying entry to foreign nationals will have enormous impact on families and businesses in the country
Restrictions imposed as part of measures to curb spread of Covid-19
International business representatives said on Friday that China's ban on foreign nationals entering the country would have an "enormous" impact on their operations and cast doubts on China's effort to open its economy.
The European Union Chamber of Commerce in China said the ban would be an "unprecedented challenge for companies in need of both permanent and temporary talent from abroad, and will keep many families apart".
"The temporary ban on foreign nationals returning to China will have an enormous impact on many European businesses and families based here," it said in a statement.
The chamber said it expected that these measures would be constantly reevaluated and adjusted as the global situation develops, so that foreign experts could return and families could be reunited as soon as possible.
Chamber president Joerg Wuttke said cooperation and openness were needed during the Covid-19 outbreak.
"Europe has a proven comeback story with the unification and alignment of its markets culminating in the largest free-trade zone in the world, the EU. Similarly, China has an established track record of handling challenging economic situations – in 1978, 1992 and 2001 – by opening up its markets. Let's not waste this crisis," he said.
Citing the need to contain imported cases of Covid-19, the Chinese foreign ministry said that entry visas issued to foreigners would be suspended as an "interim measure", according to a statement late on Thursday that caught foreign businesses and communities by surprise.
"In view of the rapid spread of the new coronavirus epidemic worldwide, China has decided to temporarily suspend entry of foreigners with currently valid visas and residence permits in China," the ministry said.
The suspension will not apply to those holding diplomatic, service and courtesy visas. Those who need to go to China for economic, trade, scientific and technological activities or out of humanitarian needs may still apply for visas at Chinese embassies or consulates.
Statistics show about 950,000 foreigners live on mainland China.
Mainland China reported 54 new imported cases of coronavirus on Friday, bringing the total number to 595. Most are Chinese nationals returning home.
In addition to banning entry to foreigners, Beijing also said each Chinese airline would only be allowed to fly one weekly route to one city per country, operating at no more than 75 per cent capacity.
Each overseas carrier would be limited to one weekly flight to China, at three-quarters capacity, the Civil Aviation Administration of China said.
"To resolutely contain the increasing risks of imported Covid-19 cases, and in accordance with the requirements of the State Council for joint prevention and control of the pandemic, [the regulator] has decided to further reduce the number of international passenger flights," it said.
A manager-level professional at a duty-free business in Seoul, who asked for anonymity due to the sensitivity of the issue, expressed her concerns over the economic implications of the measure.
She said the measure would "further damage" the already struggling industry.
"The measures, especially reducing the number of planes to China, would limit Chinese wholesalers from buying our products," she said.
She added that Chinese wholesalers were taking turns to enter Seoul to buy goods for resale, despite the epidemic.
Purchase the China AI Report 2020 brought to you by SCMP Research and enjoy a 20% discount (original price US$400). This 60-page all new intelligence report gives you first-hand insights and analysis into the latest industry developments and intelligence about China AI. Get exclusive access to our webinars for continuous learning, and interact with China AI executives in live Q&A. Offer valid until 31 March 2020.
This article appeared in the South China Morning Post print edition as: ban on foreigners will have 'enormous' impact