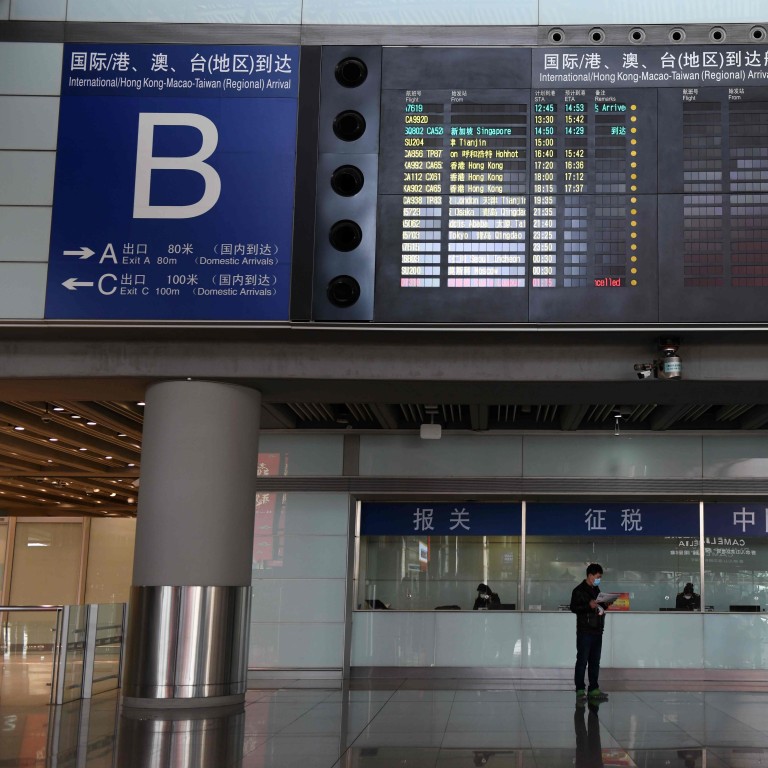 Coronavirus: Beijing's ban on foreign travellers comes into force months after it criticised other countries for 'isolating China'
Move may be necessary to stop Covid-19's return, but some say Beijing should acknowledge that it was wrong to attack nations that banned arrivals from China
Almost all foreign visitors will no longer be allowed to enter the country and international flights face severe restrictions
China's comprehensive ban on foreign travellers comes into force on Saturday as the country wraps up its two-month battle to contain Covid-19.
But two months ago Beijing attacked other countries' travel bans for "creating panic" and its latest move has been described as understandable but inconsistent.
"China's decision is understandable given the dangers of a second wave of infections but next time, when other countries take action to protect themselves, Beijing might be more restrained in its criticism," Richard McGregor, a senior fellow for East Asia at the Lowy Institute in Sydney, said.
"At the time, Beijing accused other countries of everything from overreacting to borderline racism. That was wrong, and it would be good if they acknowledged that rather than always claiming to occupy the high moral ground."
Beijing has pressured a number of countries to remove restrictions on travel from China. After Italy cut off direct flights in early February, Qin Gang, deputy minister of foreign affairs, met Italy's ambassador to China Luca Ferrari to express "strong dissatisfaction" and urged Italy to reverse the decision "as soon as possible".
Beijing announced at midnight on Thursday that it would ban all but essential foreigners and diplomats from entering the country, despite official numbers indicating that foreigners account for a small minority of Covid-19 cases among incoming passengers. Of the infected passengers entering China, 90 per cent were Chinese nationals, according to state broadcaster CCTV.
The country's aviation regulator had already announced it would significantly cut back on international flights, limiting flights by Chinese airlines to just one weekly route to one city per country from Sunday.
Starting on Friday, Guangdong province will require all travellers entering from neighbouring Hong Kong and Macau to undergo self-quarantine for 14 days upon arrival and get tested for Covid-19.
China's new measure to restrict foreign nationals was "unusual but necessary", said Ni Feng, a US affairs specialist with the Chinese Academy of Social Sciences.
"Under normal circumstances, closing the border is highly unusual, but it has come to the point where the cost of continued interaction outweighs those of closing the border."
"With the pandemic gaining momentum in the US and Europe, it's difficult to accurately predict how things will go … This is simply a life and death decision and it has no bearing on foreign relations."
China's leading expert in respiratory diseases, Zhong Nanshan, meanwhile warned that the new epicentre of Covid-19 might be shifting to the US.
He added that the global pandemic could be brought under control in April if forceful measures are adopted widely and across countries.
China's border ban has underlined the fragility of the country's economy in the face of a second wave of infections around the world, said Shi Yinhong, an international affairs expert with Renmin University.
"Beijing's anticipation is there will be a second wave [of infections] if it doesn't close its doors," he said. "China was lucky to have contained much of the outbreak within Wuhan, but if many cities see a second wave, the costs will be too heavy to endure."
"China did complain about other countries' travel bans earlier, but those measures have now been proven correct," Shi added.
The province of Hubei announced it would lift the travel ban on most of its cities on Tuesday, while Wuhan, the initial epicentre in China, will see its traffic ban lifted on April 8. The provincial health authorities said Friday that the Wuhan has "mostly cut off" local transmission of the disease.
The province had reported no new local cases for three consecutive days by Friday.
Nationwide, only one of the 55 new cases reported on Friday was the result of local transmission, while the rest were all imported.
The economic pain caused by the disruption of business has sunk in already, as industrial production declined by 13.5 per cent over the first two months of the year. Both retail sales and fixed asset investment have collapsed by more than 20 per cent, according to China's National Bureau of Statistics.
"China is facing immense difficulty in trying to restart business operation now. Even if the travel ban had not been imposed, I don't think there would have been many foreign nationals coming to China at this time anyway," said Shi.
Purchase the China AI Report 2020 brought to you by SCMP Research and enjoy a 20% discount (original price US$400). This 60-page all new intelligence report gives you first-hand insights and analysis into the latest industry developments and intelligence about China AI. Get exclusive access to our webinars for continuous learning, and interact with China AI executives in live Q&A. Offer valid until 31 March 2020.
This article appeared in the South China Morning Post print edition as: Travel curb 'inconsistent' after criticism of previous restrictions