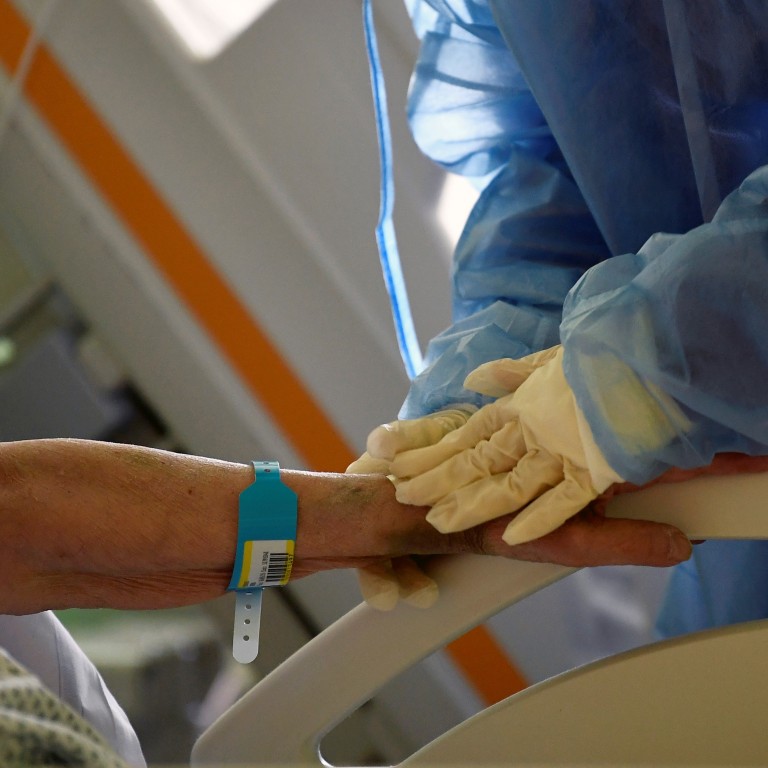 World Health Organisation warns countries not to treat Covid-19 patients with unproven medicine amid scramble for a cure
History of medicine abounds with 'examples of drugs that worked on paper or in a test tube but were actually harmful', WHO chief says
Warning comes as cases of the respiratory ailment caused by the coronavirus surge worldwide
The World Health Organisation (WHO) on Friday warned governments against treating infected coronavirus patients with medications not scientifically proven to fight the pathogen.
WHO Director General Tedros Adhanom Ghebreyesus issued the warning as cases of Covid-19, the respiratory ailment caused by the coronavirus that emerged in China late last year, surged worldwide, prompting health authorities to scramble to find treatments.
"We call on all individuals and countries to refrain from using therapeutics that have not been demonstrated to be effective in the treatment of Covid-19," Tedros said. "The history of medicine is strewn with examples of drugs that worked on paper, or in a test tube, but didn't work in humans, or were actually harmful."
"During the most recent Ebola epidemic, for example, some medicines that were thought to be effective were found not to be as effective as other medicines, when they were compared during a clinical trial," he said. "We must follow the evidence. There are no short cuts."
Tedros did not name any individuals, including US President Donald Trump, who came under criticism for touting chloroquine – a medicine for malaria – as a treatment for Covid-19 patients.
Trump defended his aim to start using the medicine regardless of the WHO warning.
Asked in a White House briefing about whether he would continue pushing chloroquine as a treatment, Trump said: "We have people dying now."
"If we're going to go into labs and test all of this for a long time, we can test it on people right now who are in serious trouble who would dying," Trump said. "If it works, we've done a great thing. If it doesn't work, you know, we tried."
The US leader began pushing for chloroquine as a treatment last week.
In a press briefing on March 19, Trump, referring to the medication, said: "Normally the [US Food and Drug Administration] would take a long time to approve something like that, and it was approved very, very quickly and it's now approved, by prescription."
Soon after Trump's comments, the FDA said that chloroquine had not been approved for treating Covid-19 and that more tests were needed to determine its safety and effectiveness.
A day later, US infectious disease expert Dr. Anthony Fauci said evidence that chloroquine worked against Sars-CoV-2, the scientific name for the new coronavirus, was "anecdotal".
The effort to prove the medication's efficacy against the contagion, he said, "was not done in a controlled clinical trial, so you really can't make any definitive statement about it".
Many US media outlets have reported shortages of chloroquine and hydroxychloroquine, a newer derivative of chloroquine that is also used for malaria, since Covid-19 cases began to surge in the country.
Tedros also warned that "off-label" usage of medication – the prescribing of sanctioned drugs for other, unapproved purposes – to treat Covid-19 potentially threatens the health of many individuals not infected with the new illness.
"We need to ensure that using unproven drugs does not create a shortage of those medicines to treat diseases for which they have proven effective," the head of the UN agency said in the briefing.
Purchase the China AI Report 2020 brought to you by SCMP Research and enjoy a 20% discount (original price US$400). This 60-page all new intelligence report gives you first-hand insights and analysis into the latest industry developments and intelligence about China AI. Get exclusive access to our webinars for continuous learning, and interact with China AI executives in live Q&A. Offer valid until 31 March 2020.
This article appeared in the South China Morning Post print edition as: WHO warns countries not to dispense unproven medicine