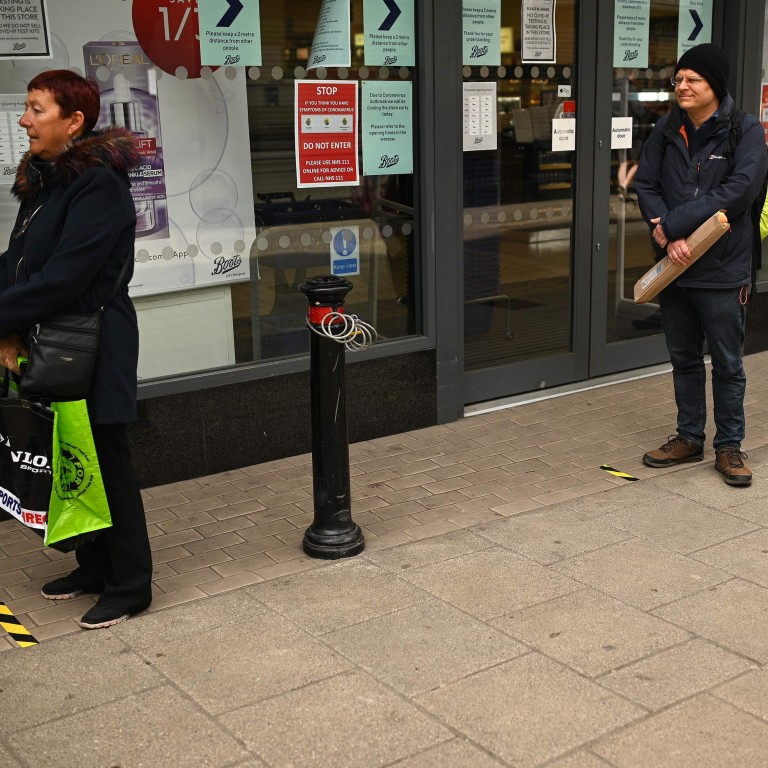 Coronavirus: social distancing could save millions of lives, study says
Researchers from Imperial College in London say that without steps such as social distancing Covid-19 could have killed 40 million people this year
Study warns governments will have to make 'challenging decisions' but limiting social contacts could halve the death toll
The Covid-19 pandemic
could kill as many as 20 million people worldwide this year even if people take steps to reduce their social contacts, according to a mathematical model developed by researchers at Imperial College in London.
The researchers' model indicated that if no social distancing measures were taken at all, the disease could kill as many as 40 million people worldwide but this could be halved if people cut their social meetings by 40 per cent and the elderly reduced their interactions by 60 per cent.
They also said that more aggressive measures could reduce the toll further and warned that "all governments" will have to face "challenging decisions" in the coming weeks and months about when and how aggressively they should impose social distancing, and how long they could afford these measures.
They calculated that if even more intensive, wide-scale social distancing was implemented early and sustained – by cutting 75 per cent of interpersonal contact rates – it could save 38.7 million lives.
In their study which was published last Friday, they included a number of scenarios, such as what would have happened if the world had not taken action to contain the new coronavirus, which has now infected more than 700,000 people and caused over 34,000 deaths.
The model also included two scenarios incorporating social distancing, which result in a single-peaked epidemic, and several scenarios for suppressing the spread of the disease.
On Sunday, Chinese President Xi Jinping visited eastern Zhejiang province, calling on workers to resume production but also reminded them to take care of personal health.
In projecting the health impact of the pandemic in 202 countries, researchers from the Imperial College Covid-19 Response Team compiled data about age-specific contact patterns and Covid-19 severity.
"The only approaches that can avert health system failure in coming months are likely to be the intensive social distancing measures currently being implemented in many of the most affected countries," the study said.
"These interventions will likely need to be maintained at some level in tandem alongside high levels of surveillance and rapid case isolation."
The Imperial College projections showed that higher-income countries would see more reductions in deaths and burdens to health systems, if they adopted more stringent social distancing measures. The researchers reckoned that more aged demographics and better healthcare resources in wealthier countries contributed to the differences in the impact.
The study said intensive social distancing was likely to have the biggest impact when implemented early.
It will need to be maintained to some extent until vaccines or an effective cure becomes available.
But governments also have to consider such measures' sustainability. The study did not quantify the wider societal and economic costs of stringent social distancing approaches.
"Our analysis highlights the challenging decisions faced by all governments in the coming weeks and months, but demonstrates the extent to which rapid, decisive and collective action now could save millions of lives," the researchers added.
A separate study by economists from the University of Pennsylvania, ShanghaiTech University and the Chinese University of Hong Kong, estimated that there would have been 65 per cent more Covid-19 cases in 347 Chinese cities, if the city of Wuhan had not been placed under lockdown. Their research was released on Social Science Research Network last week for peer review.
But balancing the timing and pacing of lifting the city's lockdown and easing social distancing control could be tricky for officials, when they have also to consider public sentiment and economic pressure.
Researchers from the London School of Hygiene and Tropical Medicine projected that physical distancing measures in Wuhan would be most effective if the city's staggered return to work was delayed until early April.
In their study published in The Lancet last week, the researchers said that changes to contact patterns were likely to have substantially delayed the epidemic peak and reduced the number of disease cases. The study said a second peak of cases that might occur in late August could be delayed by two months, if the closure of the city's schools and workplaces was relaxed in April instead of March.
Chinese officials have announced that Wuhan is scheduled to lift its lock down measures on April 8.
Purchase the China AI Report 2020 brought to you by SCMP Research and enjoy a 20% discount (original price US$400). This 60-page all new intelligence report gives you first-hand insights and analysis into the latest industry developments and intelligence about China AI. Get exclusive access to our webinars for continuous learning, and interact with China AI executives in live Q&A. Offer valid until 31 March 2020.