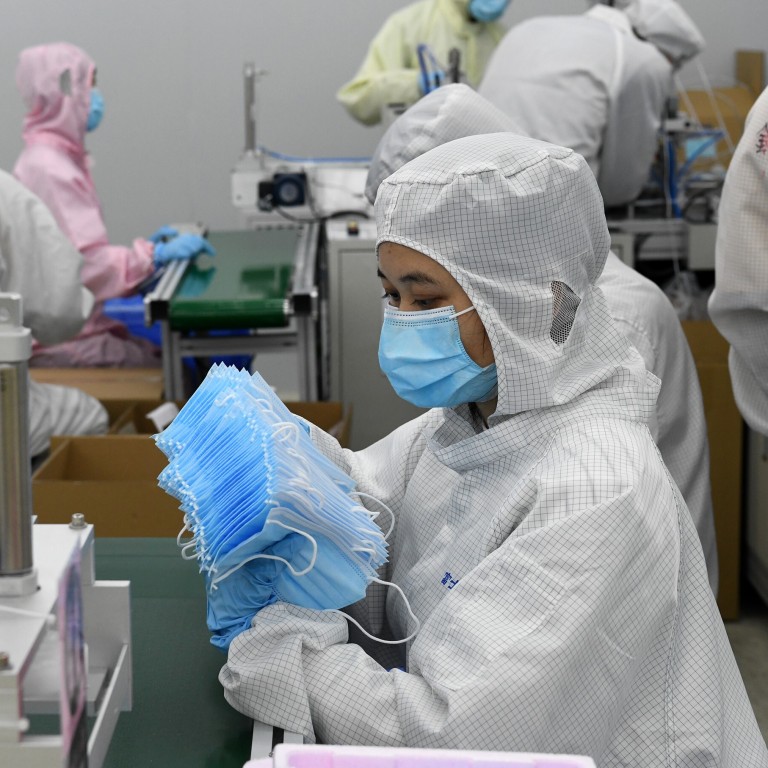 Coronavirus: China bans export of test kits, medical supplies by firms not licensed to sell them at home
After European buyers complain of being sold substandard products, Beijing says only companies approved by the National Medical Products Administration can ship their goods overseas
Previously, manufacturers needed only to have CE accreditation to be able to sell in Europe
Chinese manufacturers of
coronavirus
test kits and related medical supplies have been told they can no longer export their products unless they also have the relevant licences to sell their products in the domestic market.
The move comes after China was hit with a number of complaints from buyers in Europe about the quality and accuracy of tests kits and other products.
The new rule applies to all companies seeking to export test kits, face masks, protective clothing, ventilators and infrared thermometers, according to a joint statement issued on Tuesday by the Ministry of Commerce, General Administration of Customs and the National Medical Products Administration.
Previously, Chinese exporters were required only to have CE certification to indicate their goods conformed to the health and safety standards required for sale within the European Economic Area.
The statement said also that companies must demonstrate to the Chinese customs agency that their products meet the relevant standards of the countries to which there goods are being exported.
The new rules would be tightly implemented and any company caught trying to undermine or circumvent them would be punished accordingly, it said.
Also on Tuesday, the commerce ministry released a list of manufacturers that have obtained the relevant licences and registrations from the National Medical Products Administration – formerly known as the China Food and Drug Administration – for use by overseas buyers in search of qualified suppliers.
With countries around the world in the grip of the Covid-19 pandemic, demand for test kits and protective clothing and equipment has soared. While the coronavirus outbreak began in central China, the country has since brought it largely under control and as a result, manufacturers have been able to switch their focus to serving overseas markets.
However, as of last week, of the 102 Chinese companies with CE accreditation, just 21 were licensed to sell their products within China.
Song Haibo, the chairman of the China Association of In Vitro Diagnostics, said the new regulation would have a huge impact on the industry.
"Many companies with CE accreditation have signed contracts [with overseas buyers], but now they may be forced to break them and that could result in lawsuits," he said.
Manufacturers were facing a huge hit as they had already stocked up on raw materials and produced large volumes of reagents and test kits intended for export, he said.
"The regulation will not only affect Covid-19 products, but also the reputation of the Chinese in vitro diagnostics industry and have a long term negative impact on the export of medical supplies."
A business development manager for a biotech company in Beijing, who asked not to be identified, said that another problem facing manufacturers was that applying for a domestic licence could take years, even for those that already had CE accreditation.
"The formal approval process takes one to three years," she said.
In a bid to fast track the provision of essential medical supplies around the world, Chinese authorities created a "green channel" to simplify the approval process for Covid-19 test kits, but that had now been closed, she said.
"Some companies have already bought raw materials, which they will now have to just keep in stock, which could mean a financial loss."
The Chinese embassy in Madrid, meanwhile, said that the kits provided by Bioeasy were not part of a package of supplies donated by Beijing, and that the company had not been licensed by the National Medical Products Administration.
An agent who helps source Chinese suppliers said: "There are too many distributors in China, so we have to improve our quality checks and help foreign buyers source reliable products."
In a batch of KN95 masks sent to a European country recently, only half were found to be good enough for use by frontline medical workers, the person said.
China was not the only country that had a quality problem, but face masks made by South Korean companies were very good quality, he said.
A report by Chinese newspaper 21st Century Business Herald, said the state drug watchdog had tightened the rules on exports of test kits and other medical supplies to prevent a repeat of the Bioeasy incident.
Some local authorities appear to have tightened their export rules ahead of the joint statement from Beijing.
According to a report dated March 25 by the Shenzhen Association of Medical Devices and sent to city government, dozens of its members had been facing difficulties getting the necessary paperwork to export their products and were at risk of defaulting on contracts.
Shenzhen has more than 800 medical device producers with a combined annual output of more than 50 billion yuan (US$7 billion), of which about half are exporters, the report said.
Additional reporting by Sidney Leng