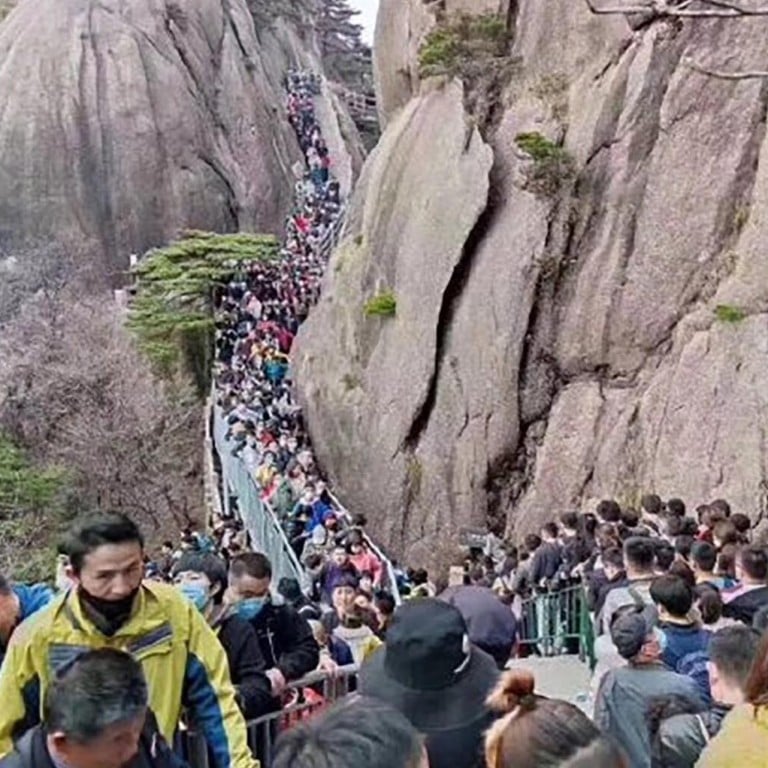 China's Huangshan mountains swamped with visitors as country tries to ease coronavirus lockdown
Pictures of packed trails over the weekend highlight difficulties in maintaining social distancing while trying to get back to normal
Attraction in Anhui province said it would be forced to close on Sunday after exceeding its 20,000-visitor limits
A popular mountain range in southeast China was forced to close after tens of thousands of people flocked to its trails over the weekend.
The crowds flocking to the Huangshan, or Yellow Mountains, in Anhui province highlight the difficulties the country may face in future as it tries to get back to normal while keeping Covid-19 under control.
Starting from Saturday, the Anhui provincial government had been offering free entry to 29 sites, including Huangshan, to boost visitor numbers.
Visitors were asked to show their health status on an app, wear surgical masks and their body temperatures had to be checked before entering the site.
But on Sunday the park authorities said it would have to close because the number of visitors had reached its daily limit of 20,000 and urged people to visit other sites or come to the mountains at another time.
Pictures and video circulated on the social media platform Weibo showing packs of visitors walking up the mountain range over the three-day Ching Ming festival.
"Tourism has been hit hard, and also its related industries," said one Weibo comment. "But the epidemic isn't over. If you must open the sites, you have to restrict the flow [of tourists], and those visitors from outside."
As of Sunday, the number of confirmed cases being treated in the country had fallen to 2,382, according to the National Health Commission, but the total number of imported cases rose to 913.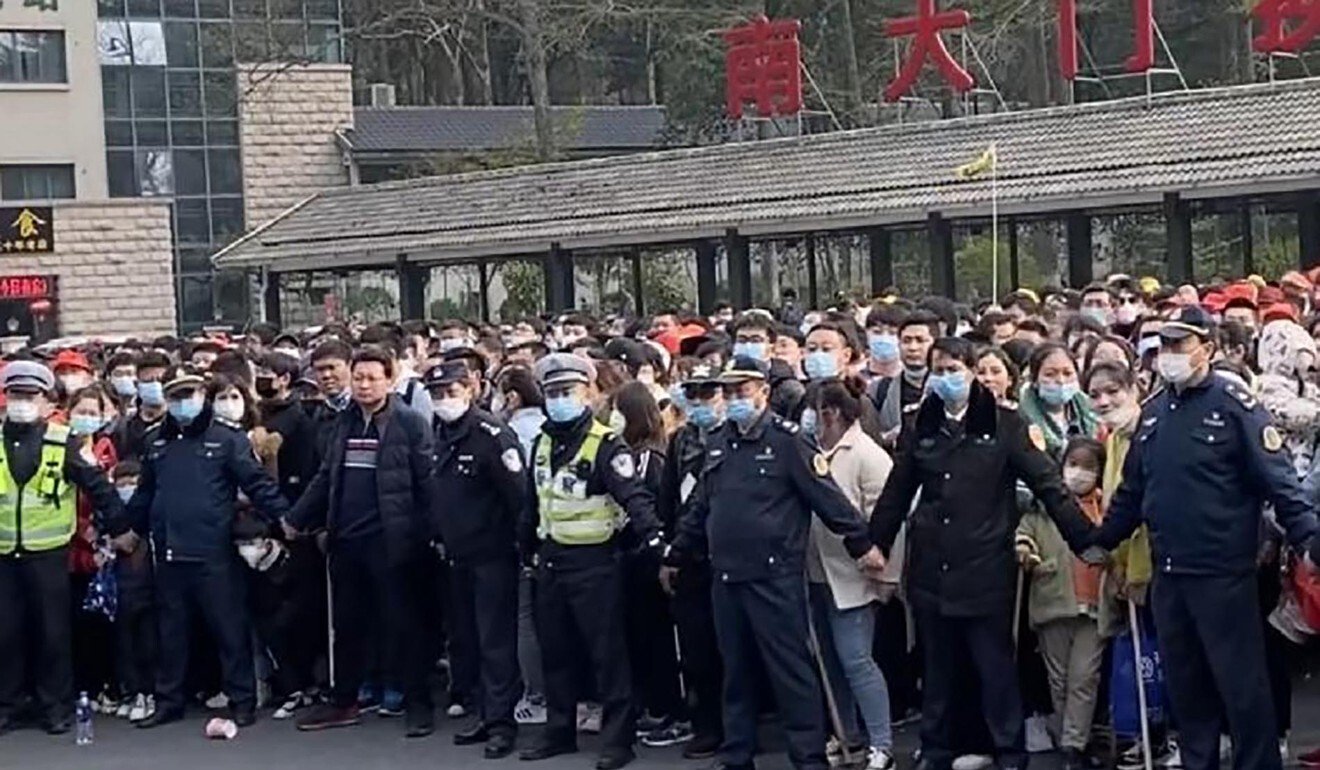 "I think China is keeping a close eye on Covid-19 detections and may need to tune the social distancing measures that are needed to keep Covid-19 contained. For now, it may be OK to relax some measures, but those measures should be tightened if case numbers pick up," said Benjamin Cowling, a professor of epidemiology and biostatistics at Hong Kong University.
"I would not be surprised if most countries continue to prohibit mass gatherings for the rest of 2020," said Cowling, adding that temperature checks at entrances would be a good idea, but it might not be sufficient to protect visitors.
Anhui, which shares its western border with Hubei province, the initial centre of the outbreak, last reported a new infection on Feb 27, according to official figures. The province reported a total of 990 cases of Covid-19, including six deaths.
China's tourism and cultural sectors are among the worst hit as a result of the outbreak.
A number of Shanghai's popular tourist spots, including the Shanghai Oriental Pearl Tower and Shanghai Jinmao Tower had to close again last week only two weeks after reopening.
Dai Bin, president of the China Tourism Academy, a research institute under the Ministry of Culture and Tourism, told a forum in February that he expected domestic tourism would contract as much as 56 per cent in the first quarter and 15.5 per cent for the whole year.
Dai also estimated that annual income loss from tourism could hit 1.2 trillion yuan (US$169 billion) this year.
Sign up now and get a 10% discount (original price US$400) off the China AI Report 2020 by SCMP Research. Learn about the AI ambitions of Alibaba, Baidu & JD.com through our in-depth case studies, and explore new applications of AI across industries. The report also includes exclusive access to webinars to interact with C-level executives from leading China AI companies (via live Q&A sessions). Offer valid until 31 May 2020.