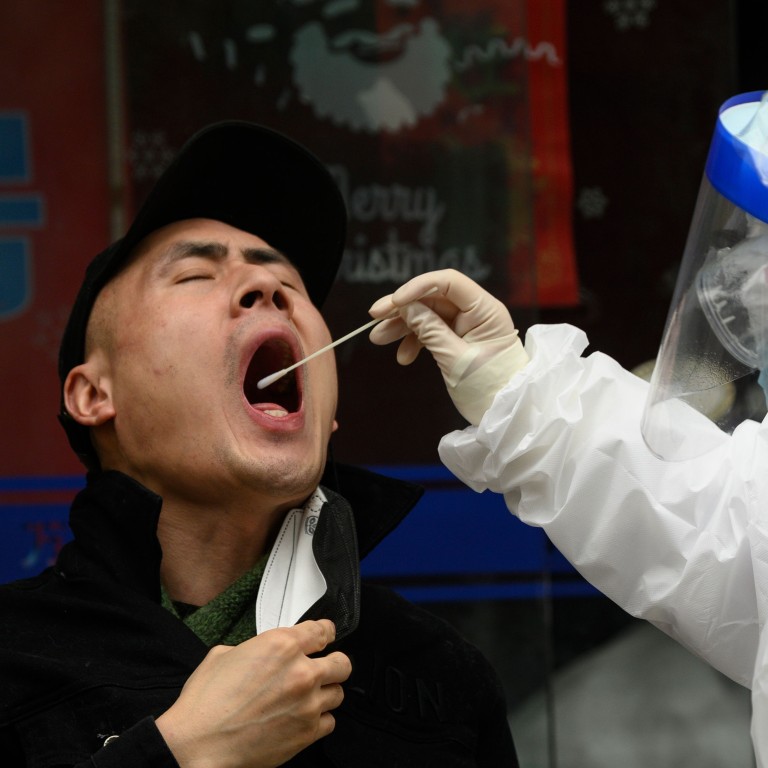 Coronavirus replicates in throat making it easy to transmit, German scientists say
Pathogen that causes Covid-19 does not have to travel to the lungs to replicate, researchers say
High viral load in the throat at the onset of symptoms suggests people with Covid-19 are infectious very early on, they say
Scientists in Germany have determined that
the coronavirus that causes Covid-19
can rapidly replicate within people's throats, making it far easier than Sars virus for it to be transmitted from one person to the next.
The study, which was published in Nature on April 1, was conducted by teams from Berlin, Munich and Cambridge, and based on the clinical treatment of a group of nine Covid-19 patients.
The findings suggest that the new coronavirus can easily spread through droplets, indicating that this transmission method should be a focus of containment measures, according to the team led by Christian Drosten from Charité University Hospital in Berlin and Clemens Wendtner from the Schwabing Clinic in Munich.
The nine patients all had mild symptoms and were young to middle-aged professionals and treated in a hospital in Munich.
Throat swabs taken in the patients' first week of symptoms were all positive for the virus. But less than 40 per cent of swab samples for patients at the same stage with
severe acute respiratory syndrome
(Sars) returned a positive result.
"Also, viral load differed considerably [between the Sars and Covid-19 viruses]," the researchers said. "In the present study, peak concentrations were reached before day 5, and were more than 1,000 times higher than [those for the Sars swab peak]."
"Successful live virus isolation from throat swabs is another striking difference from Sars, for which such isolation was rarely successful.
"Altogether, this suggests active virus replication in upper respiratory tract tissues."
Like the Sars coronavirus, the Covid-19 coronavirus has spike proteins that help it fuse with a human cell receptor called ACE2, allowing the virus to enter tissue. Such receptors are more common in the lower respiratory tract, which scientists thought explained the lung infections often present in Sars and Covid-19 patients.
But the new virus' spike proteins had features that made it better than its Sars counterpart at fusing with human cells, according to various other studies, including research released last month by a team at Shanghai's Fudan University.
The German researchers said these special fusion features could be why the Covid-19 coronavirus was so apparent in the upper respiratory tract, despite there being fewer receptors.
The researchers added they found strong evidence suggesting the virus could replicate not just in lungs but also a patient's throat.
The study said the new coronavirus shared similar traits to the Sars virus in terms of replicating in the lungs and digestive tract.
But the new virus was much more contagious because it was also shed through the upper respiratory tract in earlier days of illness, they said.
Sign up now and get a 10% discount (original price US$400) off the China AI Report 2020 by SCMP Research. Learn about the AI ambitions of Alibaba, Baidu & JD.com through our in-depth case studies, and explore new applications of AI across industries. The report also includes exclusive access to webinars to interact with C-level executives from leading China AI companies (via live Q&A sessions). Offer valid until 31 May 2020.
This article appeared in the South China Morning Post print edition as: virus grows rapidly in throat, study reveals