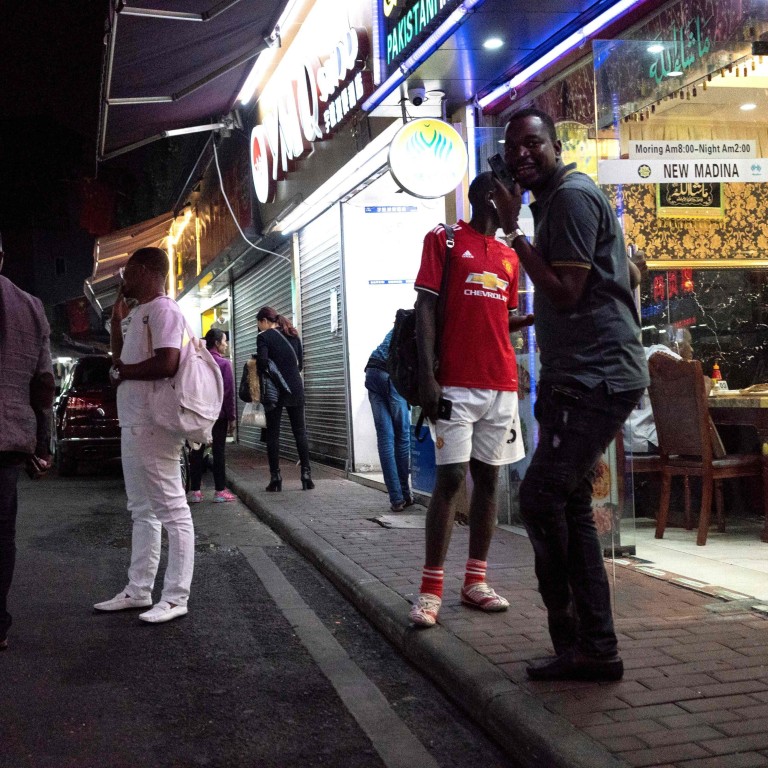 US warns African-Americans to avoid Guangzhou after reports black people are being targeted in coronavirus clampdown
People of African descent or with 'African contacts' have been subjected to mandatory tests and quarantine
Black people are reported to have been evicted from hotels and flats and denied service in restaurants in southern metropolis
African-Americans have been advised to stop travelling to Guangzhou, according to an alert issued on Saturday by the United States consulate in the city, citing a local government-led crackdown targeting people of African origin due to Covid-19 fears.
The warning followed reports that local authorities had imposed tough measures in recent weeks screening people entering and leaving the city's "Little Africa" district in Yuexiu district after five Nigerians tested positive for the coronavirus.
As part of the campaign to tighten scrutiny of foreigners, those who appear to be of African origin and others suspected of having "African contacts" were subjected to mandatory tests, followed by mandatory quarantine, regardless of their recent travel history, the consulate notice said.
It also said members of the city's sizeable African community had been denied service in hotels, bars and restaurants.
There have also been media reports this week that a large number of African students and businesspeople had been evicted from flats and hotels and were having difficulty finding food and shelter.
"The US Consulate General advises African-Americans or those who believe Chinese officials may suspect them of having contact with nationals of African countries to avoid the Guangzhou metropolitan area until further notice," said the alert.
It also warned that local authorities may require foreigners to take a test and 14 days of supervised quarantine at their own expense, without advance warning.
Amid rumours about an outbreak in the city's African neighbourhoods, tensions have been exacerbated between local residents and the expat community in Guangzhou and across the country.
In a bid to stem imported infections, which account for the bulk of new cases reported in the country, China has tightened border controls, slashed international flights and imposed a ban late last month on all foreigners entering the country.
It coincided with growing anti-Chinese sentiments in Western countries targeting overseas Chinese and people of Asian descent when the coronavirus pandemic swept through more than 200 countries and territories in six continents.
Local officials have dismissed the rumours of an outbreak among the city's African community and said the five Nigerians had broken quarantine rules and visited a local restaurant.
Nearly 200 people they came into contact with had to be tested and quarantined, with another 1,700 people also being tested, China Business News reported.
Yan Qiang, a Yuexiu district official, urged local residents to remain calm on Tuesday and denied that there was an ongoing crackdown targeting Africans.
Challenging online claims that hundreds of thousands of Africans live in Yuexiu, he said only 3,500 foreigners are living in his district, mostly from the US, Mali, Nigeria, Canada and Australia.
Chinese foreign ministry spokesman Zhao Lijian defended Beijing's efforts to contain imported infections and insisted this week that China would not tolerate any form of racism or discrimination.
Sign up now and get a 10% discount (original price US$400) off the China AI Report 2020 by SCMP Research. Learn about the AI ambitions of Alibaba, Baidu & JD.com through our in-depth case studies, and explore new applications of AI across industries. The report also includes exclusive access to webinars to interact with C-level executives from leading China AI companies (via live Q&A sessions). Offer valid until 31 May 2020.