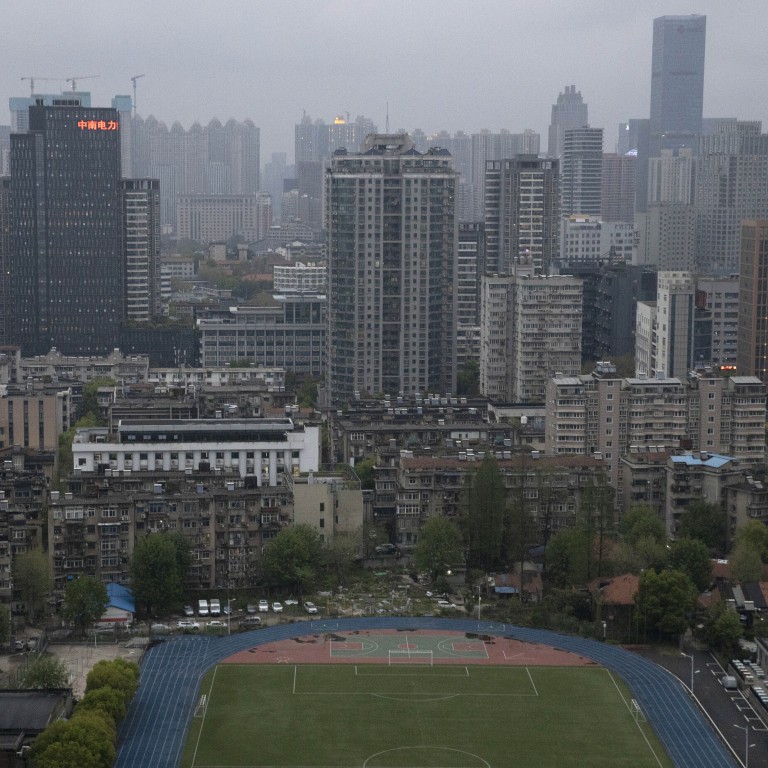 Wuhan hotel owners warn they are on the brink of going bust after coronavirus devastates industry
The industry has appealed for help from the local government to cover wage and rental costs as travellers stay away after Covid-19 outbreak
Appeal says that hotels gave medical staff free accommodation worth US$2m as they tackled the deadly epidemic
The Meisu Fengshang serviced apartment complex in Wuhan has been completely empty since January when
Covid-19
started spreading.
When the city went on lockdown on January 23, business dropped to zero and there has been no improvement since the city finally reopened on April 8.
"More than 80 per cent of our guests are tourists or people on business. Right now most are afraid to travel," Ma Ling, the owner of the business in the city's Chuhe Hanjie district, said.
She expects the situation to continue for at least half a year, adding: "If this goes on, we will be bankrupt within two months and would have to pack up and go home."
On Monday, she joined hundreds of other hotel and rental flat managers in Wuhan in sending a letter to the local government appealing for help, saying they are going out of business because of high rents, costs, and sluggish market demand.
"We expect a large wave of medium and small hotel and flat closures around May or June, followed by unemployment," the letter said.
They asked the local government for preferential policies such as subsidies, loan guarantees, rent deductions, advertisements and coupons that may help restore their business.
Hundreds of hotel managers in Wuhan came together on January 24, the day after Wuhan went into lockdown, to voluntarily provide housing for medical staff.
The letter said that over the course of the outbreak the free accommodation they provided was the equivalent of 200,000 stays worth around 20 million yuan (US$2.8 million).
Now as the city reopens and people gradually go back to work, the hotels are struggling to payrent, water and electricity, salaries and loans.
During the outbreak, most hotels had no income. Now, the market remains stuck in the doldrums and the letter said it would need a year to recover.
Ma has to pay 100,000 yuan a month to rent 20 rooms and the cost of paying her staff adds 20,000 yuan to her costs. She has tried to negotiate a rent reduction but many of the rooms are owned by individuals and they need the money to pay their own mortgages.
In February, the Wuhan government introduced a raft of policies to support small businesses, including encouraging rent deduction, postponing tax and cutting electricity and water bills.
But the business owners say the policies are unclear and did not apply to all.
Zhou Juan, owner of the Lovebird Hotel, hopes the government can help negotiate with the landlord for a rent reduction or offer a loan guarantee, so that they can at least reduce their costs.
She and her husband Fu Zhiqiang invested most of their savings in the apartment-turned-hotel and are losing 30,000 yuan a month letting it sit idle.
Even though Wuhan has reopened, her hotel is located in a residential building that remains sealed off until further notice.
"It's too much pressure on us," she said. "We didn't create this outbreak, but we had no choice."
Sign up now and get a 10% discount (original price US$400) off the China AI Report 2020 by SCMP Research. Learn about the AI ambitions of Alibaba, Baidu & JD.com through our in-depth case studies, and explore new applications of AI across industries. The report also includes exclusive access to webinars to interact with C-level executives from leading China AI companies (via live Q&A sessions). Offer valid until 31 May 2020.
This article appeared in the South China Morning Post print edition as: Wuhan hotel owners plead for help to stay afloat