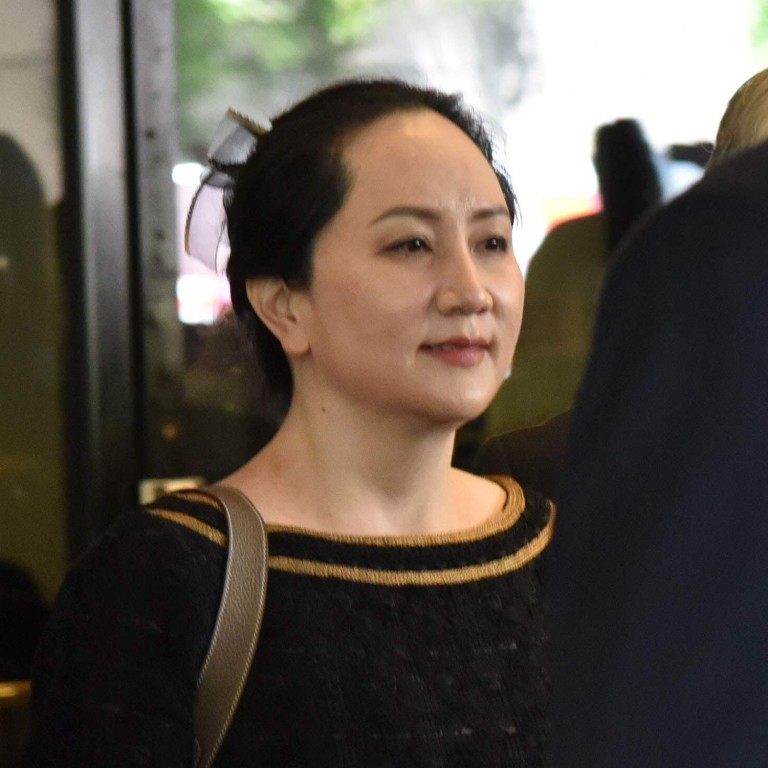 China brands Canada 'accomplice' of US, as Huawei's Meng Wanzhou loses bid to have extradition case thrown out
Canadian judge rules that the US fraud charges against Meng satisfy the 'double criminality' rule, and her extradition case must continue
China's embassy blasts the ruling, accusing Canada of taking part in a 'grave political incident' and saying it should 'not go further down the wrong path'
China has accused Canada of acting as an "accomplice" to the United States in a "grave political incident", after a judge in Vancouver rejected a bid by Huawei executive Meng Wanzhou to have her US extradition case thrown out.
Justice Heather Holmes of British Columbia's Supreme Court ruled on Wednesday that the US fraud charges against Meng satisfied the Canadian extradition requirement of "double criminality", which demands that suspects be accused of something that would constitute a crime in Canada as well as in the requesting country.
The extradition case – which has thrown China's relations with Canada and the US into turmoil – will therefore continue.
"On the question of law posed, I conclude that, as a matter of law, the double criminality requirement for extradition is capable of being met in this case," Associate Chief Justice Holmes wrote in her judgment.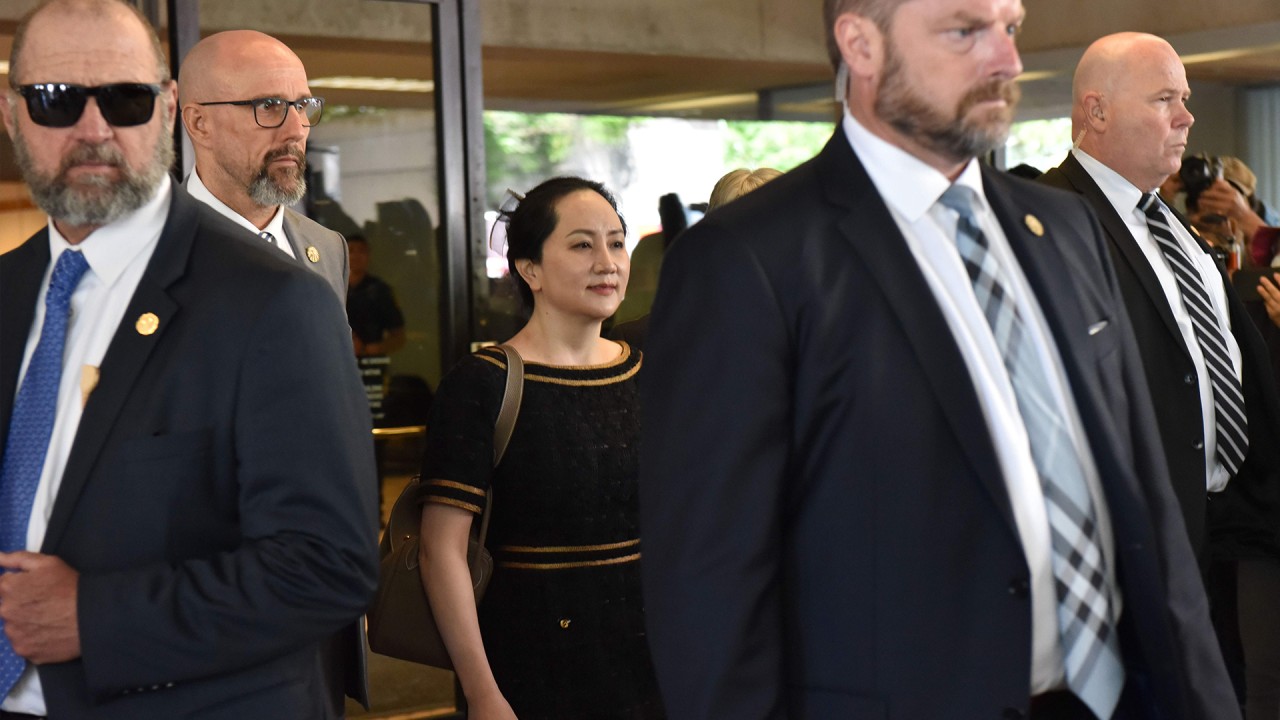 00:38
Huawei executive Meng Wanzhou leaves Canadian court after legal setback
Huawei executive Meng Wanzhou leaves Canadian court after legal setback
In a statement on social media, China's embassy said: "China hereby expresses strong dissatisfaction and firm opposition to this decision, and has made serious representations with Canada."
"The United States and Canada, by abusing their bilateral extradition treaty and arbitrarily taking forceful measures against Ms Meng Wanzhou, gravely violated the lawful rights and interests of the said Chinese citizen," the statement said.
"The purpose of the United States is to bring down Huawei and other Chinese high-tech companies, and Canada has been acting as an accomplice of the United States. The whole case is entirely a grave political incident."
The statement urged Canada to "immediately release Ms Meng Wanzhou and allow her to return safely to China, and not go further down the wrong path".
Canada's Department of Justice had hailed "the independence of Canada's extradition process", in a statement after the ruling. Meng's lawyers will continue to fight against her extradition on other grounds.
US prosecutors want Meng extradited from Canada to face trial in New York. Canadian police, acting at the request of US authorities, arrested her at Vancouver's airport on December 1, 2018.
The arrest set off a diplomatic firestorm amid the
US-China trade war
and sent Beijing's relations with Ottawa plummeting. Meng is accused of defrauding HSBC bank by deceiving an executive in Hong Kong about Huawei's alleged business dealings in Iran, a breach of US sanctions.
Meng's lawyers had tried to have the extradition case dismissed by arguing that the fraud charges were in fact a "dressed up" accusation that Meng had broken US sanctions, which is not a crime in Canada.
But Holmes said that the "essence" of Meng's alleged wrongful conduct "is the making of intentionally false statements in the banker client relationship that put HSBC at risk".
"The US sanctions are part of the state of affairs necessary to explain how HSBC was at risk, but they are not themselves an intrinsic part of the conduct," wrote Holmes.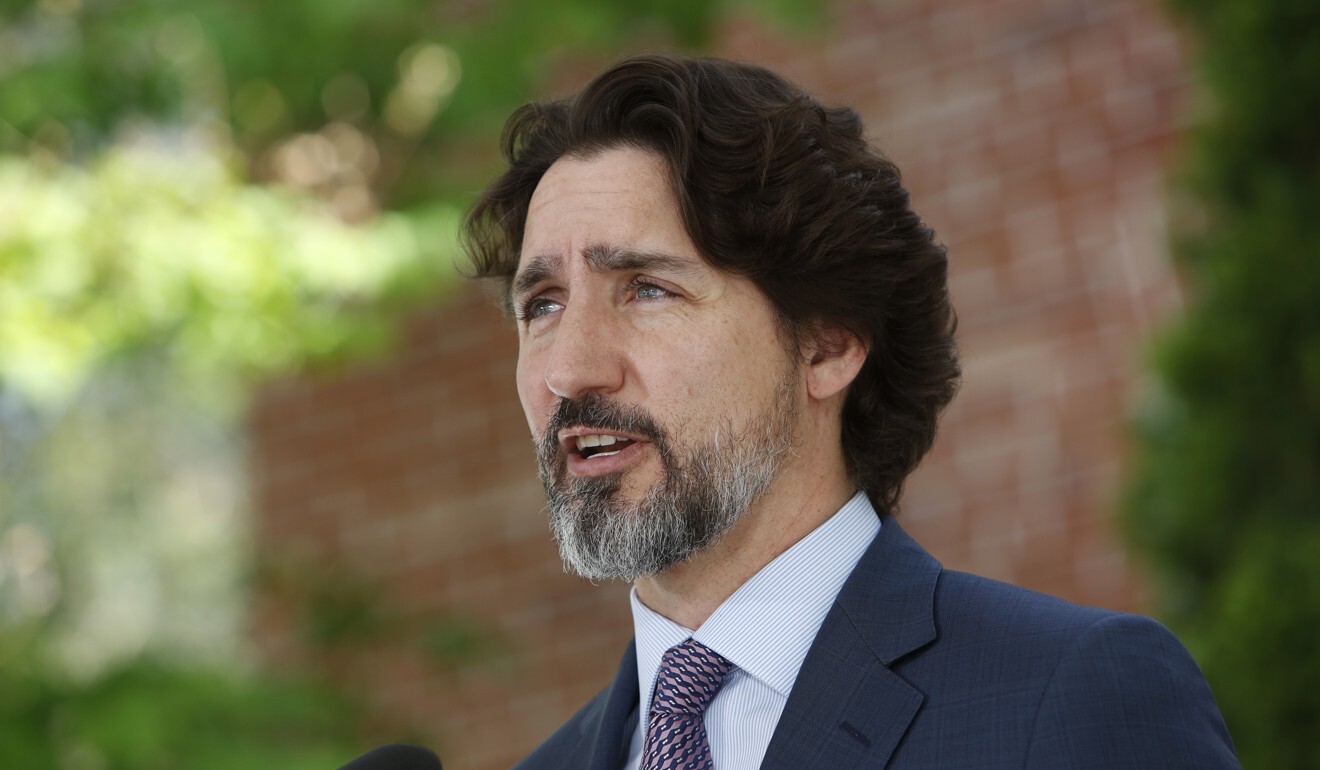 "For this reason, I cannot agree with Ms Meng that to refer to US sanctions in order to understand the risk to HSBC is to allow the essence of the conduct to be defined by foreign law. Canada's laws determine whether the alleged conduct, in its essence, amounts to fraud."
Meng, 48, will remain under partial house arrest in Vancouver, where she lives in a C$13.6 million (US$9.9 million) mansion on C$10 million bail.
Holmes said that the double criminality analysis of Meng's lawyers "would seriously limit Canada's ability to fulfil its international obligations in the extradition context" regarding economic crimes, noting that "the offence of fraud has a vast potential scope".
Canadian Prime Minister Justin Trudeau this week tried to emphasise that Canada's courts are independent from political considerations. But the case has deeply strained relations between Ottawa and Beijing.
On Tuesday, China's foreign ministry said Canada "should immediately correct its mistake, release Meng and ensure her safe return to China at an early date, so as to avoid any continuous harm to China-Canada relations".
In the wake of Meng's arrest, China detained two Canadians, Michael Kovrig and Michael Spavor, accusing them of espionage. But their treatment is widely viewed in Canada as hostage-taking, and retaliation for Meng's arrest.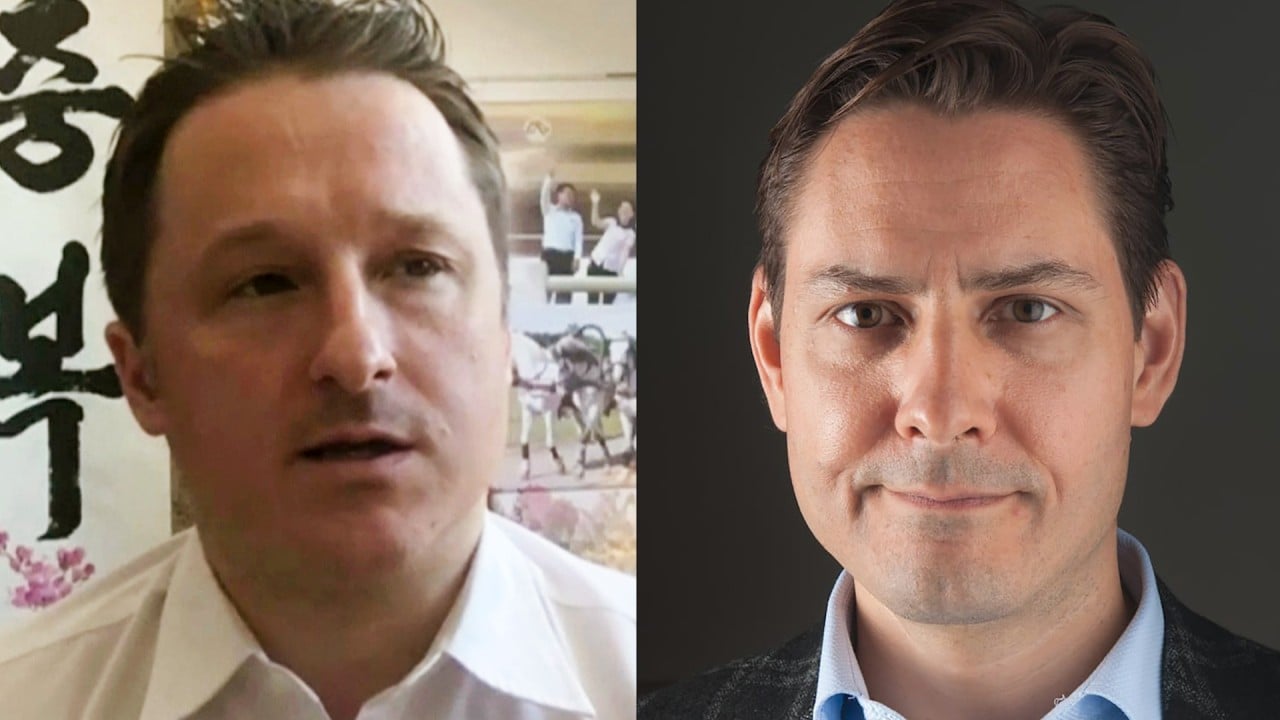 01:59
China accuses detained Canadians of spying, following Huawei CFO extradition approval
China accuses detained Canadians of spying, following Huawei CFO extradition approval
Holmes' decision represents a major setback for Meng, who is the daughter of Huawei CEO Ren Zhengfei. However, her lawyers are continuing to contest extradition by arguing that her case has been tainted by political interference, such as when US President Donald Trump said in December 2018 that he might intervene in the case if it suited US economic interests.
Meng's lawyers have also said her Canadian rights were violated by her treatment at Vancouver's airport, when border agents searched her belongings and questioned her in what they allege was a "covert criminal investigation" on behalf of the US FBI.
Holmes' ruling outlined the US accusation that Meng gave "false assurances" about Huawei's Iran business to a HSBC banker in the back room of a Hong Kong restaurant in 2013. These assurances allegedly put HSBC at economic and reputational risk by "significantly understating" Huawei's relationship with Skycom, a company based in Iran.
Meng allegedly described Skycom as a partner. But although Huawei had sold its shareholdings in Skycom and Meng herself had resigned as a member of its board, "Huawei in reality continued to control Skycom and its banking and business operations in Iran", wrote Holmes in her summary of the US case.
In her decision, Holmes said that although Canada did not have a sanctions regime against Iran, such US laws were "not fundamentally contrary to Canadian values in the way that slavery laws would be, for example".
After Holmes' ruling was released online, Meng appeared at a brief court hearing. Proceedings were adjourned until a case management conference on June 3.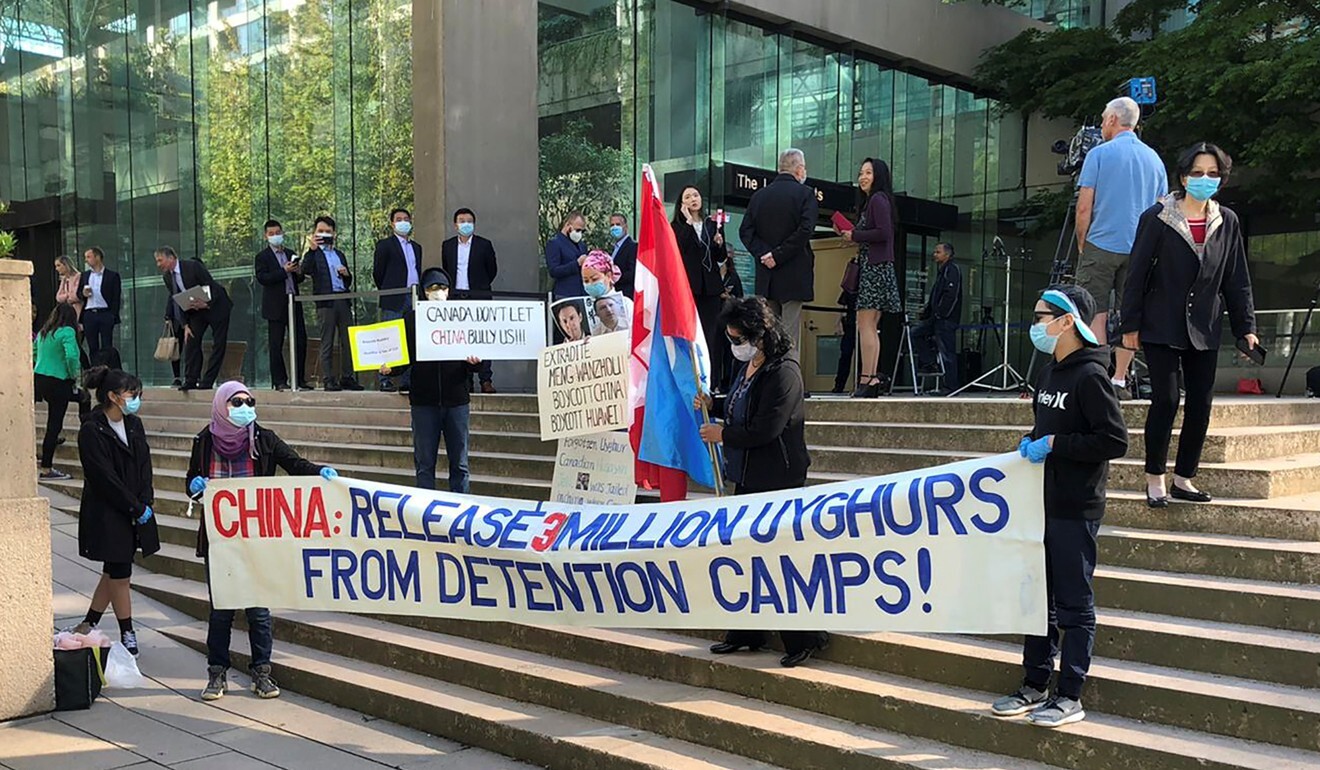 Further hearings are scheduled until October, but appeals mean the extradition case could last years.
Huawei said in a statement that it was "disappointed" by Wednesday's ruling.
"We expect that Canada's judicial system will ultimately prove Ms Meng's innocence," the statement said.
However, the Canadian extradition hearings are not to determine Meng's guilt or innocence, only whether the case meets a test for committal and she should be sent to the US to face trial.
Holmes' ruling was released in stages: participating lawyers were emailed copies of the decision at 9am; Meng and Canadian and US authorities were allowed to be informed at 10am; then the ruling was finally made public at 11am.
There had been intense speculation about the ruling, heightened on Saturday when Meng was seen posing for photos on the steps of the Supreme Court in downtown Vancouver with about a dozen friends and Huawei colleagues.
On Wednesday morning around 8am, four women who were among that group turned up at Meng's mansion in the exclusive Vancouver neighbourhood of Shaughnessy, bustling past about two dozen waiting reporters.
Nine and 10 o'clock ticked past without the curtains at the house even flickering.
"We're just waiting for the Navy Seals to come in," joked a guard from Lion's Gate Risk Management, pointing a thumb in the direction of the US consul-general's residence, just a couple of doors from Meng's house. The Lion's Gate guards are tasked with preventing Meng from escaping, but also act as her de facto bodyguards. She pays their bills under the terms of her bail.
It would not be until 10.45am that Meng herself emerged from the house, greeting reporters before climbing into a black Chevrolet Suburban SUV and heading to court.
This article appeared in the South China Morning Post print edition as: Meng fails to dismiss extradition case