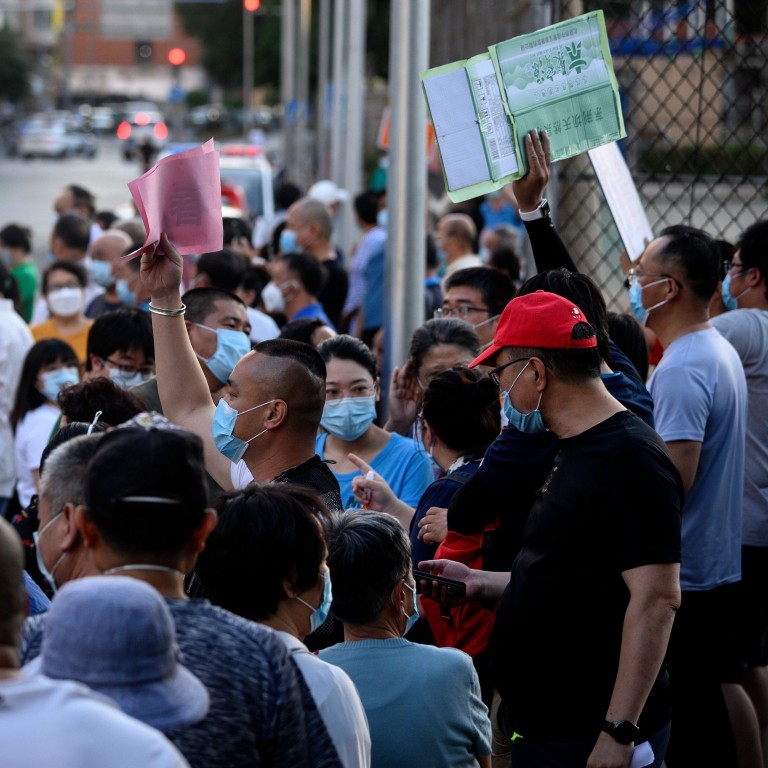 Beijing battles 'explosive coronavirus outbreak' as food market cases mount
Scientists struggle to track source of cluster linked to massive food wholesale centre
Mass testing and strict lockdowns imposed in some parts of the capital while other cities order isolation for travellers from Beijing
Beijing is battling an "explosive outbreak" of
the coronavirus
, with health authorities reporting 36 new local infections in the city in one day – all linked to a food market.
The capital has had 79 new local cases since last Thursday, all of which are linked to the Xinfadi wholesale market in the city's southwestern district of Fengtai.
Covering 112 hectares, the centre is the biggest of its kind in Asia and supplies food to northern provinces.
Wu Zunyou, chief epidemiologist with the Chinese Centre for Disease Control and Prevention, told Communist Party mouthpiece People's Daily on Monday afternoon that the situation was very serious.
"Beijing is facing explosive and concentrated outbreaks even though the national epidemic has basically been blocked," Wu said.
"The fact that it happened in Xinfadi, a large wholesale market, is a challenge in itself as we try to carry out epidemiological investigations."
Authorities have locked down 21 residential estates in Fengtai and the northern district of Haidian, which is also home to a big food market. Access to the areas is strictly controlled and mass coronavirus testing is under way.
The municipal government has asked people who have been to the Xinfadi market over the past 14 days to stay at home, while a press conference on China's economic development scheduled for Monday morning was abruptly cancelled.
On Sunday, Chinese Vice-Premier Sun Chunlan pledged "firm and decisive measures" to stop the spread.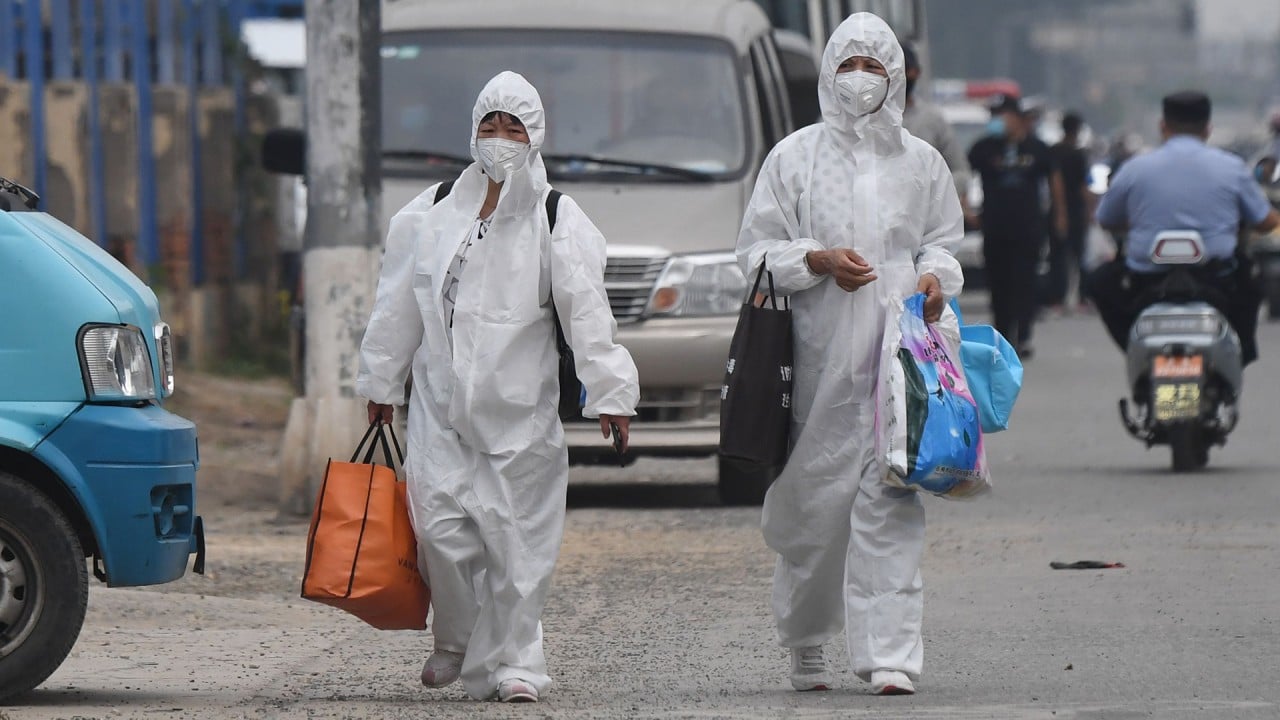 01:39
New coronavirus outbreak at Beijing food market fuels fears of second wave of cases in China
New coronavirus outbreak at Beijing food market fuels fears of second wave of cases in China
Elsewhere, Baoding in the neighbouring province of Hebei reported a cluster of three patients and an asymptomatic case in one family. A 31-year-old seafood dealer at Xinfadi, his 53-year-old mother-in-law and six-year-old daughter all visited the market early this month and tested positive for the coronavirus. The man's 31-year-old pregnant wife also tested positive but had no symptoms. She visited two medical centres for maternity checks last week.
Authorities in Chengdu, in southwestern Sichuan province, said a woman who flew into the city last Tuesday tested positive, as did her husband in Beijing.
The Liaoning provincial health authority said two close contacts of a confirmed patient in Beijing were confirmed to be infected on Saturday.
Administrations around the country have responded with preventive measures. Baoding said it would remain in "wartime" mode, while Liaoning in the north and Xiamen in Fujian province in the southeast have ordered that all people returning from some parts of Beijing isolate for 14 days. Daqing in Heilongjiang province in the northeast has demanded 21 days of isolation for travellers from Beijing.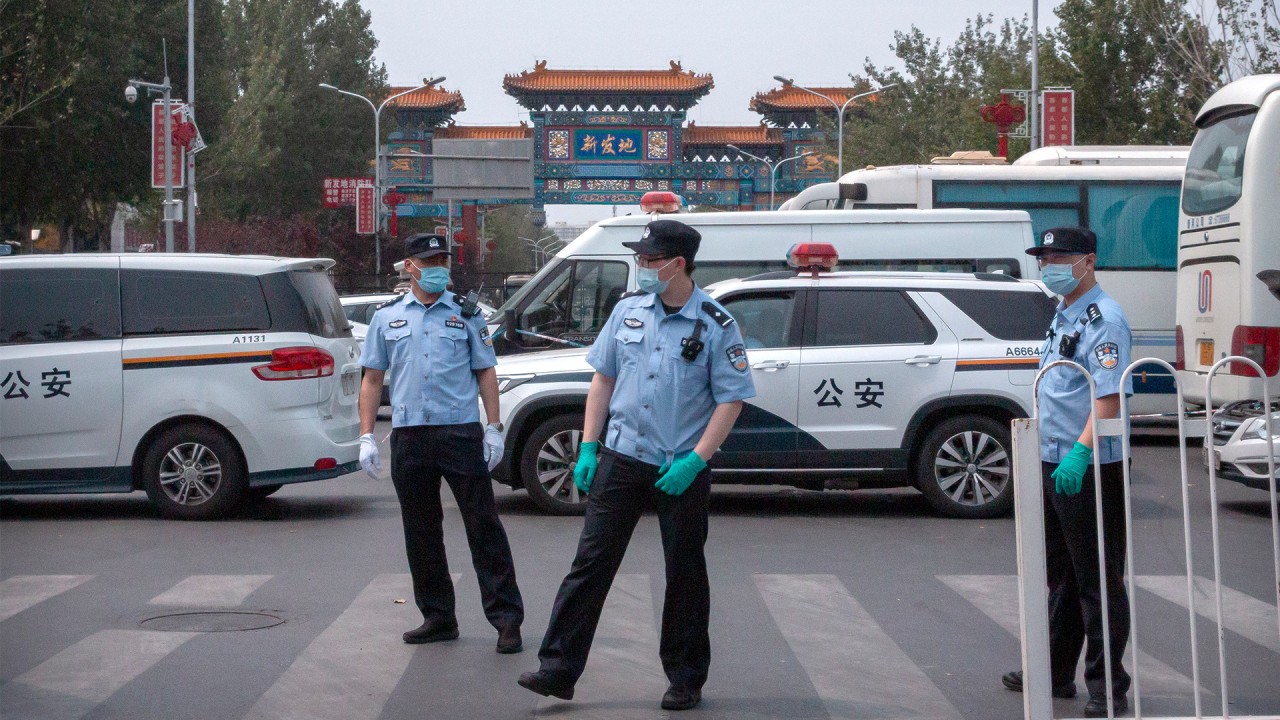 02:17
Beijing district in 'wartime emergency mode' after spike in local Covid-19 cases
Beijing district in 'wartime emergency mode' after spike in local Covid-19 cases
Salmon was feared initially to be the source after reports that the virus was detected on a chopping board used to cut fish at the market. But Wu said it might not be the case.
"What we know for sure is that the source is definitely from Beijing and we are working on two possibilities," Wu said.
He said one possibility was that frozen seafood or meat handled by someone infected with Covid-19 was contaminated and then infected other people who came in contact. Another route might have been contamination of the area by an infected person sneezing or coughing.
"We are still collecting samples from the market, and finding the coronavirus on a chopping board used to process salmon did not tell us much. There is no direct evidence that the salmon is the source of this outbreak," Wu said.
Tests taken from salmon vendors and the environment at the Jingshen Seafood Wholesale Market in the city's south, where the salmon was bought to be sold in Xinfadi, tested negative for the coronavirus.
Wu said the virus found in Xinfadi did not appear to resemble the strain prevalent in Beijing two months ago, but was more like the one in Europe, although it did not necessarily mean the virus was directly imported from Europe.
"If strains in the US are analysed, most of them will be from Europe, so will those from Russia ... We need more information to make an assessment," Wu said.
Beijing Health Commission spokesman Xia Xiaojun said 76,499 samples from people in the affected areas were tested on Sunday, with 59 positive. Xia said some of those cases had already been included in the count of confirmed infections, while others were still waiting for diagnosis.
More than 6,000 of the Xinfadi market's workers – nearly 70 per cent – have been tested, with all results negative.
China also reported 10 more imported cases for Sunday, including four people in Sichuan province who had returned from Egypt, taking the national total of non-local cases to 92.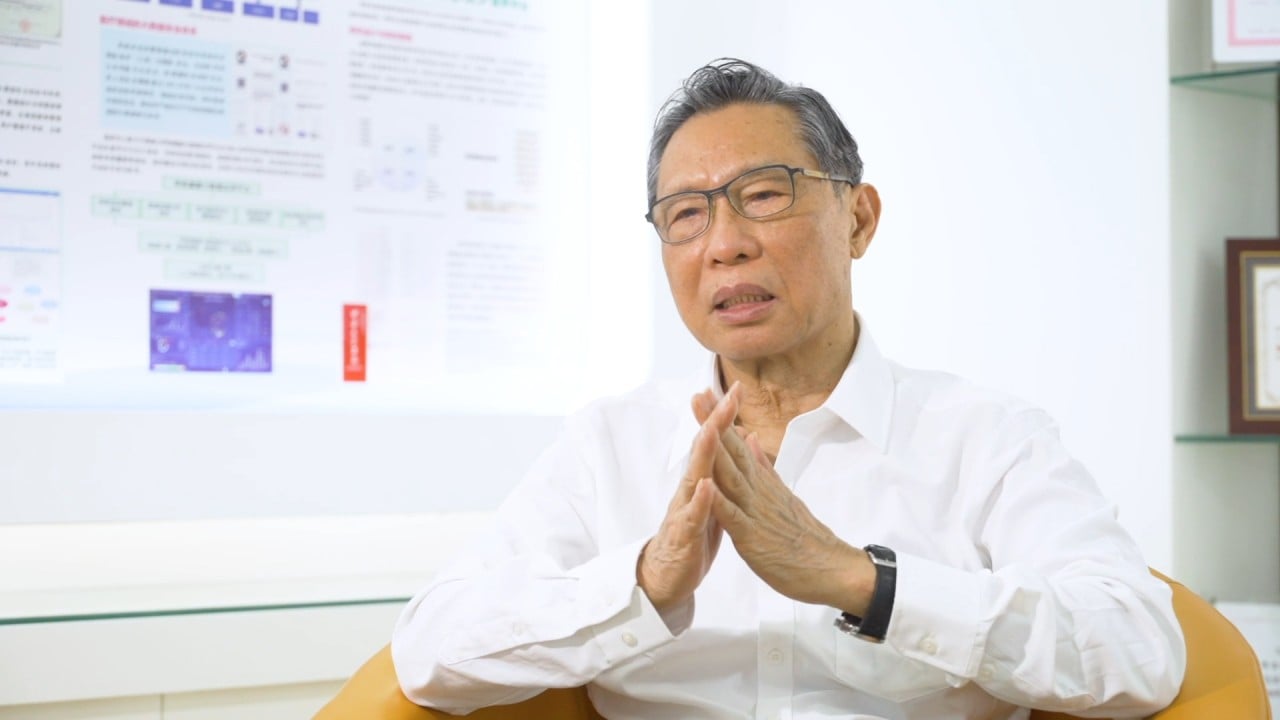 04:00
Beware of the potential for a second Covid-19 wave, Zhong Nanshan warns
Beware of the potential for a second Covid-19 wave, Zhong Nanshan warns
But Hong Kong importers and fishermen are not worried about the spread because the city did not import salmon from Beijing.
"The major sources of salmon in Hong Kong are Norway, Canada, and to a lesser extent, Chile," Lee Choi-wah, chairman of the Hong Kong Chamber of Seafood Merchants, said.
"Frozen and fresh salmon usually come to Hong Kong directly by ship and air, and don't come through mainland China."
Lee, who represents more than 100 importers in the industry, said he had not heard of plans to reduce salmon imports. "Locals can make up their own minds and avoid eating salmon for a few days if they are really worried."
Cheung Siu-keung, chairman of the Hong Kong Fishermen Consortium, which represents about 90 per cent of fishermen in the city, agreed that the risk of transmission from stocks in Norway or Canada were small.
"Most fishermen are out at sea for at least one and a half months each time they go on a fishing trip. They are practically self-isolated from the population," he said.
The Hong Kong Food and Environmental Hygiene Department's Centre for Food Safety said that as a precaution it had taken samples from imported and wholesale salmon at a number of places for testing.
A spokesman for the centre reminded food handlers that they should always make sure their hands were clean and they frequently cleaned and disinfected surfaces in food premises.
Health authorities in Macau said samples would be taken from all frozen seafood storage areas and checks carried out on frozen seafood imported in the past few months.
Meanwhile, anyone who has been to Beijing within the past 14 days will have to submit to a health check. Those who have visited high-risk areas, including the Xinfadi market, will have to spend 14 days in quarantine.
This article appeared in the South China Morning Post print edition as: Beijing is facing an 'explosive outbreak' of new infections