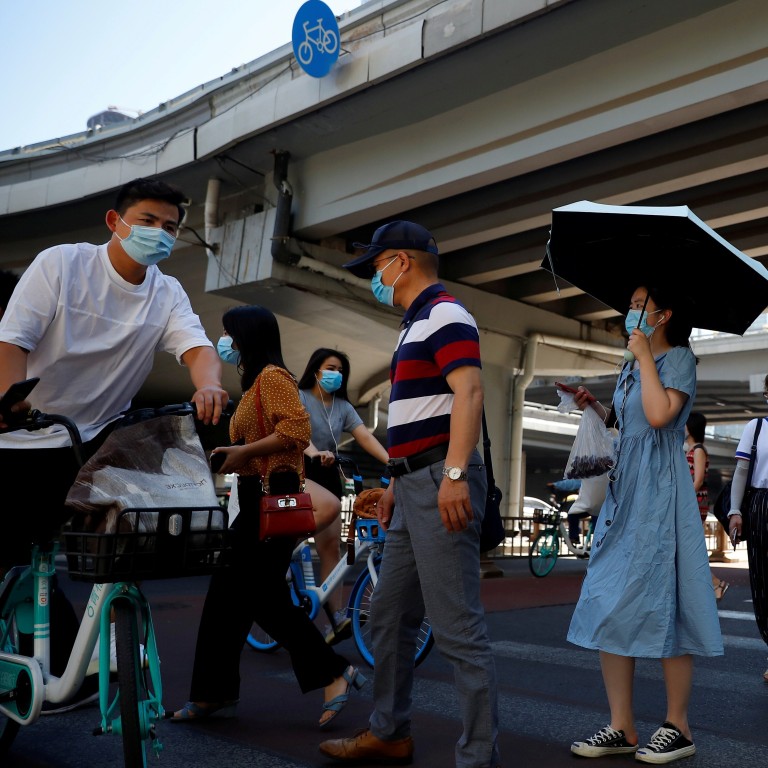 Coronavirus: Beijing municipal government orders partial lockdown for city and elevates emergency response amid latest outbreak
Next three days 'crucial' to contain infections linked to city food market, a top Chinese epidemiologist says
32 new cases in the country linked to Xinfadi market as Sichuan province traces contacts of woman who travelled from Beijing
Beijing on Tuesday announced a partial lockdown for the capital city and elevated its emergency response for the coronavirus to the second-highest level after reporting a cluster of infections tied to a food market.
Chen Bei, deputy secretary general of the Beijing Municipal Government, said at a televised press conference on Tuesday evening that all neighbourhoods in districts that have been classified as high- and medium-risk areas will be closed immediately and all residents must stay home and take nucleic acid tests to confirm if they have been infected. No visitors will be allowed into these areas.
In addition, all primary and secondary schools will switch to online learning and all universities will be closed. Entertainment venues will shut down as well.
Chen said that despite the new outbreaks it would not be necessary to suspend production, but businesses are encouraged to adopt staggered office hours and work-from-home practices to lower the risk of transmission.
The escalation of the emergency response marked a reversal for the city, which had lowered the alarm level less than two weeks ago.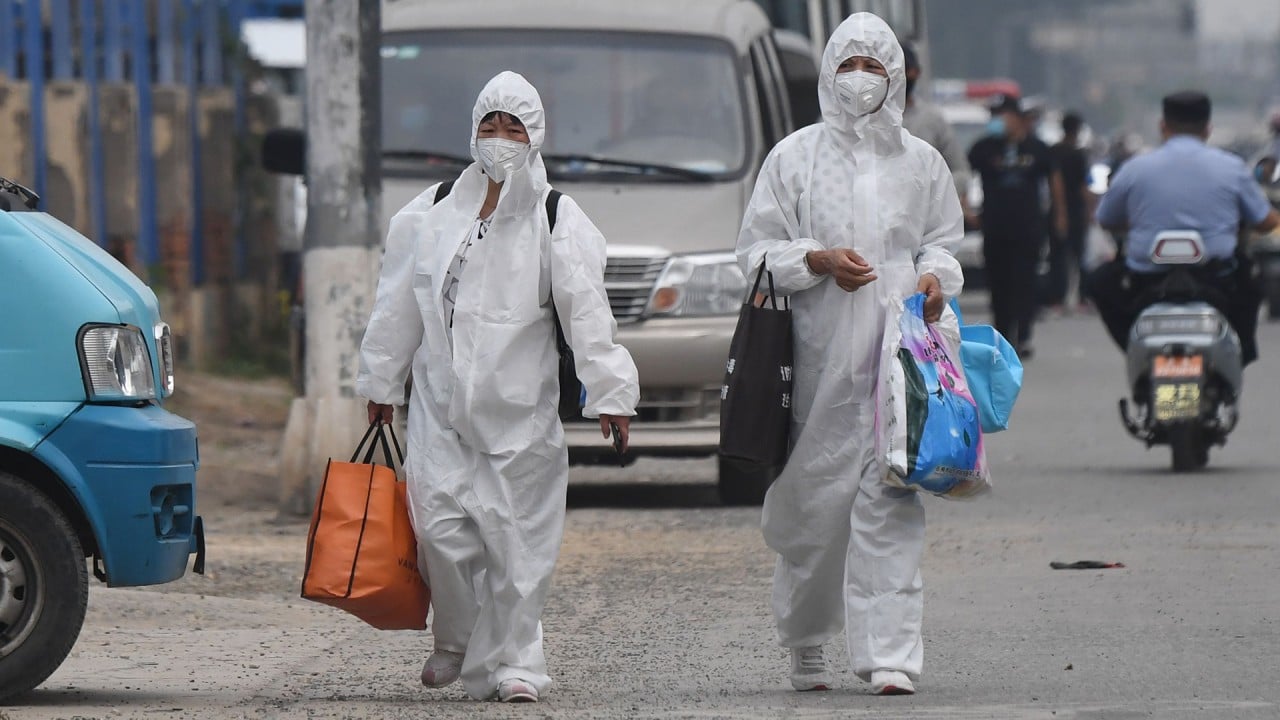 01:39
New coronavirus outbreak at Beijing food market fuels fears of second wave of cases in China
New coronavirus outbreak at Beijing food market fuels fears of second wave of cases in China
Wu Zunyou, a top Chinese epidemiologist, said the next three days will be crucial in controlling the latest outbreaks, as the country reported 32 more cases related to the Beijing market cluster.
The capital reported 27 new cases for Monday, while four infections in Hebei province and one in Sichuan were also
traced to the sprawling Xinfadi food wholesale market
, believed to be the source of the latest outbreak that has so far affected 106 people. There are also two suspected cases and a further 10 who have tested positive but have yet to show any symptoms.
Wu, chief epidemiologist with the Chinese Centre for Disease Control and Prevention, said
Beijing had caught the outbreak
at the earliest possible time, and the case count through Thursday would be crucial in determining the progress of the epidemic.
"The measures in Beijing are timely and effective. Those who are infected might show symptoms in the coming two days. If the number of reported cases does not increase much, it can be said the epidemic has basically stabilised at such a scale," he told state broadcaster CCTV on Monday night.
All the cases pointed to the Xinfadi market as the single source, meaning it had not caused widespread transmission. There had also been no family clusters or cross-infections among patients and hospital visitors, as had occurred in the central Chinese city of Wuhan, Wu said.
"This suggests that Beijing caught the epidemic at the earliest possible time and accurately identified the Xinfadi market, which prevented further spread of the outbreak," Wu said.
But he cautioned that there may be similar outbreaks ahead. "Comparing the location of the outbreaks in Beijing and the location of the early occurrence in Wuhan, is this the last one? Will there be the third and fourth, similar outbreaks in the market?"
Across the capital, markets are being inspected and tested for Covid-19. Chaoyang district finished testing 46 food markets by noon Monday and all of the samples processed so far have come back negative.
More than 6,000 staff members and vendors from the Yuegezhuang wholesale food market in Fengtai district were tested from Tuesday.
The Tiantao Honglian food market has been closed since a vendor was confirmed on Saturday to be infected with Covid-19. The coronavirus has also been detected in environmental samples from the market. All 62 staff members from the market were quarantined and tested negative, said Li Yi, deputy head of the Xicheng district government.
The new cases in neighbouring Hebei, which reported three infections in the Xiongan New Area as of Monday, were all close contacts of confirmed patients. The province's fourth case, in Dingzhong, was a vendor at the Xinfadi market. A day earlier, Hebei reported a family cluster of four that had also been traced to the market in Beijing.
Meanwhile, Sichuan province in the country's southwest is tracing the close contacts of a woman who travelled from Beijing to the provincial capital of Chengdu last Tuesday on flight HU7147. She was confirmed to be infected with Covid-19 on Monday, along with her husband who is still in Beijing.
China also reported eight more imported cases of the disease on Monday – in Shanghai, Guangdong, Inner Mongolia and Liaoning.
Gao Fu, director of the Chinese Centre for Disease Control and Prevention, said the genetic sequencing and analysis of virus samples had been completed and the initial results reported to the authority on Saturday. A statement on the CDC's website said it was working to trace the source of the virus responsible for the latest outbreak.
A meeting chaired by Beijing Communist Party secretary Cai Qi on Monday pledged to make epidemic control "the most important and urgent task" and take the "most determined, decisive, and strictest" measures to curb the spread of the disease. These include closing off residential estates near markets with confirmed infections and banning people at "high risk" from leaving the city.
Those who have already left Beijing are required to tell the authorities of their destination to prevent the further spread of the outbreak. Public transport, including subway trains and buses, must control the number of passengers on board. Taxis and ride-hailing cars have also been ordered to suspend out-of-town services indefinitely.
Authorities are on guard elsewhere in the country, with Shanghai officials seeking to assure the public that the city is prepared to handle any crisis.
Wu Jinglei, director of Shanghai's health commission, said the city could do 70,000 tests for Covid-19 a day, a capacity that would be increased to 90,000 before next month.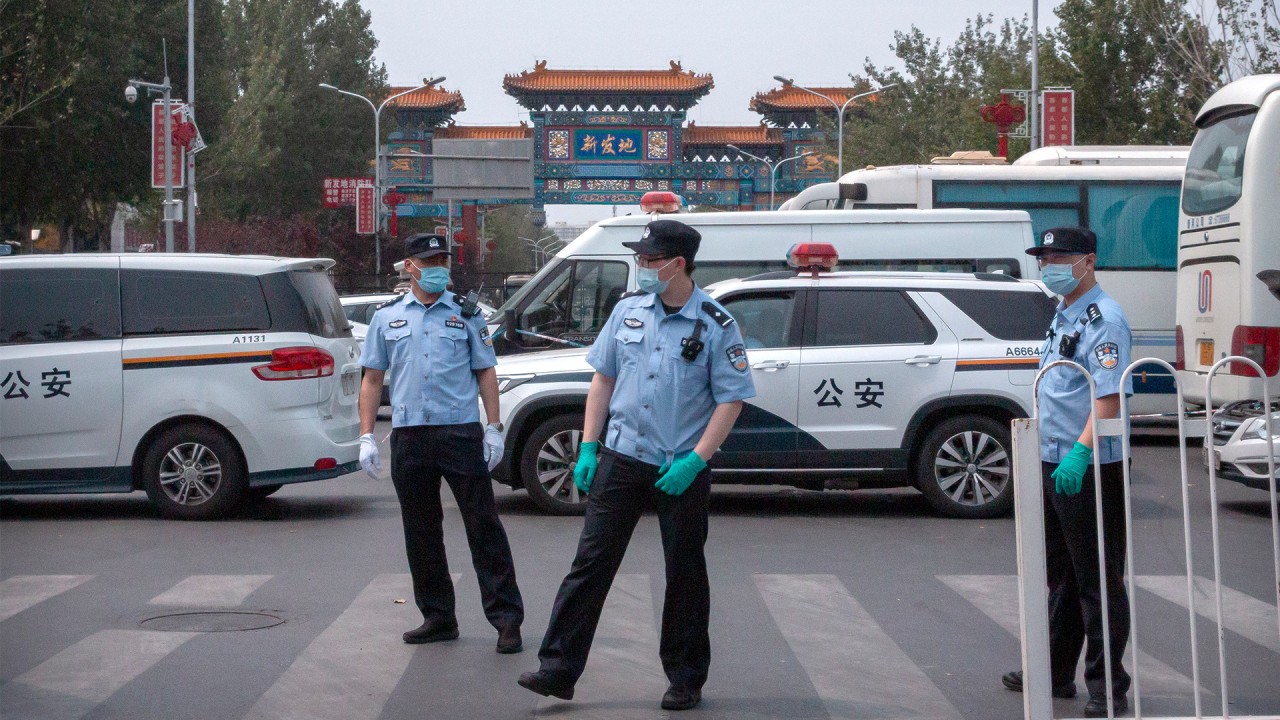 02:17
Beijing district in 'wartime emergency mode' after spike in local Covid-19 cases
Beijing district in 'wartime emergency mode' after spike in local Covid-19 cases
The tests will be conducted by the 67 medical institutions and 17 clinics run by the Shanghai disease control and prevention centre.
"Medical institutions should upgrade their laboratories and add new [testing] equipment, and step up training of their medical staff about the collection of samples," Wu Jinglei said.
According to Shanghai officials, the city has inspected 87 markets with imported food since Saturday and all 1,205 samples collected tested negative for the coronavirus.
At the same time, Shanghai officials stressed that they would continue to keep a close watch on travellers from other parts of China, especially those from medium to high-risk areas. Those people will be required to undergo 14 days of quarantine upon arrival in Shanghai but they will be free to go if their results are negative.
Several other cities, including Tangshan in Hebei province, Rizhao in Shandong province, Chifeng in Inner Mongolia, and Tianjin have suspended long-haul bus services to and from Beijing.
Bus services between Beijing Capital International Airport and other cities have been suspended, with Daxing airport in the south of the capital maintaining the only bus service to Baoding, in Hebei province, according to Beijing Evening News.
Additional reporting by Alice Yan
This article appeared in the South China Morning Post print edition as: Next Few days crucial in Beijing outbreak