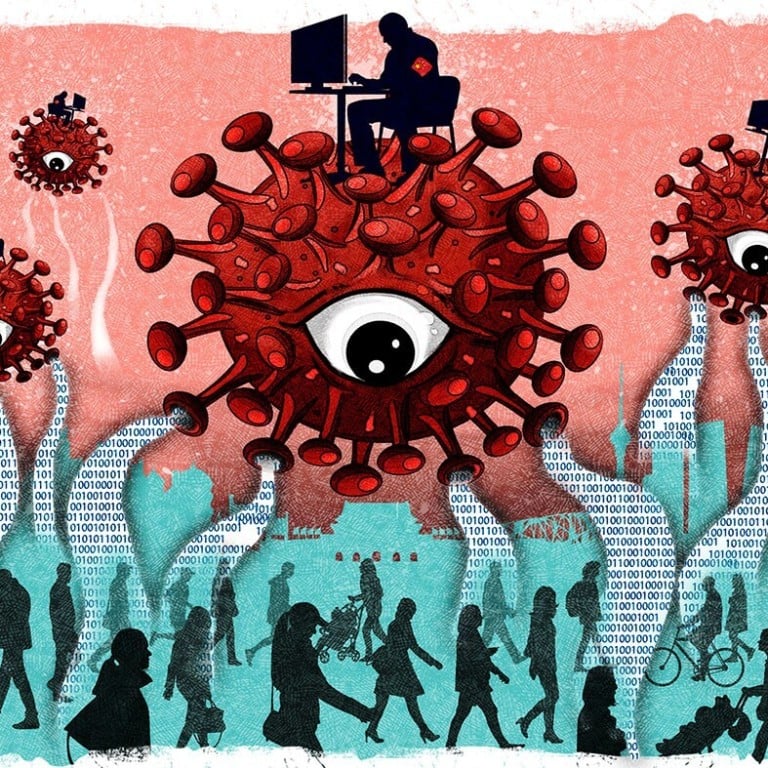 Big data behind rapid response to Beijing market coronavirus cluster
Concerns raised about the use of surveillance technology in the fight against Covid-19 and how it will be used in future
Chinese social media users share their experiences of being contacted about the need to get tested because of the digital tools
"Have you taken the nucleic acid test?" has become a popular greeting in Beijing, where a Covid-19 outbreak linked to a
wholesale food market
has been brought under rapid control through widespread testing.
More than 3 million people – about 15 per cent of the Chinese capital's population – have been tested for the disease since the first cases in the new outbreak emerged on June 11, according to the municipal government. Just eight days after the first infection was identified,
Beijing declared the transmission had been controlled
.
"We will continue to see more infected people in the near future but the disease is under control," Wu Zunyou, chief epidemiologist of the Chinese Centre for Disease Control and Prevention, said on June 18, while also paying tribute to the city's response. "Beijing's prompt handling and effective control made a remarkable contribution," he said.
As of Saturday, the number of patients in Beijing had climbed to 297, most of them related to the Xinfadi market in the city's southwest district of Fengtai.
But, while mass tracing and testing quickly brought the cluster under control, the role of "big data" has raised concerns, along with questions over whether the surveillance measures will be rescinded once the
pandemic
has passed.
The city urged people who worked at the sprawling market, and those who had visited it, since May 30, to get tested – as well as nearby residents and employees of restaurants, grocery stores, wholesale markets and food delivery companies.
While many people were registered for testing by their employers or residential communities because of known links to the market, Fu Juan, 38, said she was spotted by big data. The process was quick but unnerving, she said, and began with a "suspicious" phone call from someone claiming to work for a disease control unit of the Beijing municipal government.
"I was told that big data showed that I had been to Xinfadi recently, hence I should register with my neighbourhood to get a nucleic acid test as soon as possible. My first impression is that it must be a fraud. I've never shopped at Xinfadi," she said.
"Then my husband reminded me. I had picked him up somewhere 3km (1.8 miles) away from Xinfadi several days before. But I was in the car all the time."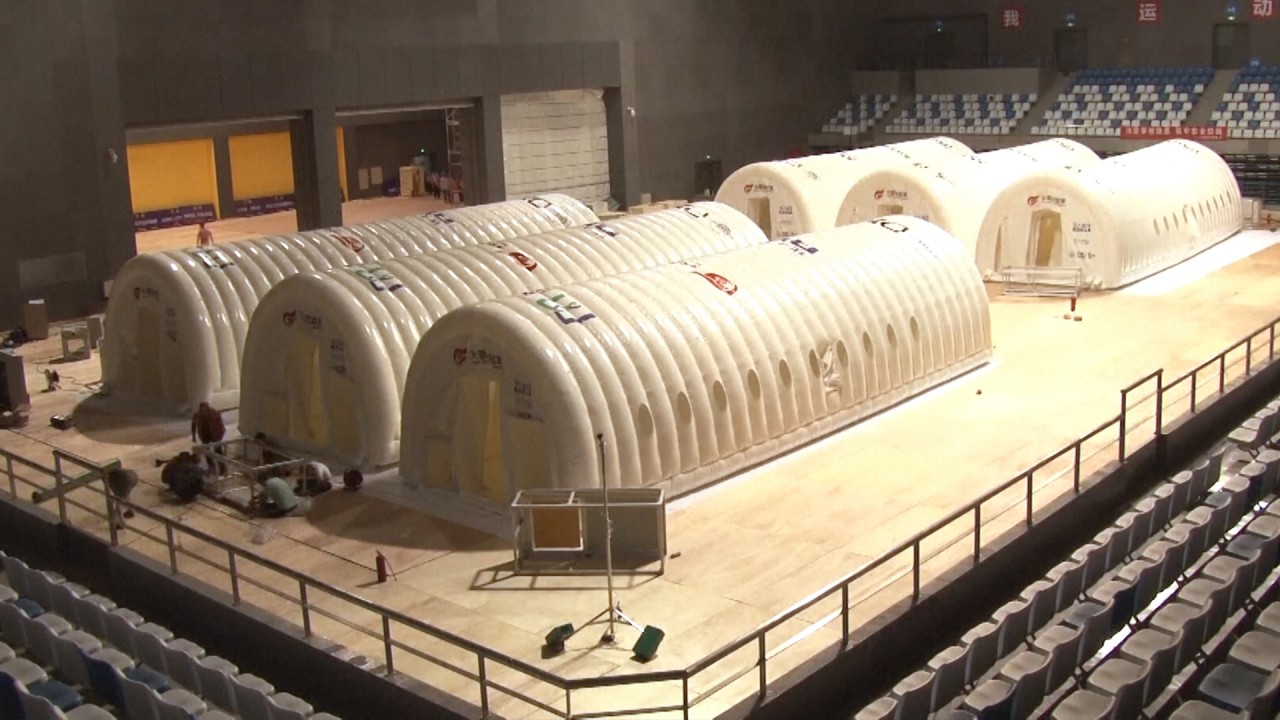 01:53
Beijing to open a mobile, inflatable Covid-19 virus testing lab
Beijing to open a mobile, inflatable Covid-19 virus testing lab
Before she had an opportunity to check whether the call was genuine, community cadres had knocked on her door to obtain her identity information and persuaded her to get tested. The next day, it was arranged for her to attend a testing site at a stadium and, one day later, Fu received the result, which was negative.
"The whole process was impressively fast," Fu said. "When I was lining up for the test with thousands of people in the stadium, I was shocked by the capability, that China can identify so many people so quickly and get them tested."
In the neighbouring municipality of Tianjin, Wu Zhengyu, a 51-year-old teacher at a chess training centre, was also required last week to test for Covid-19 after returning from Beijing in early June. "I was in Beijing before the first case was reported. I probably passed by the Xinfadi area in the subway, but I've never been to the market," Wu said.
"However, I was told big data had spotted me and unless I was tested, my daughter could not go to school." Wu said the test had cost him 200 yuan (US$28) and he was unable to continue teaching while under home quarantine. "I feel helpless. But who can I complain to? I was lectured by community cadres that all was for the sake of coronavirus control."
Similar experiences have been shared on social media, with many members of China's online community posting mobile phone messages from the government notifying them of the need to get tested because their visits to Xinfadi market had been detected by big data.
China has a vast surveillance system comprised of state-owned telecommunication networks, a digitised public transport system, and millions of cameras – powered by facial recognition software – perched on lamp posts and outside buildings and streets.
Steve Tsang, director of the SOAS China Institute in London, said he was not surprised that the system had been used to trace potential coronavirus cases, as the Chinese government had been building up capacity to combine digital technologies with its long-established mechanisms of social and political control, regardless of concerns over privacy or individual rights.
"They are merely applying this openly to contain Covid-19. It shows how far and how mature this process has progressed," Tsang said.
Since February, China's local governments have used a colour-based "health code" system to monitor and control people's movements, relying on mobile technology and big data to curb the spread of the coronavirus. Users can obtain their codes by entering their name, national identity number and registering with facial recognition.
The system automatically generates three coloured QR codes – green, yellow and red – to indicate the user's health status and determine whether they can be allowed access to public venues. According to the Shanghai municipal government, the QR code – akin to a health ID – is based on data from the local health commission, police, transport departments as well as telecom, airlines and railway companies.
The Beijing municipal government said it "compares and analyses" data from road checkpoints, airlines and railways for
its health code system
, did not collect people's real-time locations to protect privacy.
Most countries, as they emerge from the worst of the pandemic, have turned to a combination of surveillance and testing as a less extreme measure than lockdown, in terms of the impact on the economy and on the individual liberties of free movement and association, according to Kevin Macnish, assistant professor in ethics and IT at the University of Twente in the Netherlands.
"I don't think that the concept of large-scale surveillance in the light of the ongoing virus is disproportionate. It is less harmful than the obvious and tried alternative," Macnish said. "However, this does not mean that governments should have carte blanche to carry out mass surveillance of citizens without checks or balances."
"When the threat of the virus recedes or we have a vaccine or antidote, the obvious response should be that the temporary surveillance measure, justified by the virus, should be rescinded. However, this rarely happens with acts or methods of surveillance. It can be very hard for those in power to let go of the ability to monitor those over whom they have power," he said.
The Cyberspace Administration of China issued a notice in February to make clear that personal information collected for the use of disease control should not be used for other purposes. But, said Macnish, there had already been indications that apps created to help fight the virus were now being used more broadly in China.
While the government's virus-tracking software has been collecting information on people in hundreds of cities across China, it is unknown whether the authorities have set limits on how that data can be used. And now, some local governments are loading their apps with new features, hoping the software will live on as more than just an emergency measure.
Zhou Jiangyong, the Communist Party secretary of Hangzhou, in the eastern province of Zhejiang, said last month that the city's app would "operate for a long term" and "under a normal state" and should be an "intimate health guardian" for residents, according to an official announcement.
Adam Henschke, an applied ethicist with Australian National University, said: "We need to worry about 'function creep'. Surveillance technologies originally used for one purpose can be used for other purposes; what was used for pandemic surveillance can easily be used for more general surveillance."
Henschke said the remote nature of digital surveillance also allowed for "user creep", pointing out that it was not only the function of surveillance technologies that could shifted, the range of users could also change. "As such, any surveillance permitted during the emergency needs to be scaled back," he said.
"While we find justifications and acceptance for these surveillance policies and technologies in the pandemic, as soon as the threat is properly dealt with, these policies and technologies lose their justifications and need to be reconsidered and potentially reversed."
Huang Yanzhong, a senior fellow for global health at the Council on Foreign Relations, a New York-based think tank, said: "It is not hard to imagine that such an approach that combines traditional tools of party-state control with hi-tech, and big data means of information control could be applied to other policy areas, and become the main mode of governance in China.
"Not surprisingly, this approach is pursued to the detriment of privacy and civil rights. In the US and other liberal democracies, the expansion of public space and intensified state control would encounter fierce resistance from the society.
"In China, however, people appear to have managed to adapt to this new pattern of state-society dynamics, at least for now. The Covid-19 outbreak has taught them that life is more important than liberty, and you cannot have the latter without the former."
This article appeared in the South China Morning Post print edition as: 'Big data' is watching