Taiwan
Get more with myNEWS
A personalised news feed of stories that matter to you
Learn more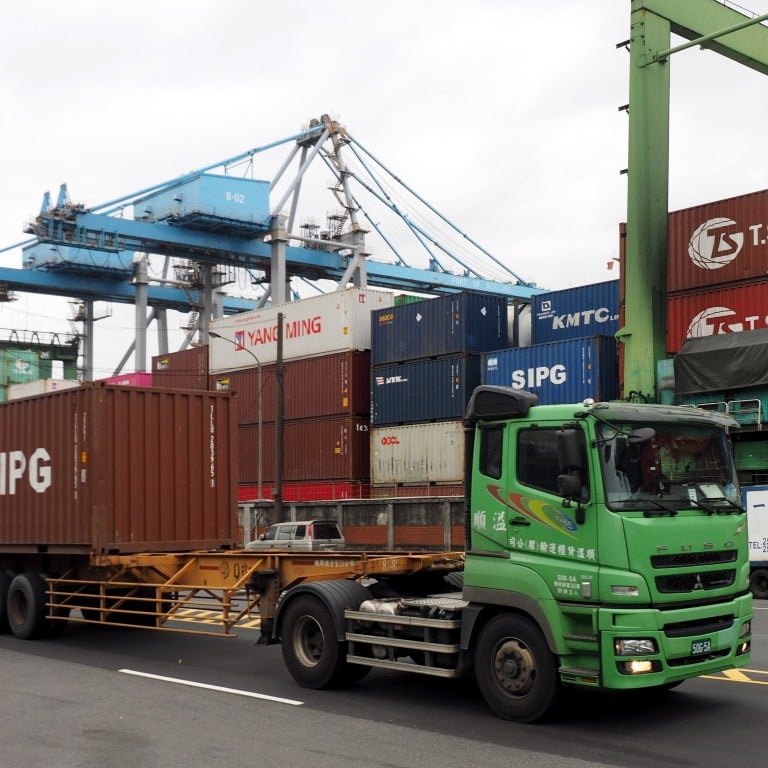 Taiwan government may reject 'one China' but first-half exports to mainland, Hong Kong reaped US$66 billion
Taiwan trade is robust but it remains vulnerable to Taipei-Beijing tension, US-China hostility and the pandemic
Exports to Asean and India dropped in an affront to President Tsai Ing-wen's New Southbound Policy to cut economic reliance on China, says observer
Taiwan's trade with mainland China has soared in the past six months and is expected to hit a record amount this year, despite deteriorating
cross-strait relations
.
But observers warn the boom could be short-lived if
Taiwan
is forced to stop its hi-tech exports to mainland China at the request of the United States, which is having heated disputes with Beijing on almost all fronts.
Boosted by strong demand for chips and other electronic and telecoms products, Taiwan's exports to China, including Hong Kong, grew to US$66.8 billion in the first half of this year, up 9.8 per cent from the same period last year, according to the island's finance ministry.
Statistics provided by the ministry on July 17 showed that such exports accounted for 42.3 per cent of the island's total exports, up 3.6 percentage points over the same period last year and a record high for the past decade.
The self-ruled island's exports to the US grew 4.5 per cent to US$23 billion in this period on strong demand for information and telecoms products, while exports to Japan increased 3.5 per cent to US$11.7 billion on demand for electronic, information, visual and audio products.
The ministry's figures showed that exports to the US and Japan accounted for 14.5 per cent and 7.4 per cent of all exports, respectively.
But for exports to member states of the Association of Southeast Asian Nations (Asean) – the main countries Taiwan's President
Tsai Ing-wen
has targeted as part of her so-called
New Southbound Policy
to cut economic reliance on China – in the past six months, there was a year-on-year decline of 4.8 per cent to US$24.9 billion. That was the sharpest drop in four years and six months.
Exports to Europe also dropped 10.4 per cent year-on-year at US$13.4 billion. The exports to Asean countries and Europe accounted for 15.8 and 8.5 per cent of the island's total exports – a 10-year low, according to the ministry.
Despite the drop in Asean and Europe, the results were better than what market analysts had expected because the island's overall exports in the first six months still edged up 0.5 per cent year-on-year at US$158 billion, compared with a 0.4 per cent year-on-year drop in total imports at US$136.7 billion.
While the island's overall trade performance was better than that of many other countries – including the US, Japan, South Korea, Singapore and mainland China – Taiwan's finance officials said demand could slow, resulting in a drop in overall exports in the coming months.
"Uncertainties from the coronavirus pandemic which has battered the economy in the world and ever-escalating US-China tensions are likely to undermine our trade performance in the second half of this year," said Beatrice Tsai, the ministry's statistics director.
Asked if the strong trade with mainland China could help bail Taiwan out of the economic predicament, Tsai declined to make a prediction.
Observers said that despite sour relations between Taiwan and Beijing, and President Tsai's efforts to stop relying economically on the mainland by embracing Asean countries and India, the island's economic dependence on the mainland had grown even bigger.
"This indicates the industry supply chain between the two sides has remained solid, making it difficult to have a complete structural change," said Wu Yi, economic research director of the Institute of Taiwan Studies at the Chinese Academy of Social Sciences.
She said both exports and imports between the two sides had increased markedly in the past few months, mostly because mainland China could resume normal production operations after the pandemic-induced lockdown.
"This has also allowed mainland-based Taiwanese businessmen to resume their production capacity much earlier than those in other countries, and made forward deployment [possible] in the post-Covid 19 era," she noted.
According to the finance ministry, after the mainland resumed production operations, Taiwan's exports to mainland China, including Hong Kong, registered double-digit growth from April to June – 14 per cent in April, 10.3 per cent in May and 13.8 per cent in June – while imports grew 17.4 per cent, 16.4 per cent and 11.4 per cent, respectively, in this period.
Teng Tai-hsien, former economic affairs director of Taiwan's semi-official Straits Exchange Foundation, said the record high of Taiwan's exports to the mainland as a proportion of overall exports was a "slap in the face" to the Tsai government's New Southbound Policy.
"This shows that returning to normal exchanges with the mainland is the right direction," he said.
Taiwan's relations with mainland China have deteriorated since Tsai was first elected president in 2016 and refused to accept the one-China principle. Beijing considers the democratic island a wayward province subject to eventual union with the motherland, by force if necessary. It has suspended official exchanges with Taiwan, staged war games, and poached seven of the island's allies to try, in vain, to force Tsai to accept the principle.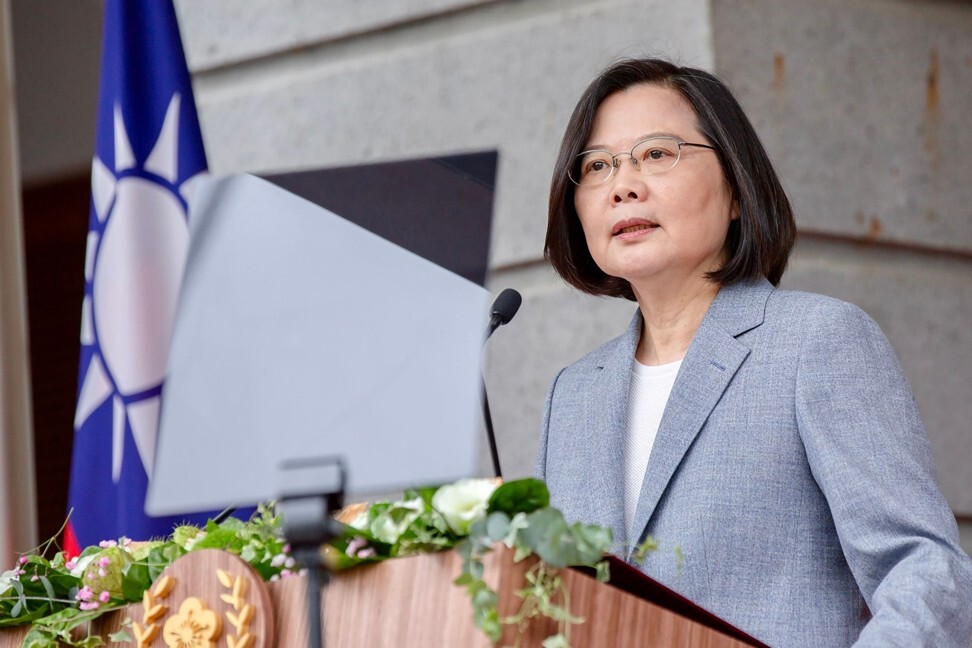 Lin Yu-fang, head of the national security affairs department at the National Policy Foundation, a pro-Kuomintang think tank, said that despite the sour relations, he expected the island's exports to the mainland to hit US$90 billion this year, given the robust trade between the two sides of the Taiwan Strait.
He said this could be partly attributed to the fact that the mainland had to rely on hi-tech products, especially chips from Taiwan, because the US had stopped hi-tech supplies being sent to Beijing amid growing
trade
, technology, diplomatic and
military disputes
with Beijing.
"This explains why the mainland has increased its imports from Taiwan but this condition might end if the US demands that Taiwan stop exporting hi-tech products to the mainland," Lin warned, citing the Taiwan Semiconductor Manufacturing Company, which was forced by the US to cut off its supply for China's Huawei Technologies.
He said the Tsai government must take into account such a possibility or face a backlash from the mainland.
"If Taiwan is forced to stop its hi-tech and other key supplies for the mainland, it means Beijing no longer needs to rely on Taiwan," he said.
This article appeared in the South China Morning Post print edition as: Booming trade with mainland 'may be short-lived'