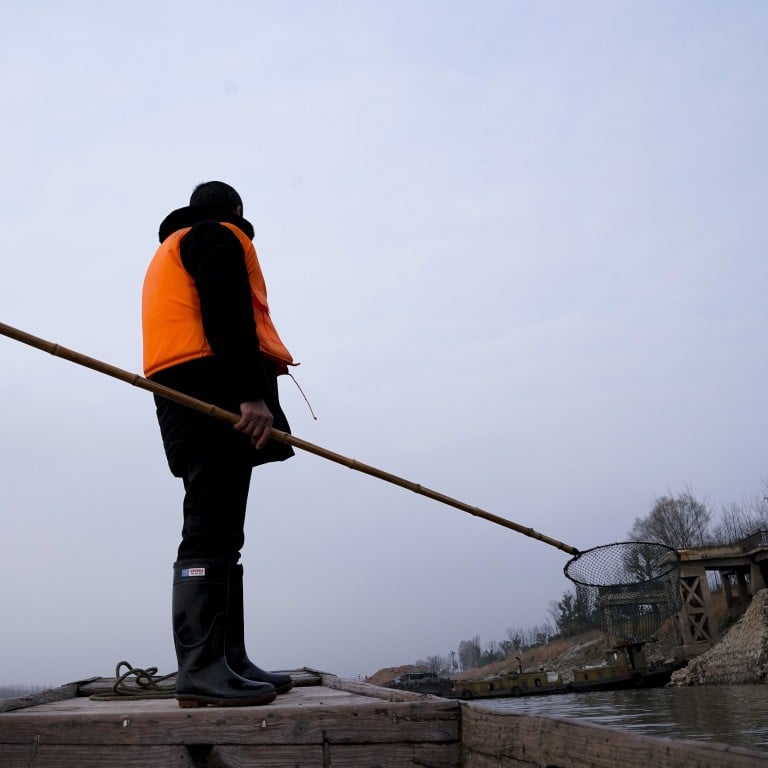 Generations of fishers say goodbye to a way of life as China tries to revive the Yangtze River
A 10-year fishing moratorium in Asia's longest river began in January and will be extended by next year
It's one of the most ambitious bans ever seen, but it will also leave more than 300,000 people without work
After spending his entire working life on the Yangtze River, Wang Quansheng handed in his fishing licence and nets to the local authorities at the start of this month. His boats were taken away by the government in March.
The 58-year-old from Xiangyang, a city of 6 million in Hubei, is a third-generation fisherman. His son, 33, also had to say goodbye to a life that was all he has known after a 10-year fishing ban in the Yangtze – the longest river in Asia –
took effect on January 1
.
The moratorium applies across 332 conservation sites along the 6,300km (3,915-mile) waterway, and Beijing plans to extend it to the main river course, key tributaries and major lakes linked to the river by January 1 next year.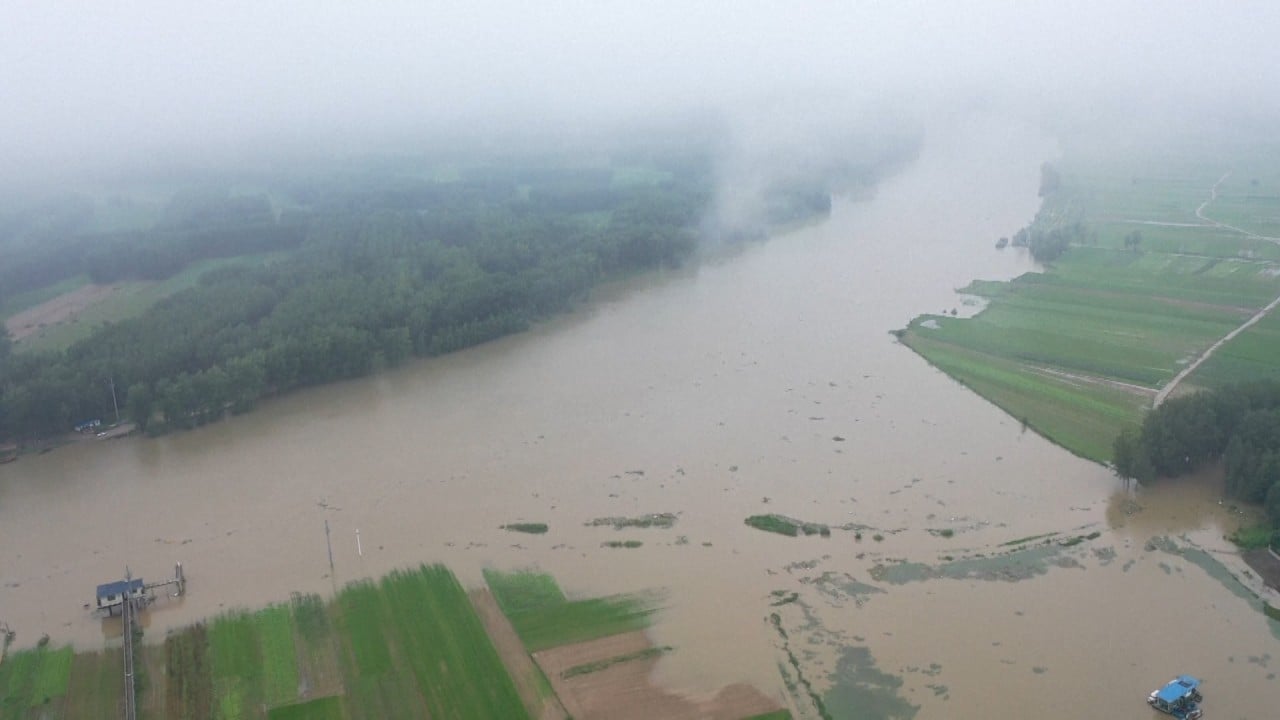 02:17
Third flood of monsoon season for Yangtze River piles pressure on China's Three Gorges Dam
Third flood of monsoon season for Yangtze River piles pressure on China's Three Gorges Dam
It will be the most ambitious and extensive fishing ban ever seen, as Beijing tries to revive the ecosystem of one of the world's most famous and important rivers.
"There is no comparable ban anywhere else in the world," said David Dudgeon, chair professor of ecology and biodiversity at the University of Hong Kong. "If you ban fishing in the entire Yangtze, then there is no other fishing ban in freshwater environments that is that big," he added.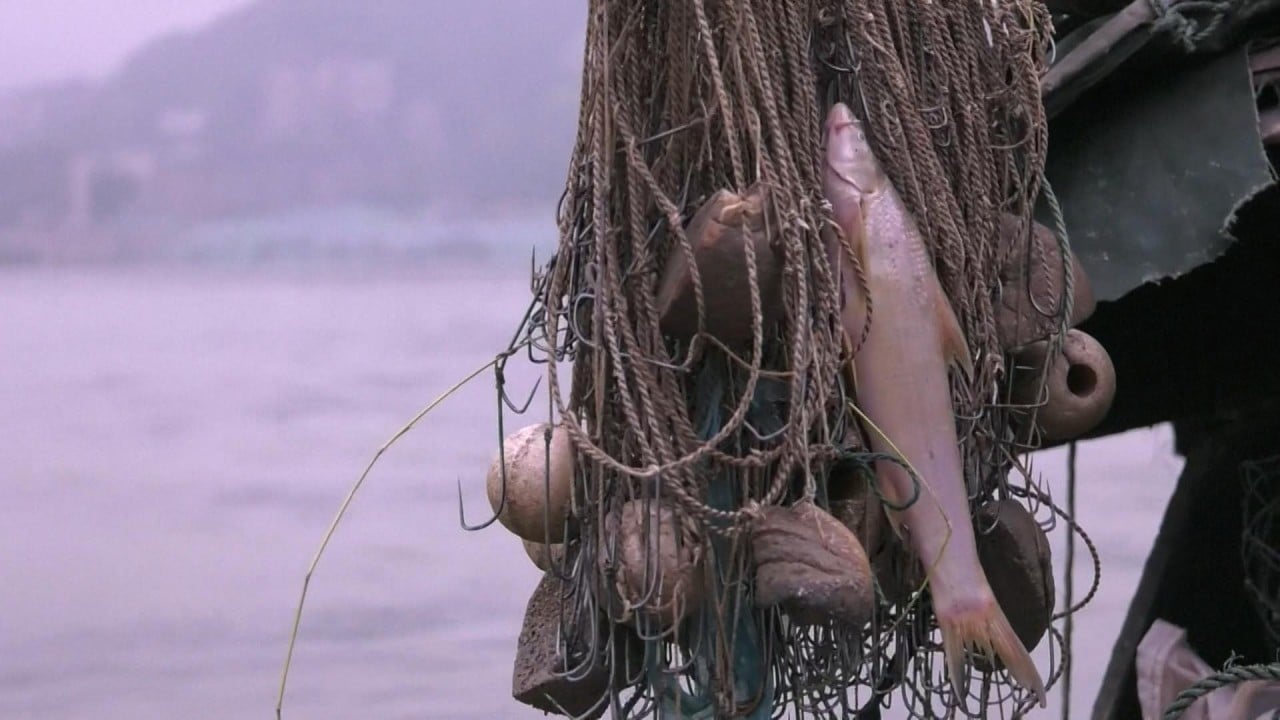 01:57
China imposes a 10-year fishing ban for Yangtze River to protect marine biodiversity
China imposes a 10-year fishing ban for Yangtze River to protect marine biodiversity
A river in decline
Chinese have been fishing in the Yangtze since time immemorial. Running from the Tibetan Plateau to the East China Sea near Shanghai, the Yangtze and its tributaries pass through an area of China that is home to 459 million people – or about one-third of the country's population. This region is also the source of some 46 per cent of China's GDP.
But after decades of dam-building, overexploitation, pollution and overfishing, the Yangtze has been depleted, with a significant decline in biodiversity and fish stocks. The river once provided 60 per cent of China's freshwater fish, but in recent years that has changed dramatically. Nationwide, the annual freshwater fish catch is about 63 million tonnes – and only about 100,000 tonnes are from the Yangtze, according to state-run People's Daily.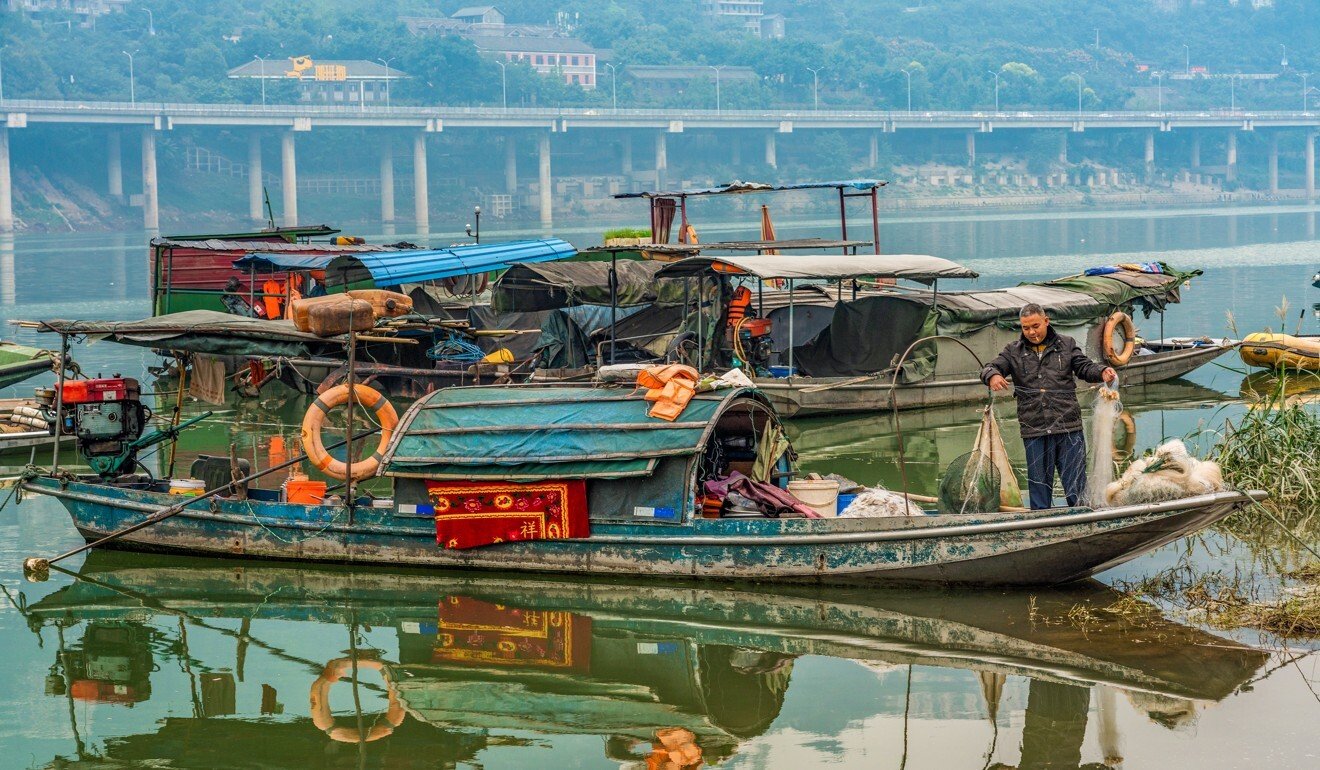 Wang has seen the change first-hand. His family lives near the Han River, which runs through Xiangyang and is the Yangtze's longest tributary. He used to fish with his grandfather when he was young, going out at 4pm every day and sleeping on the boat overnight.
"Half a century ago, there were more than 100 species of fish in the Han River, but now there are mainly two species – the common carp and the crucian carp," he said.
Back then, the smallest fish they would pull in would be over 500g, Wang said. Now, they could be as small as 80g.
The family also earned more when there were more fish in the river.
"[Up until the ban] I could earn about 200 yuan (US$29) every time I went fishing, but before I could earn 500 or 600 yuan (US$71 or US$86) on a good day," he said.
The industry changed in the late 1990s, as more people started fishing in the Yangtze, and some started using illegal methods to catch fish including explosives, electrofishing and fyke nets – funnel-shaped traps made from fine mesh.
"In the last two decades, anyone could fish – and some of them behaved badly," Wang said.
Electrofishing or fyke nets meant some fishers were pulling in fish as small as 1cm, Wang said, adding that the net he used allowed the smaller fish to swim free.
His father had seen the writing on the wall.
"Every time my dad saw someone electrofishing, he would yell at them. He'd say they were threatening the livelihoods of their descendants," Wang said. "Now it's happened for me and my son's generation – we don't have fish to catch."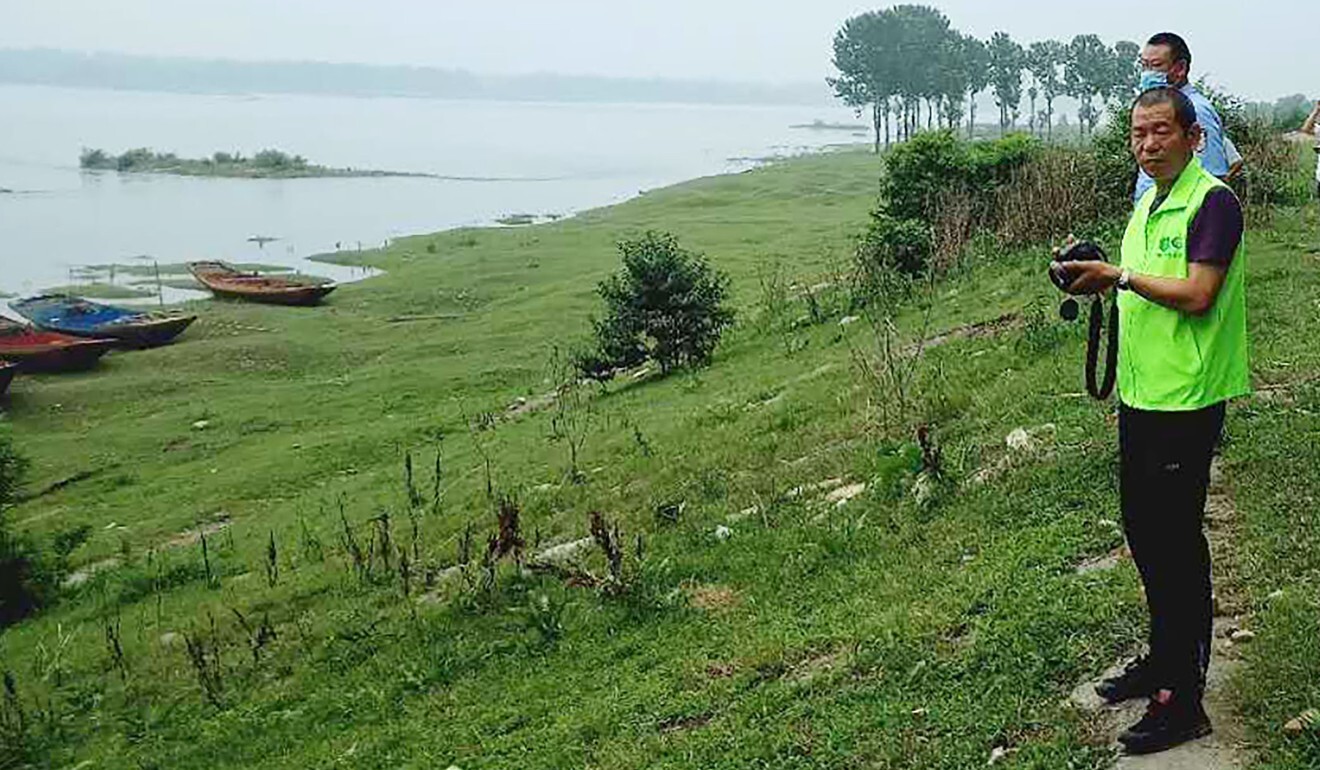 Fyke nets made from mesh or ramie, drop nets and trap nets are among the most harmful of the more than 160 types of fishing gear known to be used in the river, according to Sara Platto, an animal behaviour expert at the China Biodiversity Conservation and Green Development Foundation in Beijing.
Volunteer Zhou Jianjun, who heads the Han River conservation station in Xiangyang run by the foundation, said they had made over 10,000 phone calls to report illegal fishing activities in the past six years, but they had little effect.
He said even with the fishing ban in place, illegal fishing had continued.
"We have more than 2,000 volunteers covering the Han River, and in the first half of this year I was getting reports of illegal fishing over 100 times a night," Zhou said, adding that it was still going on because people could make good money and there was not enough enforcement of the rules.
"Incomes are low in this area, but people who go electrofishing can catch 2,000 yuan worth of fish in two hours," he said. "Still, I'm hopeful that the 10-year ban will mean biodiversity in the Han River can recover, and the water quality can improve to the level it was at when I was young."
Will it work?
The fishing ban will give the ecosystem a break from overexploitation, but experts say it is not known how much biodiversity will improve given other factors like water pollution and dams.
"You can't tell in advance if it will have a major effect or not, because the Yangtze River has an awful lot of other things which are affecting the quality of the environment and therefore affecting the living quality of the environment for fishes," Dudgeon from HKU said.
"But for sure, fishing bans will be helpful to allow populations to recover, and for some large species, they are strongly affected by overfishing."
Wang Yamin, an associate professor with the Marine College of Shandong University in Weihai, was optimistic, saying he believed the ban would help fish stocks recover.
"But as there are many reasons for the degradation of the Yangtze ecosystem, we need to take different measures to solve the problem," he said, adding that China had been tackling pollution in the river in recent years and the environment was getting better.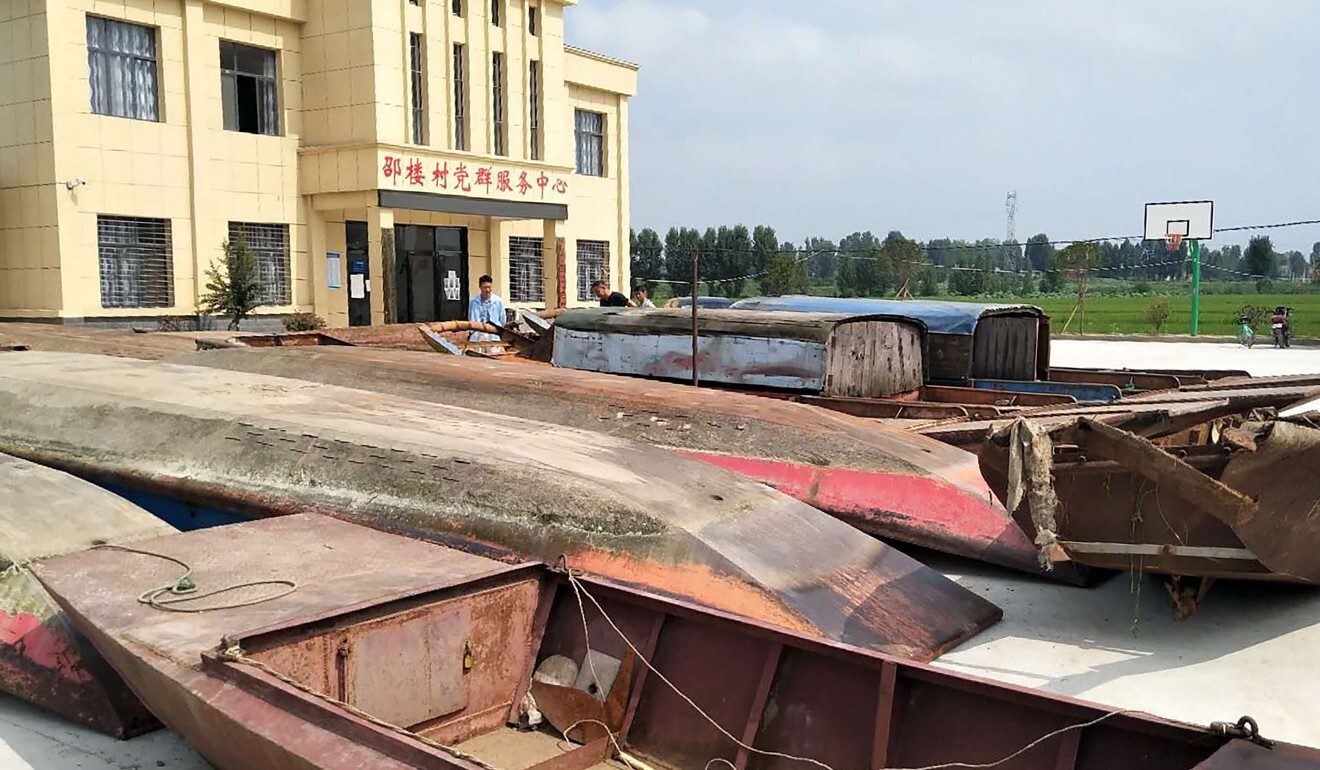 The impact of the ban on fishing communities is also a concern. Last week, Song Xin, an official from the Ministry of Human Resources and Social Security, said some fishers would get help to find jobs in fishing-related areas. Vocational training would also be arranged to prepare fishers for new jobs in construction and factories, while those wishing to start their own businesses would receive subsidies or low-cost loans.
Wang, the fisherman from Xiangyang, was eligible for 120,000 yuan in subsidies and compensation for his boat and nets, but he did not think the system was fair.
"My family has been fishing for four generations," he said. "We don't have any income without fishing, but our subsidy is the same as that for people who also have farmland or who have other work."
Wang said anyone over 40 would find it hard to find a job where he lived, and his enquiries to local officials about river jobs had gone nowhere. "I'm almost 60. I don't think I'll be able to find work."
Platto from the NGO in Beijing noted that it was the fishers who had most of the knowledge about the Yangtze, so they should be part of conservation efforts.
"Three hundred thousand fishermen is a huge amount of local knowledge that should not be lost, but used for ecosystem restoration," she said. "Fishing is not just a job, but a way of life."