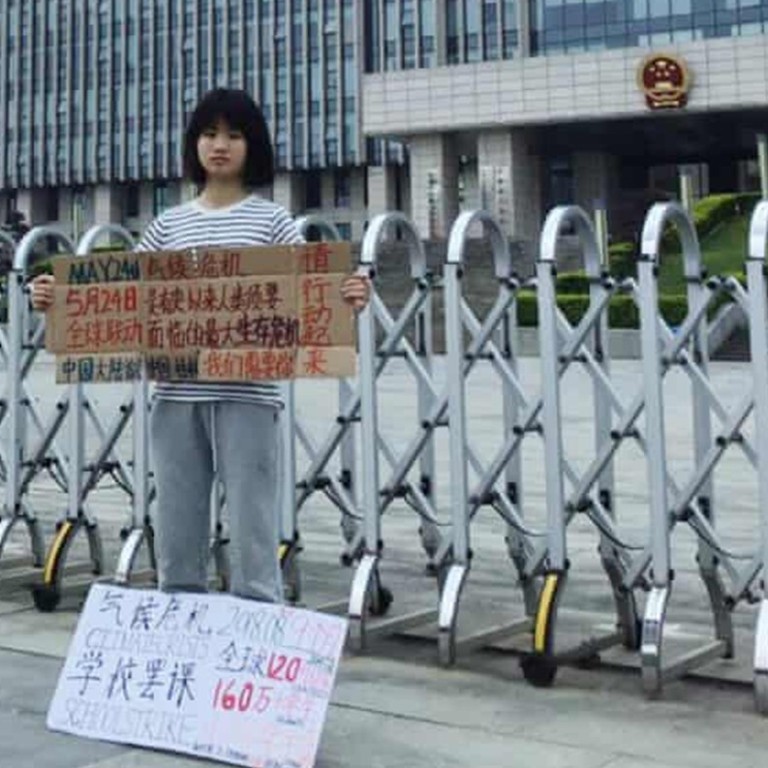 Howey Ou, China's version of Greta Thunberg, pays price for climate activism
They're both 17, and she looks to the Swede for inspiration, but in China Ou has had run-ins with the authorities and been barred from her school
Still, she hopes to stay in the country and build a grass-roots environmental movement, with some tactics adapted to a Chinese context
Among the many political and social issues that China bars the public from openly discussing,
climate change
has never been high on the censors' list. But one mainland environmentalist, 17-year-old Howey Ou, is starting to feel the consequences of her activism.
Ou came to prominence last year after she skipped classes for a week to protest in front of the local government office in her hometown of Guilin in southern China. She held up a poster asking citizens to join her in a strike to highlight climate change. Her protest went viral on social media, inside and outside China.
For that, Ou says she has now been barred from returning to school. Her high school refuses to allow her to re-enrol out of fears that her activism will generate trouble with the authorities, according to Ou. Calls to the school for comment were not picked up.
"I wanted to go back to school to use it as a platform for my activism," Ou said in an interview, adding she once tried to get plastic tableware banned from the school canteen.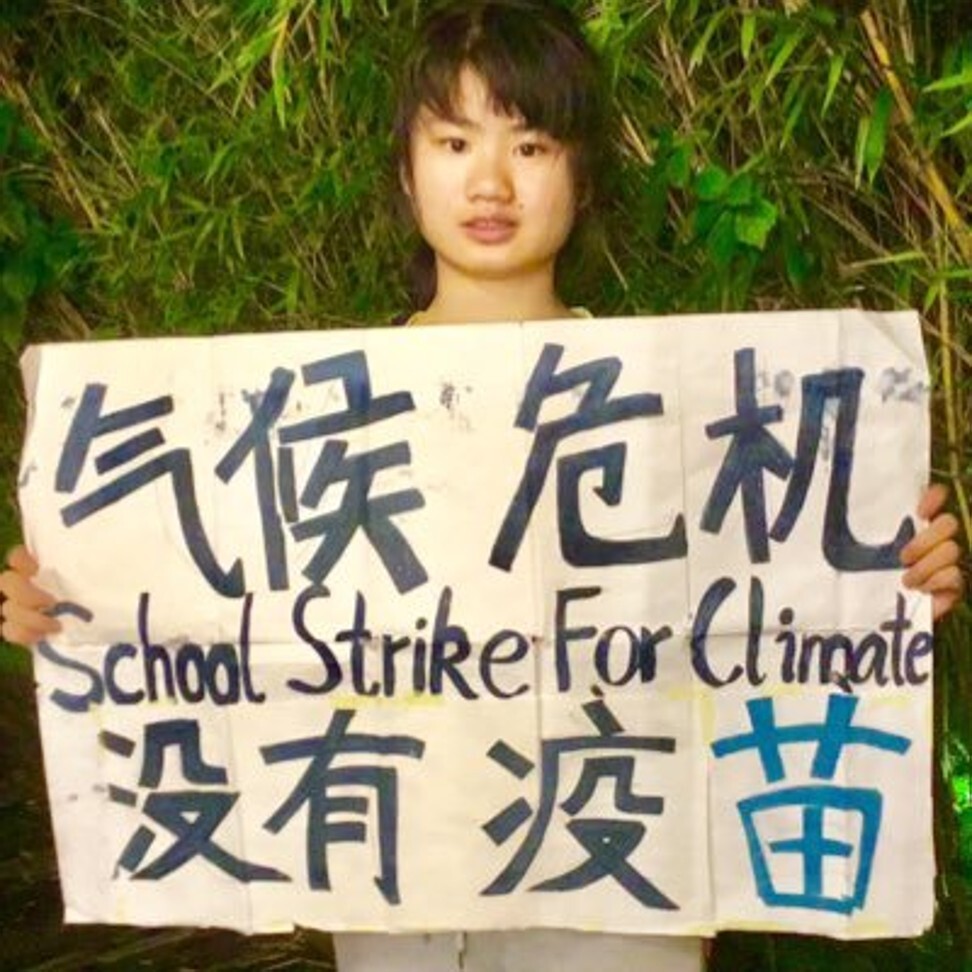 Ou sees herself as part of a growing global community of young climate activists, heralded by the rise of Swedish environmentalist Greta Thunberg, who is the same age as Ou. Thunberg gained fame in 2018 after boycotting classes for three weeks to protest outside the Swedish parliament. Many of Ou's initiatives were taken from Thunberg's playbook and she looks to the Swede for inspiration.
But while Thunberg has been
invited to address world leaders at UN conferences
, Ou's few run-ins with China's political apparatus show that her activism is not welcome. Police cut short her protest last year and she was interrogated by officials from Guangxi's Public Security Bureau.
"I think they were quite on edge at the time because the 30th anniversary of June 4th was coming up," said Ou, referring to
June 4, 1989
, when the People's Liberation Army opened fire and killed unarmed protesters in Beijing's Tiananmen Square.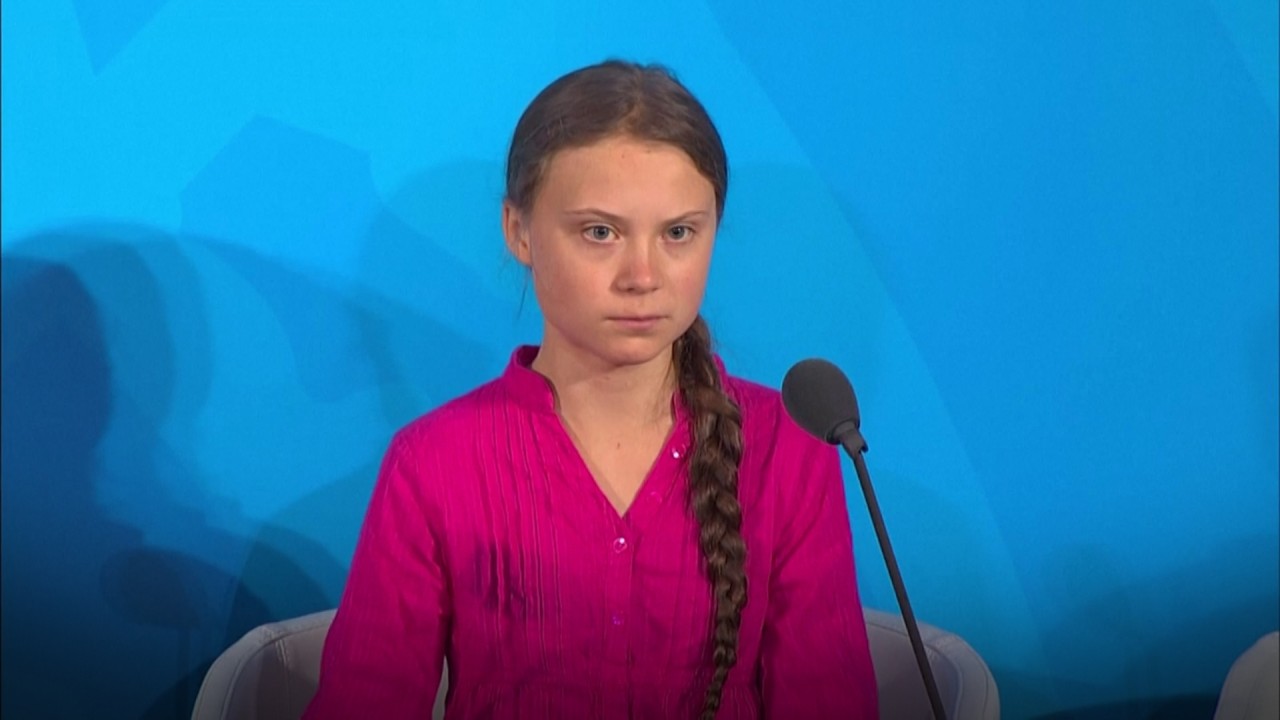 02:41
Teen climate activist Greta Thunberg makes emotional speech at UN Climate Action Summit
Teen climate activist Greta Thunberg makes emotional speech at UN Climate Action Summit
Although Ou's actions might make local authorities suspicious, she avoids mention of the Communist Party, preferring to stick to general appeals rather than making specific demands on the government.
"Our real enemies are those conglomerates that push for globalisation and free trade to maintain their unsustainable practices and stop local governments from doing anything," she said.
China's state-approved environmental organisations, however, have not welcomed Ou. Last August, she applied to participate in a conference organised by the China Youth Climate Action Network. The Beijing-headquartered NGO states its mission is to "support Chinese youth to become a new driving force to achieve global sustainable development".
"They rejected my application when I told them the public security authorities interrogated me," Ou said. "They warned me, 'You do know our entrance has security guards don't you?' It was as if I was a terrorist."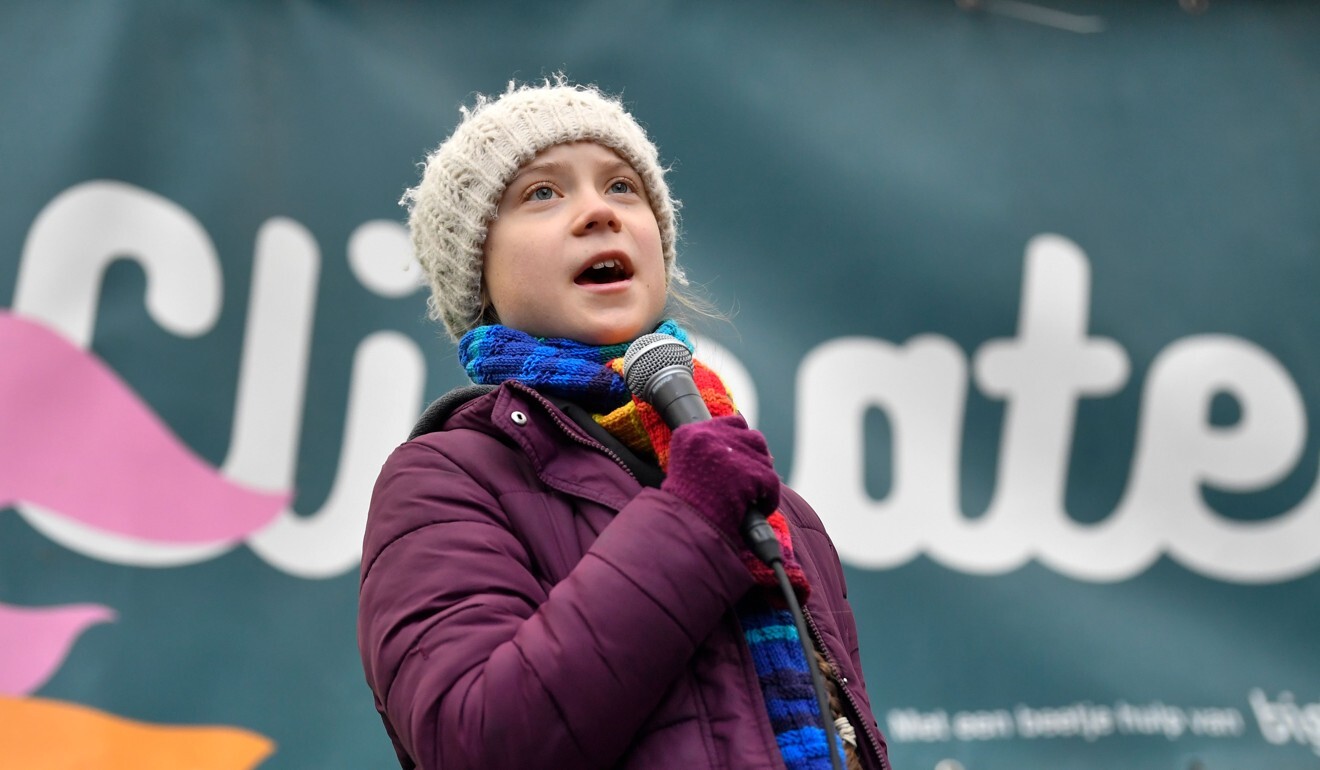 Environmental NGOs in China want to be in the government's good books and so will stay away from sensitive issues, said Xie Lei, a professor of governance at Shandong University.
"Even the foreign NGOs in China like Greenpeace are much less confrontational and more strategic than in other countries," she added.
Still, Ou says she hopes to stay in China and build a grass-roots movement.
Another reason she left high school in December 2018 was to self-study for exams to attend Harvard University in the US. One of Ou's favourite environmentalists, former US vice-president Al Gore, studied there.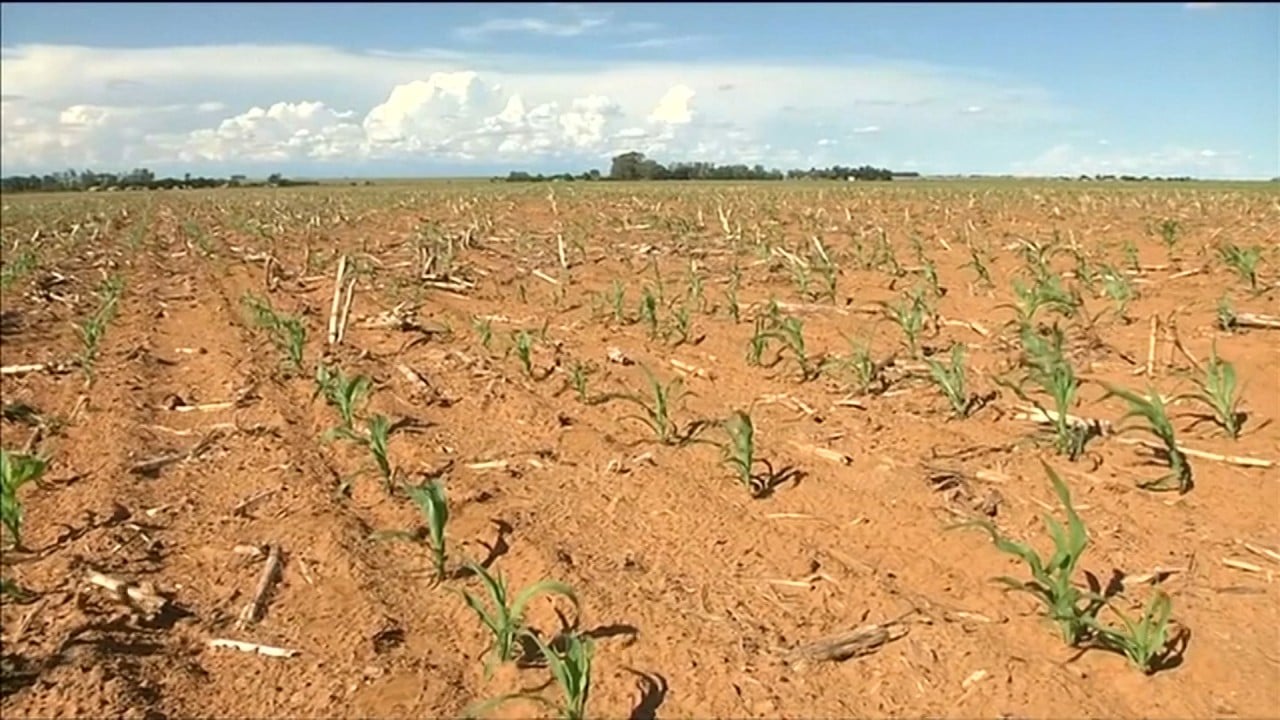 01:28
Climate change threatens the global food supply, UN warns
Climate change threatens the global food supply, UN warns
She has since changed her mind and now hopes to win a place in a Chinese university, mainly because of the outsized impact China's environmental policies have on climate change.
"China's environment policy is getting stronger, especially since the end of last year, like reducing plastic consumption and the policy of getting blue skies back to cities," she said.
"But it's not enough, China's CO2 emissions are 27 per cent of the entire world's, but China's population is only 18 per cent. It's a complicated problem I know, but it's clear we are not in line with the Paris Agreement."
In December 2015, Chinese President Xi Jinping flew to Paris, where leaders representing 195 nations signed the Paris Agreement, a commitment to reduce greenhouse gas emissions and meet carbon reduction targets.
Reading about Xi at the Paris event was a turning point for Ou. Last summer, she said she spent almost three months travelling hundreds of kilometres between cities like Nanjing and Shanghai to meet like-minded activists and NGOs. She travelled solo with little money, sometimes sleeping on park benches to save funds for train tickets, she said, adding her parents opposed the trip and are worried about her activism.
While most Chinese 17-year-olds are buried in books preparing for university entrance examinations, Ou has invested reading time in learning more about the climate, civil disobedience, and social movements. She first became aware of schoolchildren striking in protest of climate change by reading a newsletter from the Climate Reality Project, an NGO founded by Gore.
"I don't want China to not do anything about this, China's youth must accept this historical responsibility," she said.
Before
the Covid-19 outbreak
, Ou said she was organising documentary screenings, solo protests, as well as planting hundreds of trees in her hometown. The pandemic forced her to stay indoors for months, but she has used the time to read up on cybersecurity and deploy social media to raise awareness. She used her Twitter account to highlight recent floods ravaging her hometown and other cities in China.
"You can develop vaccines for Covid-19 but there is no vaccine for the climate emergency," she said.
Despite being savvy enough to use Twitter and other social media platforms that are blocked in mainland China, Ou says progress in her grass-roots campaigning is slow and that can be dispiriting.
"There are moments when I felt hopeless because people might say they support me but then they don't show it with their actions," she said.
"I think climate activism is facing a lot of pressure, not through any specific measures, but it's more of a climate of fear that stops people interested in the cause from joining."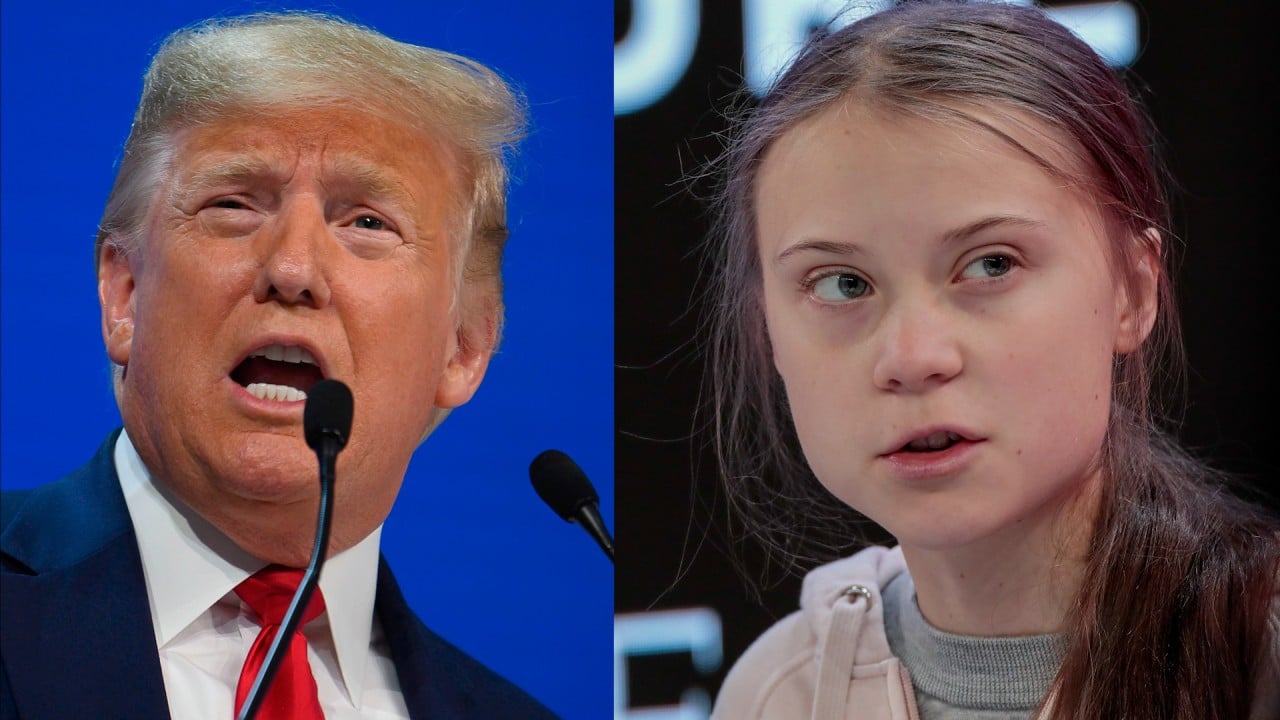 03:16
Trump and Greta Thunberg clash over climate issues at World Economic Forum in Davos
Trump and Greta Thunberg clash over climate issues at World Economic Forum in Davos
Ou believes that many tactics used by climate activists in the West have to be adapted to a Chinese context where censorship and repression against any form of popular protest is common.
"I read a study that said planting 1 trillion trees before 2030 might be the most effective way to combat the climate crisis – this kind of initiative might be more acceptable to Chinese people than activism," she said.
She is aware of the dangers facing activists in China, she said.
"My parents have told me many times about the consequences of this radical action in China, like going to prison," she said.
But Ou plans to carry on. She said she is planning her next road trip to raise awareness about Earth's "Third Pole", the Tibetan Plateau, which contains the largest amount of snow and ice after the Arctic and Antarctic. It also has some of the fastest-melting glaciers in the world, according to a 2019 report from the Nepal-based International Centre for Integrated Mountain Development.
Ou wants to travel around the Tibetan Plateau to understand how climate change is affecting the livelihoods of the people living there.
"Most environmental organisations are speaking to a middle-class that is educated in the cities," she said. "But I want to focus on those that are being immediately affected by climate change and can't speak out."