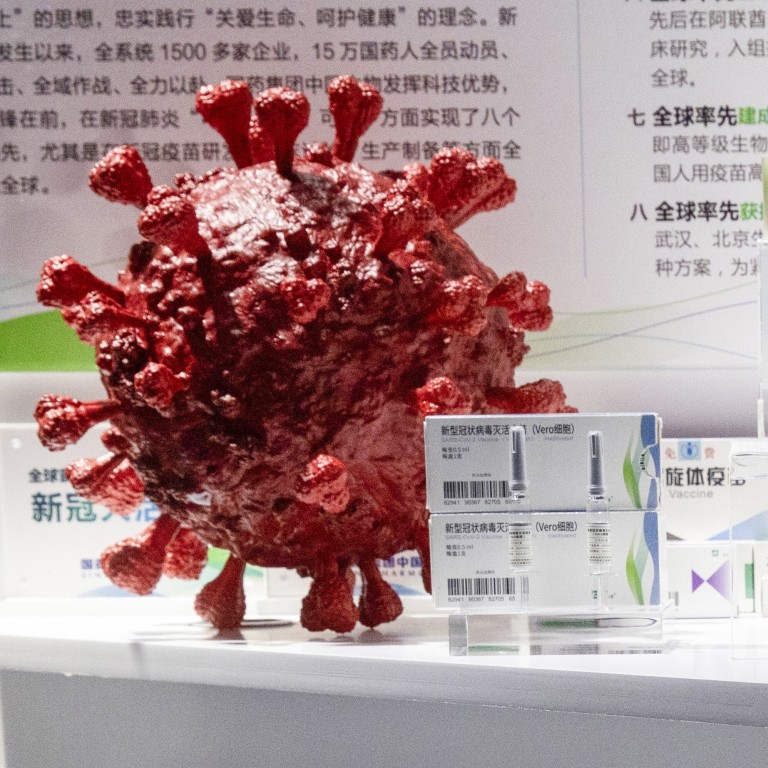 Coronavirus: Sinopharm applies for regulatory approval from China to launch vaccine, state media reports
Chinese pharmaceutical giant files for regulatory approval, according to Xinhua Finance
China National Biotec Group executive says data review is not complete but Sinopharm chairman says vaccines are protective and safe
A front runner among China's
coronavirus
vaccine developers has filed for approval to officially launch its product, after rival vaccines in the United States and Britain got a head start in proving the high efficacy of their candidates.
China National Pharmaceutical Group, known as Sinopharm and whose subsidiary company China National Biotec Group is developing two inactivated coronavirus vaccines, has filed for regulatory approve to launch the vaccines, Xinhua Finance reported on Tuesday, citing Sinopharm's vice-general manager, Shi Shengyi.
The brief report did not specify which – or even how many – of the candidates would be reviewed. The two candidates, developed by different institutes under CNBG, have been testing for broad safety and efficacy, or how protective they are against unvaccinated groups, in 10 countries across South America and the Middle East. The safety and efficacy data has not been published.
But a senior CNBG executive, who preferred anonymity because the matter was sensitive, said the report by Xinhua Finance was "inaccurate" and the company had yet to file for an official launch. He also said the phase 3 data review had not been completed.
CNBG was contacted for official comment about the application to launch its product but did not respond.
Russia is the only country to have approved
its vaccine
for general use.
The National Medical Products Administration, China's drug regulator, granted emergency use authorisation in July for the two CNBG vaccine candidates to be used on high-risk groups based on data from early-stage trials. Nearly 1 million people
have since been given the jab under the scheme
.
Early-stage trials showed that the vaccines could generate antibodies, an indicator of immunity, without serious side effects. However, vaccine developers will need to submit data from phase 3 trials to apply for their vaccine to be authorised for general use and CNBG is yet to release that data.
CNBG was one of the earliest developers to push for human trials and the world's first to enter the final stage. It has recruited more than 50,000 participants for a phase 3 trial and was set to review the data to assess whether the vaccine could protect participants against Covid-19, CNBG chairman Yang Xiaoming said last Friday.
Two weeks ago, Sinopharm said its phase 3 trial was "in the sprint stage" and all related data "beat expectations".
Sinopharm chairman Liu Jingzhen also spoke about the safety of the candidates in an interview with a media outlet in Sichuan, saying the company had not received a single report of a severe adverse event and that there were only cases with "some mild symptoms".
He also suggested that the vaccines were highly protective, saying that of the 56,000 people who had been given the CNBG coronavirus vaccine jab before
heading to work and study in 150 countries,
none had developed Covid-19.
And in an overseas office, 81 employees were given the CNBG vaccine and none were infected, but of the 18 staff who were not given the jab, 10 were infected, Liu was quoted as saying in the interview.
The
two biosafety-rated facilities
built by CNBG to make Covid-19 vaccines could manufacture 100 million doses this year and production capacity could be increased to 1 billion doses next year, Liu said this month.