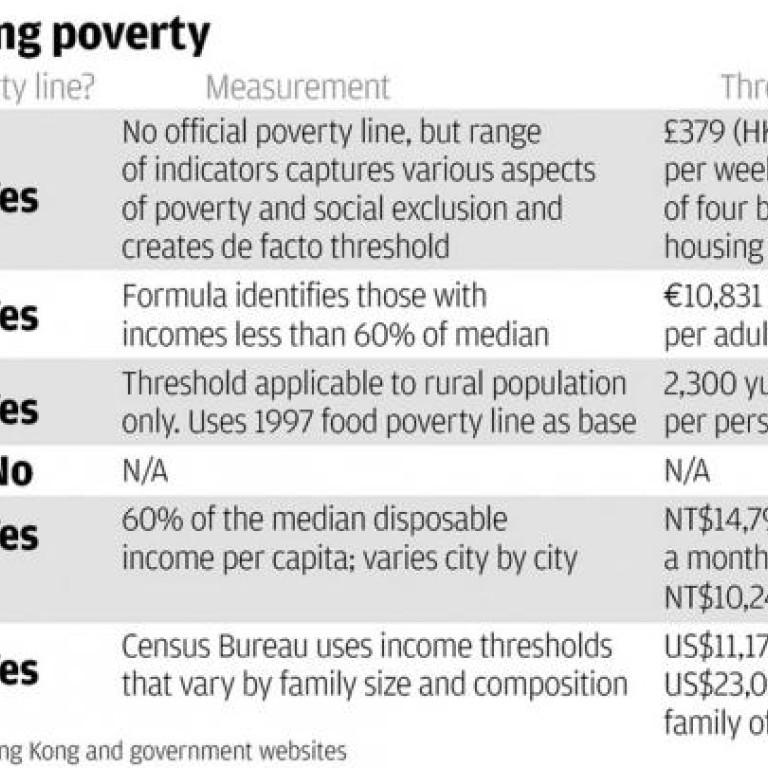 Oxfam urges chief executive to set poverty threshold
Oxfam is urging the chief executive to define the penury line, propose targets to help the poor, and avoid previous mistakes ahead of body's relaunch
The upcoming relaunch of the Commission on Poverty is an opportunity to rethink Hong Kong's priorities on alleviating poverty and rectify mistakes, says Oxfam Hong Kong.
The charity group yesterday urged the government to create a new post of commissioner for the body and to define the poverty line.
Chief Executive Leung Chun-ying chairs a seven-member preparatory task force that is consulting various sectors on the direction and scope of the commission, which will be set up next month.
Oxfam says it's pinning its hopes on Leung to act, adding that the body's main task was to define the poverty threshold.
It is also urging Leung not to repeat the mistakes of his predecessor Donald Tsang Yam-kuen in poverty-relief efforts.
When Tsang led the government, he did not define the poverty threshold. He also did not have specific poverty-reduction targets despite having then financial secretary Henry Tang Ying-yen chair an anti-poverty body from February 2005 to June 2007.
"The commissioner for poverty alleviation can foster collaboration between the government and the community," said Alfred Choy Man-kit, an Oxfam programme officer.
"The full-time salaried job should be given to a non-government appointee. If the post is filled by an official, people will think they represent the government."
Under Oxfam's proposal, the commissioner would report directly to Leung in his role as the commission's chairman.
Choy said the new commission "should be responsible for setting the government's agenda and deciding what policy changes are needed, while the relevant departments can enforce the policies".
Wong Shek-hung, an Oxfam advocacy officer, says the new commission should not rely on the Labour and Welfare Bureau or the Community Care Fund for financial support, given that its work covers welfare, education and health care. Instead, she suggests that the Chief Executive's Office should fund the commission.
"In January's policy address, the government should outline its directions on poverty alleviation and assure people that it will set a poverty line," Wong said.
The city's poverty threshold could be set at a certain percentage - say 50 per cent - of the median income or expenditure of a corresponding household, Wong says.
Alternatively, the government could draw reference from other countries such as Ireland and Taiwan that have defined poverty thresholds.
Wong also proposed that at least half the members of each sub-committee under the commission are drawn from concern groups, as that would boost social partnership and gauge public views on poverty topics.
Last year, 1.2 million people in the city lived in poverty, says the Council of Social Service, which defines the poor as those who live on up to half of last year's median personal monthly income of HK$6,900.
This article appeared in the South China Morning Post print edition as: Set poverty threshold, charity urges