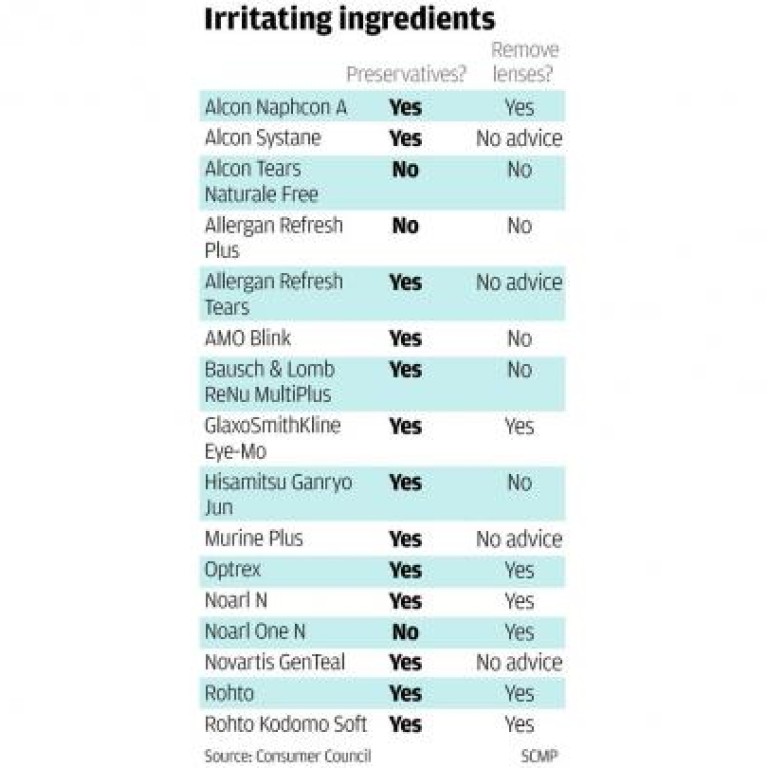 Consumer Council warns contact-lens wearers over using eye drops
Wearers of contact lenses should remove them before applying drops that contain preservatives, the Consumer Council says
People using contact lenses should remove them when applying eye drops containing preservatives, which can otherwise cause irritation, the Consumer Council has warned.
The watchdog also said yesterday that eye drops containing steroids should never be used without a prescription, as they can seriously damage the eye when misused.
Reporting on studies of 16 brands of eye drops sold at pharmacies - most for moistening eyes, relieving red eyes and alleviating allergies - it said that 11 listed preservatives in their product information.
Two others, Hisamitsu Ganryo Jun drops and Rohto moisturiser, contained preservatives but did not list them.
Depending on the type of chemicals, preservatives could be toxic, might cause dryness and might irritate the cornea, the council said.
"For contact-lens wearers, preservatives may cling to the lens' surface and become a source of irritation," said Professor Ron Hui Shu-yuen, vice-chairman of the council's community-relations committee.
Four brands give clear instructions that users should not use the drops with their lenses on. The makers of several others, questioned by the council, replied that users should take their lenses off before use.
To play it safe, people should remove the lenses before applying the drops and not replace them for 15 minutes, council chief executive Connie Lau Yin-hing said.
Another option is to choose drops without preservatives, but these usually expire sooner. Drops with preservatives can last a month after opening, while those without should be disposed of within a day.
As long as eye moisturisers are not listed as a medical product, manufacturers are not required by law to state all their ingredients. To allow shoppers a clearer choice, the council suggested the makers should voluntarily list preservatives on the packaging.
Meanwhile, the council warned that long-term misuse of eye drops containing steroids can lead to cataracts, glaucoma and thinning of the cornea.
Dr Chong Kam-lung, an assistant professor at Chinese University's department of ophthalmology, told the council that an elderly woman suffered from a ruptured eyeball after using an eye drop with steroids for some weeks.
"Using eye drops may relieve symptoms, but may not solve the problem," Hui said.
Applying drops which make blood vessels contract can make the eye less red, but will not eradicate the root of the problem - prolonged periods of wearing contact lenses.
This article appeared in the South China Morning Post print edition as: Warning for usersof eye drops