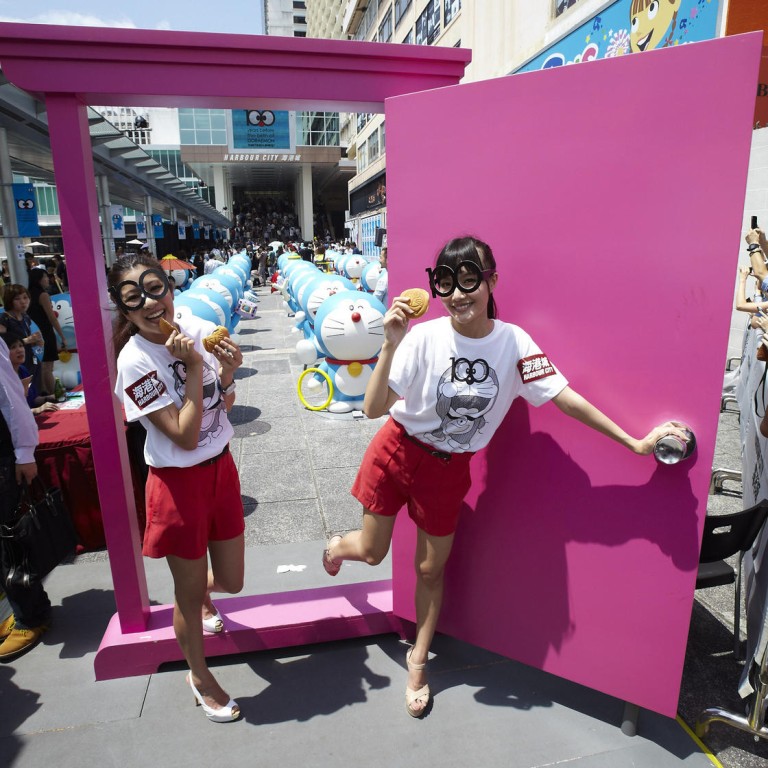 Shoppers and fans celebrate 100 years before the birth of cartoon character Doraemon
Crowds gathered around 100 unique Doraemon models for a very early celebration of the famed cartoon character at Harbour City - a century before he is born.
The "100 Years Before the Birth of Doraemon" exhibition is a joint effort by more than 100 Japanese organisations. In the cartoon, Doraemon is born on March 9, 2112.
Hoards of shoppers and fans lined up at two other installations including one that shows 30 original gizmos by creative types from around the world, and a pop-up Doraemon-themed cafe.
Among Tuesday's crowd were celebrites model Vanessa Yeung-Tsang, actress Priscilla Ku Kei-kwan, make-up artist Rick Chin, Gladys Mak and Ingrid Chen. Japanese consulate representative Hitoshi Kikuchi, Animation International director Tim Kondo and event curator S.K. Lam were sipping champagne.
Canis Lee Lai-yi, the general manager of Harbour City Estates, shared the nostalgia of older fans and thanked organisers for "bringing all together to reminisce about our childhood Doraemon memories".
All the speakers emphasised the celebration of three generations of Doraemon fans and anticipated the character's continuation.
Young and old alike posed for pictures and welcomed costumed Doraemon characters on the stage.
Proceeds from the sales of limited-edition postcards and Doraemon dolls will be donated to Make-A-Wish Hong Kong. The exhibition runs until September 16.
This article appeared in the South China Morning Post print edition as: Shoppers and fans celebrate 100 years before the birth of cartoon character Doraemon