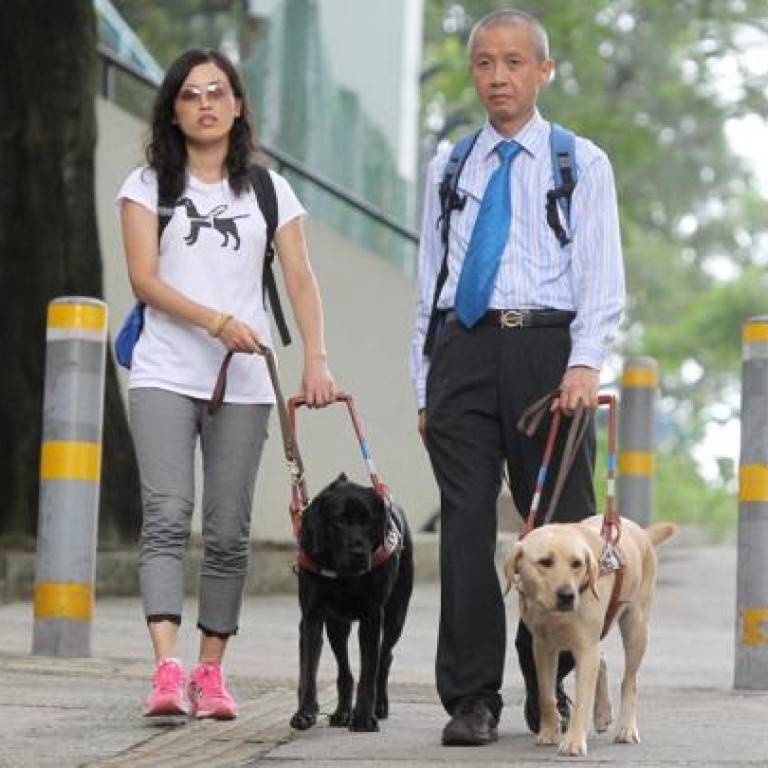 Guide dogs return to streets of HK after 3-decade absence
Two US-trained guide dogs are turning around the lives of their Hong Kong owners as helping hounds return to the streets of the city three decades after it was declared too noisy and crowded for them.
A report in 1976, after the death of a guide dog in a traffic accident, deemed Hong Kong an inappropriate place for them, but a pilot project involving the Hong Kong Guide Dogs Association, the Ebenezer School and Home for the Visually Impaired and the Society for the Blind is giving the dogs another chance - and their new owners appreciate it.
The dogs, Nana and Deanna, spent 26 days training with their new masters in New York, and have completed a further spell of acclimatisation in Hong Kong.
"Deanna literally turned my life around," said Tsang Kin-ping, one of the new guide dog owners. "We have spent about three weeks travelling around [the city] - from managing through a crowded tram, bus, and train compartment, to travelling on suburban routes and urban streets, I can tell 99.9 per cent of Hong Kong citizens are supportive and respectful about guide dogs."
Inti Fu Tai-fan, who has glaucoma, is finding renewed independence. Fu, who runs marathons, said Nana was making her life safer.
While she had often bumped into objects before and had a car accident that left her in a wheelchair for two months, she can now move quicker as Nana helps her avoid obstacles.
Two more blind people will go to the US for training by year's end.
It is not the only attempt to reintroduce guide dogs. The city's only certified guide-dog instructor, Raymond Cheung Wai-man, handed over labrador retriever Google to new owner David Wong Man-chiu last month. Cheung had been in an ownership row over Google and another dog, Iris, with his former employer, the Guide Dogs Association, which dropped its ownership claim.
This article appeared in the South China Morning Post print edition as: Guide dogs open doors for visually impaired