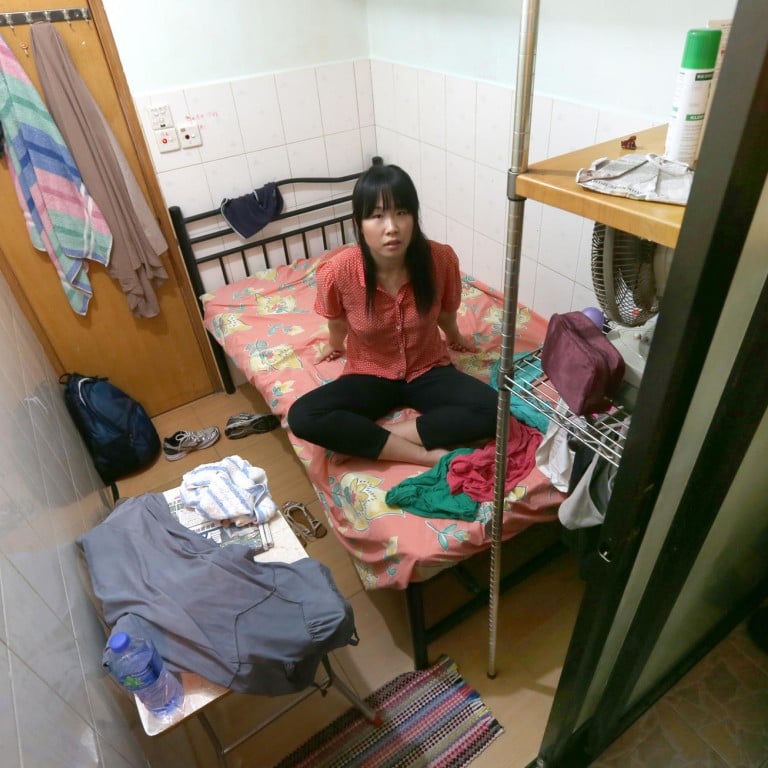 Living in a squalid subdivided flat is a miserable experience for SCMP reporter
We've all heard about the miserable lives of people in subdivided flats. But Joanna Chiu decided to go further. She realised she could only really understand the problem by moving in herself
"Do you have anything cheaper in Sham Shui Po?" The landlord is showing me a subdivided unit in Prince Edward, with its own window and bathroom. At HK$3,200 a month, though, it's too expensive for many low-income renters.
"I do," he says. "But you wouldn't be able to live in a place like that."
I tell him I just want a place to sleep for a month and don't care how small it is. A short minibus ride later, we're climbing the steep, grimy staircase to my new home.
I'd been thinking about what it would be like to live in a subdivided flat since I interviewed 60-year-old Lee Yu-ching, who was living in a cubicle home in Sham Shui Po.
As a recent university graduate, I thought I knew how to "rough it". I lived in an old man's basement for HK$2,300 a month - walking his dog in exchange for cheap rent, while fending off wolf spiders with a broomstick. Last year, working in New York, I shared a tiny studio with a roommate - and two dozen mice.
But I couldn't imagine living in a place like Lee's.
He had been in the cubicle for a year, using most of his social security cheque on his HK$1,200 a month rent, after failing to find work. Thin wooden boards divided his tiny room from his neighbours. Dusty, broken appliances surrounded his bed, which took up most of the room, and he hung his clothes on a piece of string fastened to the walls.
Every surface in the low-ceilinged kitchen was covered with layers of dirt. He shared it and the equally blackened bathroom with three other men.
I wondered if the other tenants' wives had left them, as Lee's had done, taking their places on the public housing waiting list.
Getting a spot in public housing is usually the best hope for people living in poverty, but with economic inequality now exceeding that of most cities in East Asia, the United States, Europe and Australia and wages for menial labour not coming close to keeping up with inflation and living costs, demand is high.
There are 189,500 people waiting to move into public housing, according to the Housing Authority. The average wait for families and elderly people is 21/2 years, perhaps not surprising in a city where the gap between rich and poor is growing ever wider.
Most of those at the bottom end of the scale survive by finding the cheapest rent possible, and studies by the Society for Community Organisation suggest at least 100,000 people occupy apartments chopped into smaller rooms, usually with new partition walls and altered wiring and water pipes.
While partitioning a flat is not illegal in itself, anyone carrying out a subdivision should comply with a long set of design requirements, which have increased this year but which experts say are rarely enforced.
Subdivided flats can be (cubicle homes divided by boards, also known as "bed spaces"), (a subdivided flat with proper walls and doors), or (like but with private bathrooms). range in quality and size, but conditions in cubicle homes are almost always abysmal.
The city's poor also live in makeshift rooftop dwellings and cage homes - wire mesh hutches stacked one on top of another - although social workers and building surveyors say these are becoming scarcer since landlords find subdivision more profitable.
I wanted a deeper understanding of the effects of low income and poor housing. No matter how much research I did, I couldn't imagine what it would be like to actually live in a subdivided flat, especially in the summer's stifling heat and humidity.
So I arrange to live in a for a month. The rent for my 60-square-foot flat is HK$2,400 - more than many people can afford in a city where the median wage for the lowest 10 per cent of earners is just HK$2,070, according to the Census and Statistics Department.
And it's relatively spacious considering that entire families often live in such apartments. I vow to stick to a budget of HK$350 a week for food and other necessities, again a relatively high amount.
I unwisely move in late in the day, after the outdoor market stalls are closed, so I can only buy groceries and household items at a supermarket. After picking out the cheapest shampoo, toothpaste and toilet paper, the only food I buy is a loaf of bread, a jar of peanut butter and a few kiwi fruit, but the bill is HK$180 - more than half my week's budget. I sit on my bed, since there's nowhere else, eating a peanut butter sandwich, swatting mosquitoes and reading a book. I might as well be sitting on a toilet. My room is clean enough, but it feels like a public bathroom. The tiled ceramic walls are covered with a layer of condensation, the air heavy with moisture.
The next morning, I wake up coughing. I had turned off the air conditioner to save electricity, and with a crack over the door the only means of ventilation, the room seems almost devoid of air.
I dress quickly and leave. On the way out, I stop to check the communal kitchen. It consists of a low shelf at the end of a narrow corridor, wedged next to a bathroom. The bathroom door is open and I can see brown sludge bubbling close to the surface of the squat toilet.
As I inspect the single pan and wok on the shelf, a woman opens her door and asks if I need help.
She's in her 30s, and looks kind. I introduce myself as a new tenant living in the flat temporarily.
She tells me she moved to Hong Kong from Shenzhen three years ago to join her husband, a delivery truck driver.
"We used to live in your room," she says. "But when this bigger room opened up, we moved in. It's much more comfortable. I spend most of the day here, since I can't find work."
I look in and see a room barely bigger than my own, albeit with better shelving and a larger bathroom. The only furniture is a twin bed, a fold-up table and two rickety stools.
She asks when I usually cook dinner. When I say later, she nods agreeably and says our schedules will suit each other, since she eats early. She waves goodbye and tells me to check out restaurants on Kweilin Street for cheap breakfasts.
Sham Shui Po is the poorest of Hong Kong's 18 districts, with the lowest median income and a large working-class population. And the 54,200 public housing flats on 14 estates are not enough to meet the needs of a struggling community.
The area may have the highest concentration of subdivided flats in Hong Kong. Its convenient location, good transport links and lower rents and living costs have long attracted low-income residents.
I spend the rest of the week wandering the neighbourhood: the underground electronics shops, the parks where elderly people sleep, the alleys where children collect cans and scraps of paper.
After splurging at the supermarket on my first night, I stick to my budget by buying vegetables at the end of the day when stalls sell their goods for half-price, microwaving frozen dumplings for lunch and occasionally eating HK$6 bowls of plain congee for breakfast at a shop on the corner.
One morning, I tour a local food bank, run by the social service agency St James Settlement, operating out of Tai Hang Sai public housing complex in Shek Kip Mei.
The food bank, which operates Monday to Friday, offers a free lunch for elderly people. It feels strange to be surrounded by elderly Chinese who aren't laughing and gossiping with each other. Most seem uncomfortable to be receiving charity.
I meet a young mother, Mrs Zhong, who has brought her five-year-old son to pick up a heavy box of groceries. She also has a nine-year-old son, and the family of four live in a 150 sq ft subdivided flat on the fourth floor of a walk-up building.
"My sons are so well-behaved when they're outside, but at home, they're always fighting," she says. "They don't have enough space to play."
Zhong's husband is a construction worker, hired on temporary contracts. He suffered a shoulder injury last year and hasn't been able to work much. Their rent is HK$3,500 a month, but some months he will barely bring home HK$2,000.
"We can't not pay the rent, so I try to save on everything else," Zhong says. "I can't work with no one to take care of my kids. Our landlord keeps increasing the rent but we can't move out. We wouldn't be able to find a cheaper place."
That night, I cheat and sleep at home, lured by my grandmother's cooking. I return to my flat the next evening. When I push the door open, something feels wrong and, in a panic, I check to see that my electronics haven't been stolen. They are still there.
Everything is wet. My clothes look like they have gone through a washing machine, the pages of my books have crinkled from dampness and water drips from the walls. Judging from the pool of water on the mattress, I figure that the air conditioner has leaked overnight - making the room feel even more like a jungle. Even my pillow is covered in mould.
As tired as I am, sleeping on wet sheets and a musty, smelly pillow isn't an option.
I sit on the edge of the bed, considering whether to ask my neighbours for advice. Through thin walls, I can hear the person living to my left, a waiter in his 40s, counting a pile of coins. At least that was what it sounds like.
I know my neighbour on my right is home, too. I've never seen him but can hear his coughing. That night, his cough is particularly bad. I decide not to bother. I will spend the night outside and figure out what to do in the morning.
I go down the block to a 24-hour McDonald's. It seems I'm not the only one who has that idea. All the seats are occupied, half of them by people sleeping.
The Social Welfare Department supports just five temporary shelters and two emergency shelters in the whole city. While 169 of the 397 beds are in Sham Shui Po, this does not appear to be adequate for the homeless, or those who just can't stand to sleep in their own homes at night.
I spot an old man I had seen sitting on the pavement reading a newspaper a few hours earlier. He's reading the same newspaper. It seems to be a regular routine.
"How is it going?" he asks a female janitor.
"You know, the night shift is rough, but what can you do?"
"People can get used to almost anything," he says.
In the morning, I call Philip Fry, who runs an international mould removal company and mould inspection-training centre. "If your air conditioner is leaking, it is already filled with mould," he tells me. "When you turn it on, especially in a poorly ventilated room, it will just blow the spores everywhere.
"You can get sick within a matter of hours. There are mould varieties in Hong Kong that can cause cancer and disease in the lungs and brain."
Fry says it is likely improper piping and inadequate ventilation led to the leaks and mould and urges me to abandon the place for the sake of my health.
Heeding his advice, I move out after just one week. But for 100,000 Hongkongers, that will never be an option, no matter what health problems their living conditions cause.
I realise no amount of immersion journalism will help me understand what it's like to live in a subdivided flat with nowhere else to go.
"A lack of proper housing is the most urgent social problem in Hong Kong," said community organiser and social worker Angela Liu Yi-shan of the Society for Community Organisation.
"The government needs to increase supplies of public rental units, to at least 35,000 per year," she said, adding that the government could offer rental subsidies or more access to social security in the meantime.
The government announced last week that it would increase the public housing supply by 20 per cent.
But the Housing Authority's projections for public housing production for 2013 and 2014 is only 14,100 new units, enough for just 13 per cent of those on the waiting list.
"We will just wait and try to do our best," says Zhong. "I hope my kids can take care of me when I'm older," she says, cuddling her son on her lap. He looks up and nods in agreement.
This article appeared in the South China Morning Post print edition as: THE SQUALID TRUTH