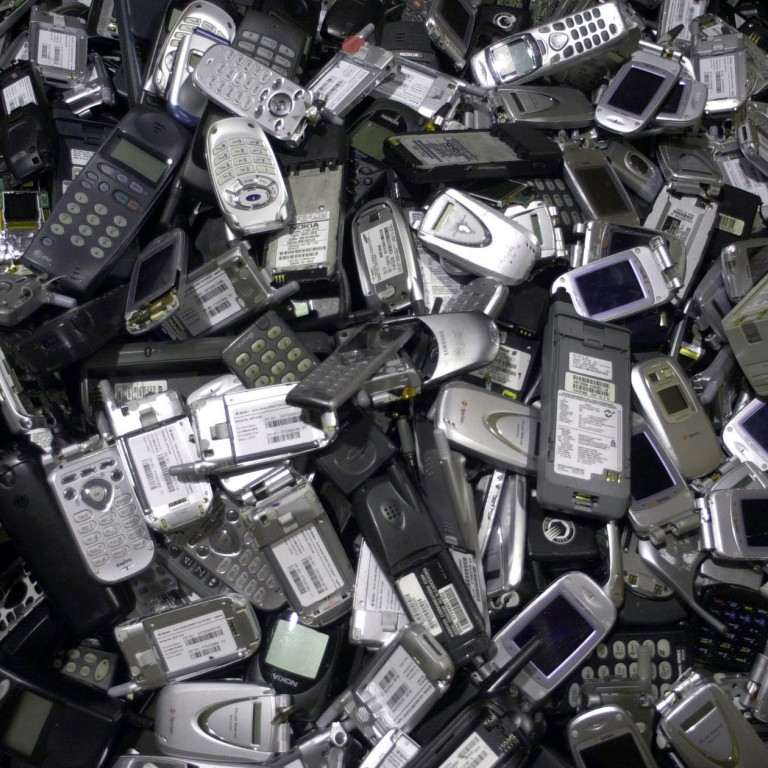 Just 1pc of Hong Kong people recycle their old phones at recycling sites
Survey finds most unwanted mobiles will end up in the city's pile of e-waste
Despite Hong Kong's reputation as one of the world's most tech-savvy cities, a mere 1 per cent of residents recycle their old phones at designated recycling sites.
A survey of 1,200 city residents produced by Chinese University with funding from the AIA insurance company, also revealed that the average Hongkonger uses a mobile phone for just over 21 months before replacing it with a newer or more advanced model.
When mobile users trade in their old phones, they usually end up nowhere near a recycling depot. While only 4 per cent admit throwing away their phones after upgrading, 48 per cent say they keep them as a backup. The rest either give them to friends or sell them.
Researchers believe most of those used phones eventually wind up in the rubbish pile.
Nearly two-thirds of the respondents said they intend to buy a new phone within the next 12 months, increasing even further the number of phones flowing into the waste stream.
The survey noted that many consumers do not trust that any personal information will be properly wiped from the device, with 61 per cent of respondents citing this concern as one of the main reasons that they do not recycle their old phones.
The survey sought to understand the habits of Hongkongers regarding e-waste.
The majority of the respondents - 77 per cent - said they were aware of the potential negative impacts that e-waste could have on the environment.
They agreed the growing volume of discarded gadgets would worsen pollution problems. Some 74 per cent believe this will cause problems for personal health.
When asked about potential fixes, a third of those interviewed said they were willing to pay a surcharge of 3.8 per cent when they buy electronic devices to help cover the costs of recycling and treating e-waste.
"The heavy metals present in electronic waste are toxic," said Chinese University vice chancellor Professor Joseph Sung Jao-yiu, a member of the Council for Sustainable Development. "If we do not deal with it properly, it can seep into our water and create problems for our health and the environment."
This article appeared in the South China Morning Post print edition as: Just 1pc use recycling depots for old phones