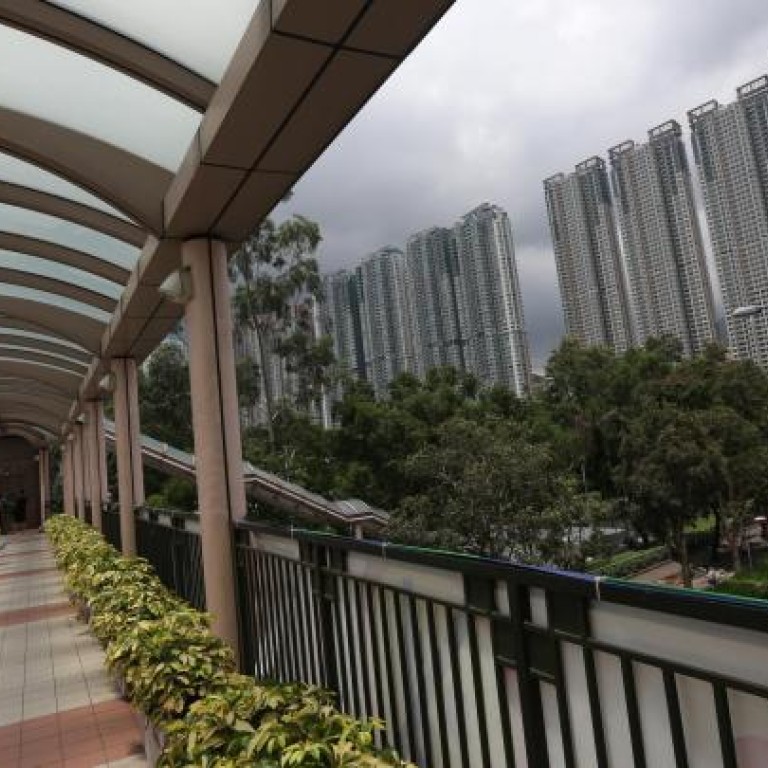 Tai Wai: Alarm bells ring in bicycle town
Tai Wai's residents are struggling to preserve the district's simple pace of life and its beloved cycling businesses against all-too-rapid urbanisation
To many, Tai Wai is the starting point of a 20-kilometre paved cycle track that extends all the way to Tai Po. For years, its views of Tolo Harbour, fresh air and the temples along the way have provided the ideal setting for a leisurely afternoon spin.
Tai Wai, surrounded by mountains and country parks, is southwest of Sha Tin and is within a 30-minute train ride of Shenzhen and the city centre in Kowloon.
Jeff Lo, owner of New Wah Nam Cycle, a bicycle shop started by his father in the early 1980s, says he likes the fact Tai Wai is a middle ground between the countryside and the city.
"The pace of living here is not too fast and yet not too slow. And the people are simple and pure," the 41-year-old says.
But this idyll is now overshadowed by plans for another series of walled buildings, or high-density residential towers, which will soar up from Tai Wai MTR station by 2018.
A dozen 50-storey residential towers, under the first three phases of Festival City, have sprung up to the southwest of the station, forming a colossal wall more than one kilometre long that cuts a line through Tai Wai. Phase three was finished earlier this year.
Developed by Cheung Kong and the MTR Corporation, they are the tallest buildings in the district and house more than 4,000 flats.
"The buildings block the view from my window, and I can't see the mountains or watch the sunset anymore," says 18-year-old Michael Lam.
Before the buildings were built, in 2003, environmentalists and medical experts pointed out the ecological and health risks posed by these residential blocks, saying they might lead to "wall effects", which block the flow of fresh air.
Tai Wai residents and other concerned parties submitted more than 700 petitions to the government, hoping that the land, which had previously been used as a public park, could still be used for government or community purposes. Officials ignored their suggestions.
Today, bidding is under way for a new HK$30 billion development - with 41- to 51-storey residential towers and a grand shopping mall sitting right above the MTR station. To protect Tai Wai's environment from this invasion of skyscrapers, Lam joined Help Tai Wai, a concern group founded by 23-year-old Lingnan University student Wong Wing.
In May, Wong, who grew up mostly in Tai Wai, set up a Facebook page to comment on the walled buildings, posting stories, thoughts and videos about the development.
The page proved popular, especially among the younger residents who became friends via its comments page. Some grew up in Tai Wai village, others in private blocks, but they all loved their old neighbourhood. The group now has nine core members, all students, with the youngest being 17 years old.
Help Tai Wai holds meetings every week and invites local legislators and politicians to forums on district planning. The pace of development seems unbridled, however.
Festival City, for instance, was built on the former site of the Tai Wai Cycling Park, an indelible part of the collective memory of Tai Wai's people, Wong says. The park, about the size of two soccer pitches, was a popular place for family outings but was closed in 2000.
In its heyday in the early 1990s, there were more than 20 bicycle rental shops scattered around the park, able to rent out more than 2,000 bikes to residents and tourists.
"My grandma took me to the park during weekends and it was there where I first learned to ride a bike. It was a sweet memory," says Benjamin Lam, 17, who grew up in Tai Wai.
Another popular park in the area was Joyful Town. Originally called Happy Dragon Recreation Park, it used to be one of the three major amusement parks in Hong Kong; the other two being the Lai Chi Kok park, which closed in 1997, and Ocean Park.
Opened in the mid-1980s, the park - which featured a variety of rides and attractions such as a water roller coaster, a Ferris wheel, a merry-go-round and a pirate ship - was popular for more than a decade. When the complex was renamed Joyful Town, it was turned into a big barbecue site, leaving the remaining facilities to crumble.
"In those days, people didn't just come to Tai Wai to go cycling. They would also enjoy barbecues in Happy Dragon," Lo, the bike shop owner, says.
The amusement complex was closed in early 2001 to make way for the development of the Ma On Shan Rail link.
Today, Tai Wai is still a popular getaway for people who want to escape the urban smog and the hectic pace of city life - but residents say its identity is slowly diminishing.
"People still come to Tai Wai, but the feeling today is different," Lo says. "The air quality isn't as good as it used to be, and there are few things people can do besides cycling."
Michael Lam, the 18-year-old, agrees that people's sense of belonging to the community has weakened, as more and more chain stores settle in, forcing out small businesses.
"I have counted the number of shops on Tsuen Nam Road, just opposite the MTR station. There are 20, and 10 of them are real estate agencies. Most of them came following the new development," he says.
"There are still some old eating places left, but I don't think they'll last long. If the new phase is built, they will probably all turn into agencies too. When that time comes, there will be even fewer places for us to go."
Many bicycle shops have been forced to move to neighbouring districts, such as Ma On Shan, due to rising rents. Lo, of New Wah Nam, says: "Our shop rent has risen almost tenfold over the past decades, but the rent for bicycles hasn't changed much."
Others see the construction boom as positive, however. "For me it's a good thing," says Mr Lau, a restaurant owner. "Development is inevitable and Tai Wai needs to keep up with the rest of Hong Kong."
This article appeared in the South China Morning Post print edition as: Alarm bells ring in bicycle town