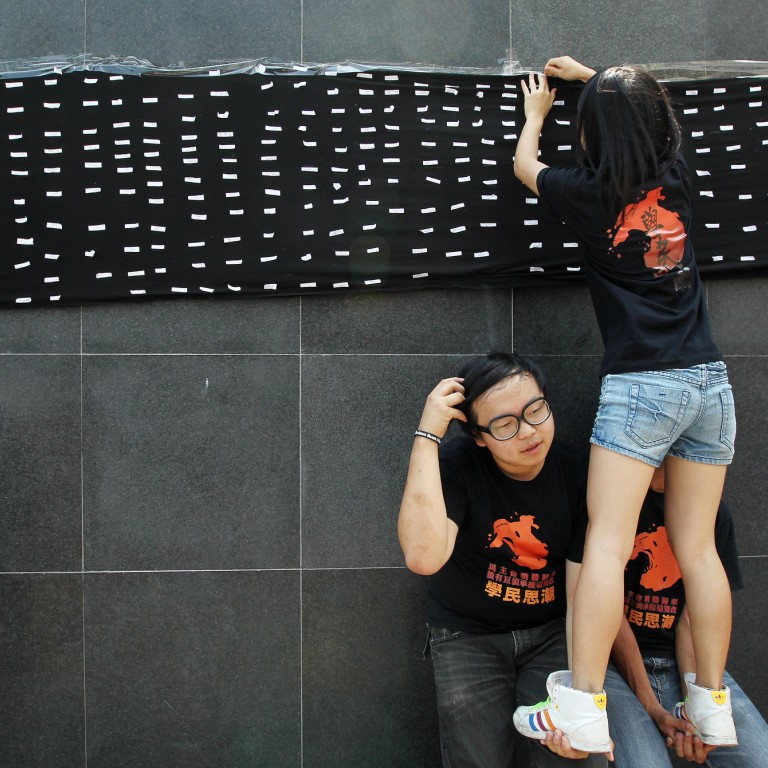 Campaigners plan sit-in over national education curriculum in Hong Kong
Campaigners to protest at government headquarters over refusal by committee to discuss scrapping of controversial curriculum
Anti-national education campaigners plan to stage a sit-in at government headquarters in response to a refusal by officials to even consider scrapping the controversial curriculum.
The protest would be on September 1, two days before the start of the new school term, said the Civil Alliance Against National Education, which comprises various groups that oppose a decision to force all public school pupils to take lessons in Chinese patriotism.
It follows anger over Wednesday's first meeting of an advisory body that was set up by the government after 90,000 parents, pupils and teachers took to the streets to call a halt to plans to "brainwash" schoolchildren.
No mention of withdrawing the curriculum was made by the new Committee on the Implementation of Moral and National Education, which concentrated instead on the difficulties of introducing the lessons and how to screen teaching materials.
Alliance spokesman Shum Wai-nam said yesterday: "We don't think the government has responded to the voices of the public by just setting up a committee."
He spoke as dozens of pupils and alliance members demonstrated at the government headquarters in Admiralty, in an initial response to the committee's stance. They displayed a long black banner bearing some of the 100,000 signatures collected in a petition against the curriculum over the past few weeks.
One of the protesters, Oscar Lai, from the student activist group Scholarism, said they planned to visit schools to sound out teachers and principals.
Government primary schools are expected to start introducing the curriculum next month although it will not become compulsory until 2015, and, in the case of secondary schools, 2016.
Anna Wu Hung-yuk, the head of the new committee, reiterated yesterday in a radio programme that under the "three-year preparation period", all schools have a choice to decide whether to start national education. Its compulsory introduction was not mentioned.
Twelve-year-old Scholarism campaigner Lau Chun-long said the issue was causing tension at home. "My mum would like me to stay at home. But my dad thinks I should do what I want to do. I am not afraid anyway [of being scolded]."
The Primary Six Sha Tin pupil is about to enter secondary school but is considering boycotting classes in protest at the national education plans.
"I see there are a lot of problems, such as failing to touch on the dark side. I would like to learn about China through a history class instead," he said.
"I love my motherland but not in this way. I think boycotting a class is not bad - it's a peaceful way to demonstrate."
This article appeared in the South China Morning Post print edition as: Sit-in planned over national education