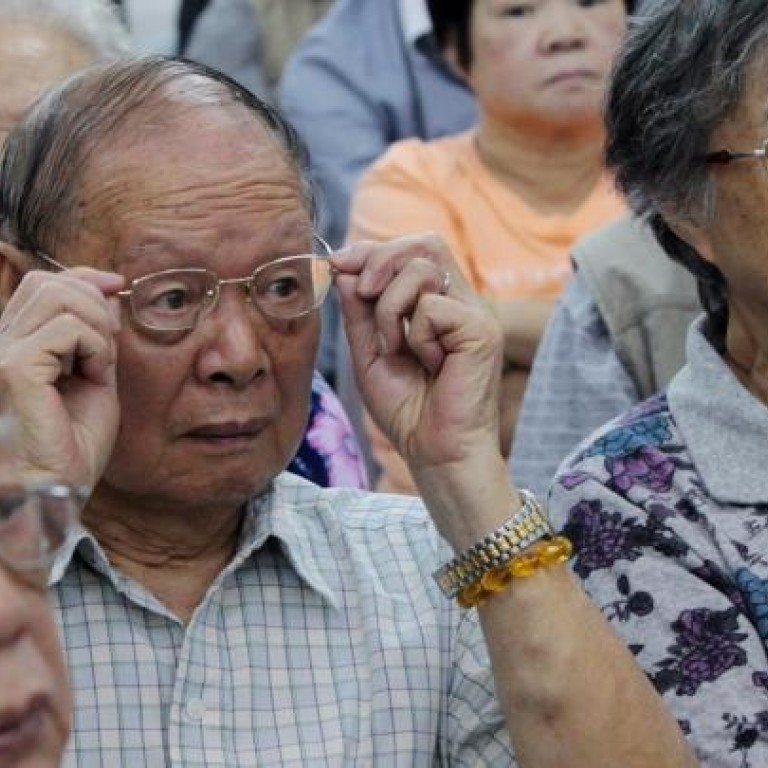 HK elderly living in Guangdong in line for 'fruit money'
Elderly Hongkongers who have chosen to retire over the border have welcomed the Hong Kong government's plan for a monthly allowance
When Hsui Chi-kwong and Huen Lai-piu's three pets died of old age, the Hong Kong couple, aged 75 and 67, decided to move from their friend's home in Guangzhou's Panyu district to a flat at an elderly care centre. They have been there for five years.
The couple left Hong Kong after Hsui retired in 2003 from his job as an electrical engineer. They are among the more than 100,000 Hong Kong elderly who have chosen to retire over the border, about 60 per cent of whom have settled in Guangdong.
"The flat is bigger and the air cleaner; the price is much cheaper compared with an elderly care home in Hong Kong," Huen said.
However, the couple are facing mounting financial pressure. Prices for basic items keep rising and the exchange rate between the Hong Kong dollar and the yuan has not been in their favour for years. They are forced to rely on savings and keep expenses down to HK$5,000 a month.
But retirees like Hsui and Huen have drawn hope from the recently passed "Guangdong plan". Proposed by former chief executive Donald Tsang Yam-kuen and passed by the new administration, it allows elderly Hongkongers living in Guangdong to collect "fruit money" - an old-age monthly allowance of a little more than HK$1,000. The allowance is offered to permanent residents aged over 65. Successful applicants can continue receiving fruit money as long as they spend at least 60 days a year in the city.
Under the Guangdong plan, people like Hsui and Huen should be eligible.
The plan has been widely interpreted as a fresh response to the pressures confronting Hong Kong as it shifts towards an ageing society.
Retirees, especially those without a steady income, will find it easier to live over the border. But there are concerns the quality of services they require is lacking in Guangdong.
The plan, which is expected to go into effect from the middle of next year, has been welcomed by elderly Hongkongers in Guangdong as a delayed blessing.
"Fruit money allows the Hong Kong government and society to express their respect to the elderly and our contributions to Hong Kong," Hsui said.
"We've paid a lifetime of tax to the government. But they set so many conditions on us collecting our benefits. It was like an insult to us."
Elderly people hoped the government would not set any conditions for collecting the fruit money, Hsui said. They acknowledged that the money would not solve all their financial problems, but it would at least convey a sense of respect from the government.
The couple handed over their property in Hong Kong to their children, in light of the city's high housing costs. They refused to share a home with their children, believing that cramped living space could fuel conflict between the generations.
Lei Yuk-fung, one of the couple's neighbours at the elderly care centre, also gave her flat in Hong Kong to her children. After her husband died six years ago, she moved to the complex on the advice of a friend.
People aged 65 and above will account for a quarter of Hong Kong's population by 2031, according to a government report. Currently, more than 900,000 people in Hong Kong are aged 65 and above, more than 13 per cent of the population.
The small size of homes in Hong Kong, and the improving life expectancy its residents enjoy (79 for men and 85 for women), make housing an ageing population a major challenge for the government.
Elderly people must usually wait years for an opening at a government-run care facility. Private care can cost tens of thousands of dollars a month.
Huen said elderly care homes in Guangdong did not compare well with Hong Kong's. Living in a suite in a villa at the Guangzhou care centre, the husband and wife were required to make a one-off payment of 60,000 yuan (HK$73,000)to cover facility fees, and pay an additional 1,000 yuan each month. In Hong Kong, such accommodation would be out of their price range, if it were available at all.
According to Stella Cheung Yuk-har, executive director of the Hong Kong Association of Gerontology, 6.8 per cent of elderly people live in homes for the aged, with most of the tenants aged above 80.
A survey released by the city's Census and Statistics Department last year said more than 110,000 Hongkongers aged 60 or above lived on the mainland. Among them, more than 60 per cent resided in Guangdong, with most choosing Dongguan , Guangzhou, Zhongshan and Shenzhen.
However, many must sacrifice certain financial benefits elderly residents often receive in developed societies when they choose to life over the border.
"We have to pay the full fare to take the bus in Guangdong. We enjoy no discounts nor any form of subsidies," Huen said.
Medical services are another challenge. Hsui has high blood pressure and suffers from other minor ailments, but he does not trust the medical services in Guangdong. Hsui won't travel to Hong Kong to see a doctor because he says his condition is not serious at this stage.
The New Home Social Service Centre, a public service foundation co-funded by the mainland government and donations, was set up in July to help mainlanders settling in Hong Kong and Hongkongers who work and live on the mainland. The fund has an annual budget of 100,000 yuan to help the elderly who have financial difficulties staying on the mainland and those who need help to return to Hong Kong.
"We've noticed that some Hong Kong elders are having a hard time in Guangdong," said Feng Ping, director of the centre's mainland affairs.
Feng said the fund complemented fruit money, with the system for distributing the latter taking time to implement. "Our fund is more a signal to call for society to care for immigrants in each other's places," Feng said.
The decision of many Hong Kong elderly to live in Guangdong reflected the close relationship between the two places, said Lu Huiqiang, deputy director of the Guangzhou Civil Affairs Bureau's welfare office, a government agency that deals with issues affecting the elderly.
According to Lu, many elderly Hongkongers have relatives in Guangdong.
"Only a few hundred live in homes for the aged. Most live in homes they bought or in their relatives' homes," he said.
Lu dismissed the notion that the distribution of fruit money would lead to policy changes in Guangzhou in dealing with an ageing society.
Homes for the elderly run by the government were not open to Hong Kong residents and private institutions still had spare rooms, Lu said.
Homes for the aged in Guangzhou can accommodate 31,000 people, or 2.6 per cent of Guangzhou's elderly, less than the targeted 4 per cent.
"If a lot of elderly people in Hong Kong come to Guangdong to live in institutions, we might have difficulty in taking so many in," he said. "The biggest problem is there is not enough space to build the homes as many residential communities would not want throngs of elderly living near them."
A senior management official of the apartment where the elderly couple live say it is difficult to find quality caregivers.
"Most of the caregivers are in their 40s. We can't find younger people who want to take care of the elderly," said Wu Chunhua, director of the personnel department of the Guangzhou Youhao facility.
Lu said it was difficult for homes for the aged to make a profit. The government is subsidising the institutions based on the number of people they house. The Guangzhou government wants closer co-operation with Hong Kong and is encouraging private enterprises to establish homes for the elderly and social service organisations to offer their expertise.
"We are considering learning from Hong Kong about standardised assessments to recommend whether or not an elderly person should go to a home and what level of service he or she needs," Lu said.
Cheung said most elderly Hong Kong people living in Guangdong could look after themselves. Once they lose their independence, however, many return to Hong Kong.
"The condition of elderly homes on the mainland is much better than those in Hong Kong. However, the elderly homes in Hong Kong are much better in terms of their attitude towards the elderly and the training of the caregivers," Cheung said.
This article appeared in the South China Morning Post print edition as: Fruit money for a ripe old age