Internet
Get more with myNEWS
A personalised news feed of stories that matter to you
Learn more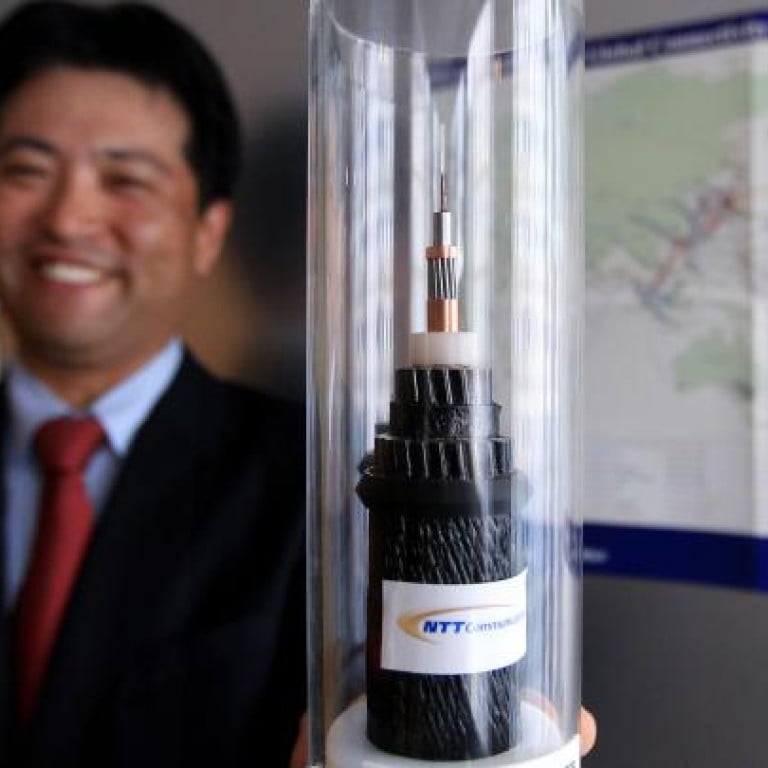 Asia's fastest undersea data cable to link to Hong Kong next year
The Asia Submarine-cable Express, which can transfer an entire DVD in two seconds, will serve Hong Kong from early next year
Asia's fastest undersea data cable has gone into service to help the region keep pace with rising internet traffic, the needs of financial markets and the growing reliance on "cloud" computing.
The 7,800-kilometre Asia Submarine-cable Express (ASE) is capable of transferring 40 gigabits of data a second - allowing, for example, a computer user to download an entire DVD in two seconds. And it has been designed to expand capacity further to be able to transmit at 100 gigabits per second.
"Internet traffic is booming. More and more people are using smartphones with 3G or even 4G networks which require faster broadband," said Junta Nakanishi, head of network engineering at NTT Com Asia, one of the four companies involved. "Considering that YouTube is now supporting 3D videos, in five years our current cable system may become outdated."
The other firms involved in the project are PLDT, the Philippines' biggest telecommunications firm, StarHub, Singapore's second-largest telco, and Telekom Malaysia.
Internet traffic can be slowed by the number of "hops" traffic has to make as it traverses different stretches of cable, and as it passes through different landing stations. The route for the new cable has been made as straight as possible to reduce the time it takes to get information from one end to the other to 65 milliseconds.
Not only is its capacity higher, a technology called wavelength division multiplexing enables signals to squeeze into fibres that are thinner and lighter than in older fibre optic cables.
Nakanishi said the cable - which connects Japan, Malaysia, Singapore and the Philippines and will serve Hong Kong from next year - transmits data 3 milliseconds faster than other cables.
The gain in speed may sound small, but it could prove critical to financial traders. So-called high-frequency trades have become common in the industry. They involve computers using complicated trading algorithms that track market conditions to make thousands of transactions in under a second. Whether a trade makes a profit or a loss often depends on beating the competition by a fraction of a second.
Speed is also crucial to the growth of cloud computing, under which internet users store their data and software applications online, instead of on their own computers. The greater internet connection capacity enables more information to be processed at a faster rate.
When the ASE links to Hong Kong early next year, it will be the tenth international data cable serving the city. It will begin serving Hong Kong next year, with the launch to coincide with the opening of the Hong Kong Financial Data Centre in Tseung Kwan O, Nakanishi said.
A data centre is a secure, temperature-controlled infrastructure that is built and equipped to house large-capacity server computers and enterprise data-storage systems, which are maintained with multiple power sources and high-bandwidth links to the internet.
The HK$3 billion Tseung Kwan O centre will be the largest and most advanced of its kind in Hong Kong and on a par with those in North America and Europe, according to NTT Com Asia.
At least two other undersea cables will begin serving Hong Kong in the next two years.
One is the 10,000-kilometre Asia Pacific Gateway (APG). Another is the South-East Asia Japan Cable, which will connect eight countries, and will begin serving Hong Kong next year.
One of the investors in the APG is Facebook, which says it will help boost the number of people in Southeast Asia using its social networking website.
Facebook's investment in APG was part of a trend of internet firms investing in online infrastructure, said Charles Mok, chairman of the Internet Society's Hong Kong chapter. In 2008, Google said it would invest in a US$300 million undersea cable called Unity between Asia and the United States.
Mok says the new cables should boost the region, as they will offer telecommunications firms more choice of bandwidth to buy, improved network performance, and eventually lower connectivity costs for the public.
Nakanishi, too, says he believes the new cables will lead to lower internet charges for Hongkongers.
"More telecom companies could come and invest in Hong Kong, making Hong Kong a regional hub in internet connection," he said.
Network security is another consideration. "Another cable also adds to overall network resiliency," Mok said. "Since undersea cable outages are quite common - due to earthquakes, shark bites, fishing trawlers - it's important to have multiple, overlapping resources available."
In March last year, cables were damaged by the powerful earthquake that struck Japan's northeast coast. NTT Com Asia said that half a million telephone circuits and 150,000 internet circuits malfunctioned due to subsea cable damage as a result of the earthquake.
To repair the cable network, operators had to send out ships equipped with remote-control robots that were able to dive to a depth of 2.5 kilometres.
An earthquake in 2006, off the southwest coast of Taiwan, severed several cables, severely disrupting telecommunications in Asia.
Nakanishi said that is why the ASE avoids the Bashi Channel, south of Taiwan. "We avoided the area around Taiwan, where earthquakes are common, and laid the route near the Philippines instead, making the cable very safe and reliable," he said.
The extension of the ASE to Hong Kong will require the laying of about 33.5 kilometres of cable in Hong Kong waters.
Its environmental impact would be minimal, Nakanishi said, with programmes in place to monitor water quality, marine organisms and fisheries.
"Many people think these undersea cables have the same width as oil pipelines, but actually they're very thin," he said.
The ASE could in future be extended to mainland China, Nakanishi said.
This article appeared in the South China Morning Post print edition as: Bringing the internet to you faster than ever