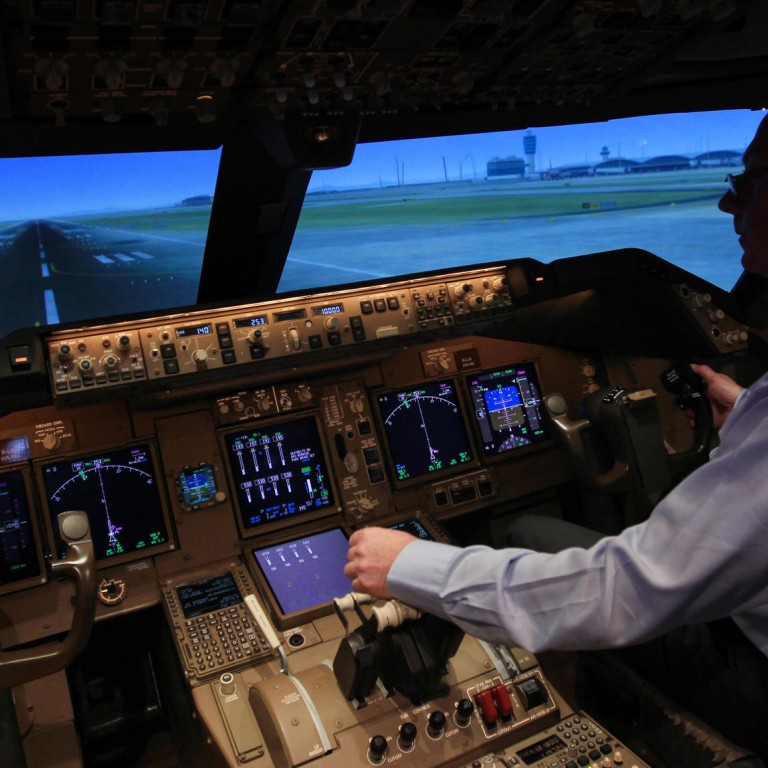 Cathay Pacific's state-of-the-art flight simulators ready for take-off
Cathay Pacific pilots will do less training in aircraft as flight simulators become more technologically advanced and realistic.
The airline has added two new Boeing simulators in the past two months to the eight existing machines in its training centre at Chek Lap Kok. One of them, the 747-8F cargo plane simulator, is the first of its kind in Asia.
"What you see [in the new simulators] is similar to the real thing. In the old ones, the hills look like triangles," the airline's simulator maintenance manager Edward Yan Sut-yim, said.
The addition to its training facilities is part of expansion plans by Cathay Pacific. This year the airline recruited 350 pilots to its training programmes, up by a quarter from last year.
The airline has ordered 99 Boeings and Airbuses for delivery by 2020; it currently has a fleet of 135 aircraft, some of which will eventually be retired.
The new simulators can replicate up to 400 malfunctions and reproduce the landing approaches of airports around the world. They use only 15 per cent as much electricity as older simulators.
"Some of the features that are now coming onto our new simulators will allow [training on aircraft] to reduce somewhat," simulator engineering manager Neil Cothran said. Pilots can get more credit for different kinds of training hours, such as landing and taking off in very bad weather, on a simulator than before, he said.
Training on aircraft is costly not only because it uses up fuel, said Cothran, but also because it means fewer aircraft can carry passengers or cargo. New pilots receive 90 hours of training on simulators before taking passengers. The Civil Aviation Department requires serving pilots to undergo simulator training once every six months.
The new cargo plane simulator will go into use next month.
The other new simulator, for the ultra-long-haul Boeing 777-300ER, is now being assembled and is expected to go into use in November after testing. Each costs about HK$130 million.
This article appeared in the South China Morning Post print edition as: State-of-the-art flight simulators ready for take-off