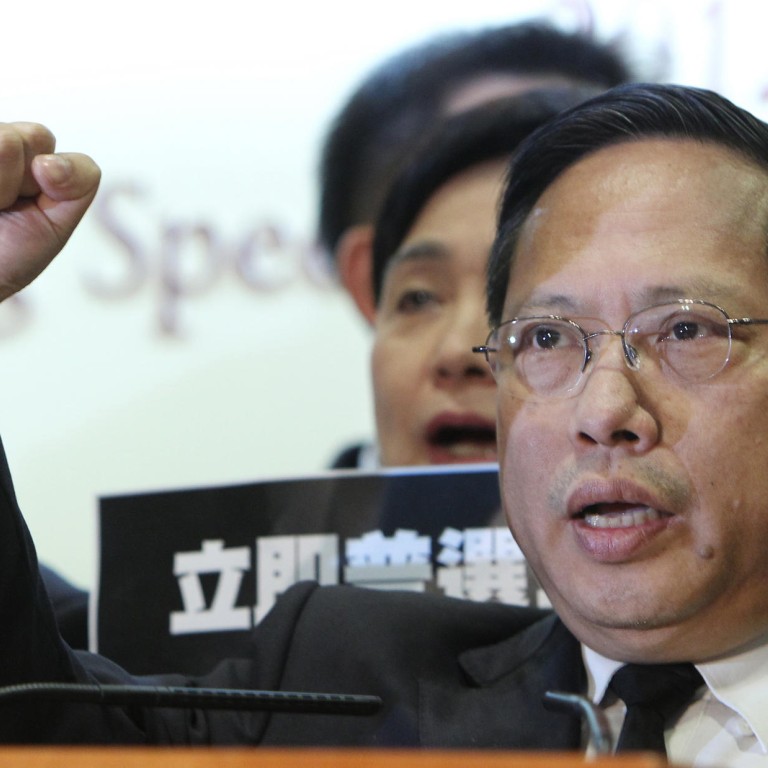 Deadline 'should not bar challenge to C.Y. Leung election win', court told
Counsel for losing candidate argues scandal over illegal structures is reason to allow petition
A statutory deadline for filing an election petition was not meant to bar people from challenging Chief Executive Leung Chung-ying' victory, the High Court heard yesterday.
Senior counsel Martin Lee Chu-ming was arguing on behalf of Democrat Party chairman Albert Ho Chun-yan, who came third in the election, against the argument put forward by Leung's lawyers that the court did not have the power to hear the case.
Ho accuses Leung of lying about illegal structures at his Peak homes, which were exposed by the media after the election, and has filed a petition to have his victory overturned.
Leung's lawyers say there is no case to answer as the petition was not filed within seven days of the election, as the law requires.
"Surely there is great public interest that the matter should be dealt with speedily, but of course it should not be burdened by the seven-day hurdle," Lee said. He stressed that the scandal over illegal structures at Leung's house became apparent only after the deadline, so the court should exercise its discretion to extend it.
"Someone who was not elected freely and fairly should not expect to remain in office for one more day," he said.
Mr Justice Johnson Lam Man-hon reserved his judgment. He will rule on whether the court has jurisdiction to handle the petition. A written judgment will be handed down at a later date.
Last month, the Court of First Instance dismissed applications lodged by Ho and radical politician "Long Hair" Leung Kwok-hung from the League of Social Democrats to launch judicial reviews of Leung's election victory, on the grounds that it should be dealt with by Ho's petition. Both have filed an appeal.
The two said the chief executive lied before the election period by saying there were no illegal structures at his Peel Rise homes. Six suspect structures were later uncovered by the media.
The two also said the fact that Leung attacked election rival Henry Tang Ying-yen over illegal structures at his family's Kowloon Tong home in a televised debate implied that Leung had made no unauthorised alterations to his house.
But Johnny Mok SC, for Leung, said yesterday that such a linking of the two statements was a "failure of logic".
Lam agreed that, using strict logic, the two statements could not be taken together to give rise to the alleged implication, but added: "People are not always logical."
Mok said the seven-day limit was carefully designed by the legislature to ensure any doubt about an election was resolved speedily. He said this did not mean that there was no way to pursue irregularity in an election after the deadline, saying that it could be done so through criminal prosecution.
This article appeared in the South China Morning Post print edition as: 7-day deadline 'no bar to Leung election challenge'