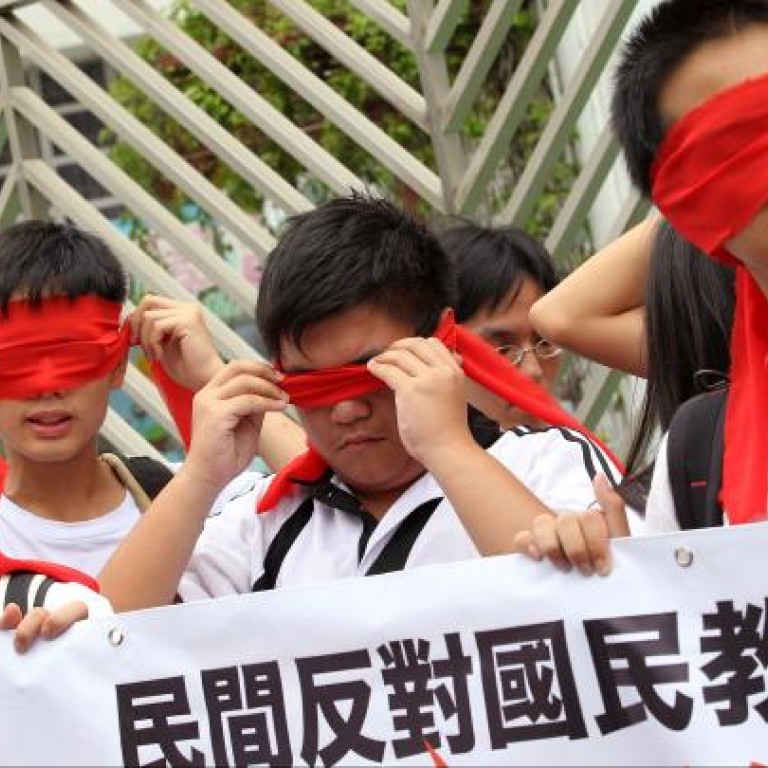 Survey finds 3/4 oppose national-education lessons
Youth association study finds three-quarters of parents and pupils against national education, almost the reverse of government consultation
Three-quarters of parents and pupils questioned in a large-scale survey say the controversial national-education curriculum should be withdrawn and a new consultation exercise held, despite government claims of majority support for the plan.
The survey was carried out by the Boys' and Girls' Clubs Association, which recommended last year that national education should not be taught as an independent subject when its executive director, Lilian Law Suk-kwan, was a member of a government committee overseeing a consultation exercise. The government claims most who took part in the consultation backed the classes, which will begin in primary schools next month.
"We think it is not suitable to be launched as an independent subject," said Eva Ho Yuen-wa, the association's assistant director. The association argues that schools should focus on civic education, incorporating universal values such as human rights.
It interviewed 1,995 secondary school pupils and 1,409 parents of primary-school children this month. Some 74 per cent of pupils and 77 per cent of parents said the government should withdraw the subject and carry out more consultation.
Some 72 per cent of pupils and 61 per cent of parents were against making national education a separate subject. Just 10 per cent of students and 23 per cent of parents supported it.
Secretary for Education Eddie Ng Hak-kim said in a television interview on Sunday that 65 to 70 per cent of those who responded in the consultation last year supported national education.
The government has not released detailed findings of its consultation, which ended a year ago, citing "privacy issues". It argues the subject will foster national pride and build pupils' understanding of China, but many opponents deride national education as "brainwashing".
Lam Wai-man, a member of the association's parents' groups said: "I worry whether it's because the government has policies it wants to launch, but it wants to educate us first." The mother of two primary-school children said some parents opposed to the subject were afraid to say so as they thought mainland relatives could be affected.
The subject will be compulsory in government schools from 2015. The first secondary schools will teach it next year before it becomes compulsory in 2016.
The association also asked which of 12 issues should be included in the new curriculum. Pupils ranked the 1989 Tiananmen Square crackdown top, while parents ranked it fourth. The Shenzhou IX space mission was ranked first by parents.
This article appeared in the South China Morning Post print edition as: Survey finds most oppose new subject