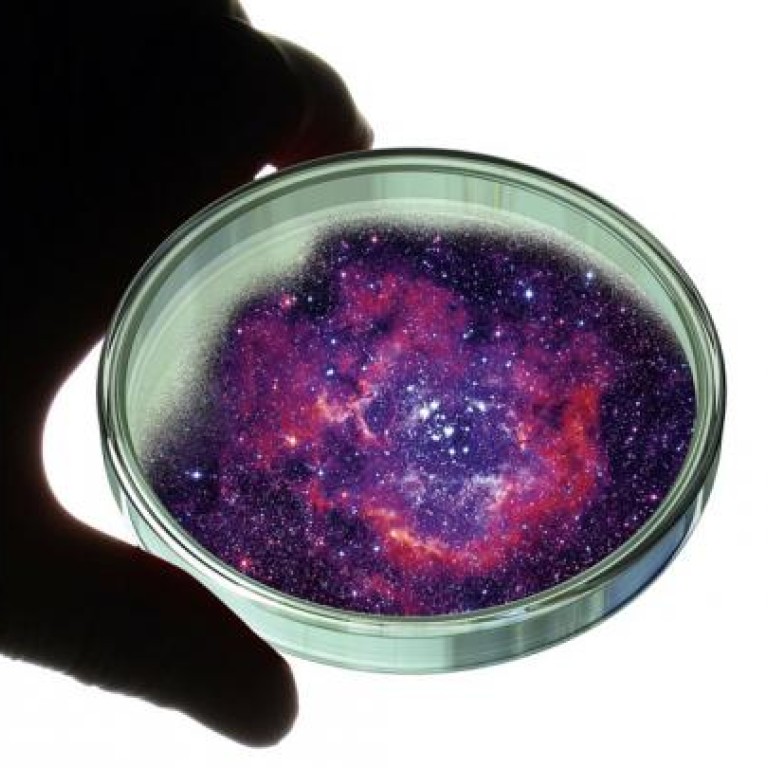 Alien life under the microscope
Hong Kong astronomer believes that micro-organisms offer humanity's best hope of finding extraterrestrial life
Neil Armstrong did not find them on the moon and the Mars probes have yet to meet them, but thousands of humans are still convinced there are aliens out there, somewhere.
And there is a strong belief that whatever these extraterrestrials are, they are cleverer than us and ready to lend a hand to help clear up the mess we have made of our world so far.
As mankind lurches from one crisis to the next, many feel that if we're the best creation has to offer then we are all in big trouble.
Professor Kwok Sun, the University of Hong Kong's dean of science, is a true believer. He is certain other life forms do exist, but dismisses the idea they resemble Steven Spielberg's loveable alien, ET, or that they will save the earth.
"It's not just my belief, it's also a perception most astronomers now have about the presence of life on other planets," the 62-year-old scientist said. "We are far more optimistic now compared with 20 years ago.
"I am not saying that we'll see extraterrestrials or any highly developed animals running about the place on a different planet. But micro-organisms are a totally different matter. They were the first things to appear on earth more than three billion years ago and it's quite possible they will be present on other planets too."
Last week, Kwok was elected vice-president of the International Astronomical Union's (IAU) bioastronomy Commission 51 in Beijing. The IAU was founded in 1919 with the aim of promoting and safeguarding the science of astronomy in all its aspects through international cooperation. With 10,000 members worldwide, it is funded by national governments.
Today's astronomy means more than pointing a telescope at the sky; it incorporates the latest principles of physics, chemistry and biology. Scientists working with Commission 51 search for evidence of life, past life or the chemistry that leads to life in the solar system, as well as looking for habitable planets that orbit other stars.
Kwok believes that within the next 50 years the commission's work and other research will bear fruit with the discovery of planetary micro-organisms. He pointed out that humans have only been on earth for 100,000 years, but bacteria have been around for much, much longer.
That's why astronomers are so hopeful of finding signs of life on other planets.
"It's become clear that life forms such as bacteria can survive in the harshest of environments and situations on earth; from the hottest deserts to the extreme cold of Antarctica," he said.
"We have never been as positive as we are now of finding life on other planets. And now we have the capability to travel the solar system to look for it."
It does not matter whether the evidence is of past life or life that is ongoing: any finding could be a profound one.
"On earth we have only one example of biology; how life works," Kwok explained. "But on other planets there could be totally different scenarios. We could have totally different biological systems based on the same principle of biochemistry. That would be hugely exciting and would open up amazing possibilities."
But finding them is not going to be easy.
"We have to be realistic. We can get to Mars, but relative to the solar system, that is just nearby. For now we can only learn what we can from the places we can reach."
Commission 51 is also involved in the discovery of other planets. Just 15 years ago astronomers knew only ofplanets in our own solar system but with new technology they were able to identify 700 more planets revolving around stars.
"At the moment these planets are unreachable, but just learning of their existence is already a great step compared with what we knew in the past," Kwok said.
"While it is only theoretical, some of these planets seem earth-like so there's no reason why they can't sustain life. But we won't be seeing an alien spaceship coming over the horizon any time soon."
Many professional astronomers started out as amateurs, but not Kwok.
In his second year of studying for an engineering degree at McMaster University in Canada he read the book Frontiers of Astronomy by astronomer and mathematician Fred Hoyle and decided the science was for him. Hoyle's book shows how astronomy is much more than observing the sky and uses the principles of physics to understand how the universe works.
It changed Kwok's life and in his third year of university he switched to studying physics. The engineering faculty was not happy as he'd been their top student for two years, but he'd made his mind up.
One of his tutors was Dr Bertram Brockhouse, who later won the Nobel Prize in physics in 1994. After McMaster, Kwok went to the University of Minnesota to study astronomy and set his eyes on the world's first infrared telescope.
Since then Kwok has forged an international reputation and has been a guest observer for many space missions, including the Hubble Space Telescope and the Infrared Space Observatory.
Between 1994 and 2006, Kwok served as the Principal Investigator for Canada in the international submillimetre-wave satellite Odin, launched in 2001.
He is the author of several books, including the best-selling Cosmic Butterflies, published by Cambridge University Press in 2001, and Physics and Chemistry of the Interstellar Medium, a standard textbook used in many leading universities in the world.
"To leave engineering was one of the best decisions I've ever made and I've never regretted it," he said.
"I've benefited in so many ways. Astronomers have been very fortunate that in the past 30 years governments all over the world have invested many billions of [US] dollars to build telescopes and spacecraft, allowing us to make remarkable discoveries."
This article appeared in the South China Morning Post print edition as: Alien lifeunder themicroscope