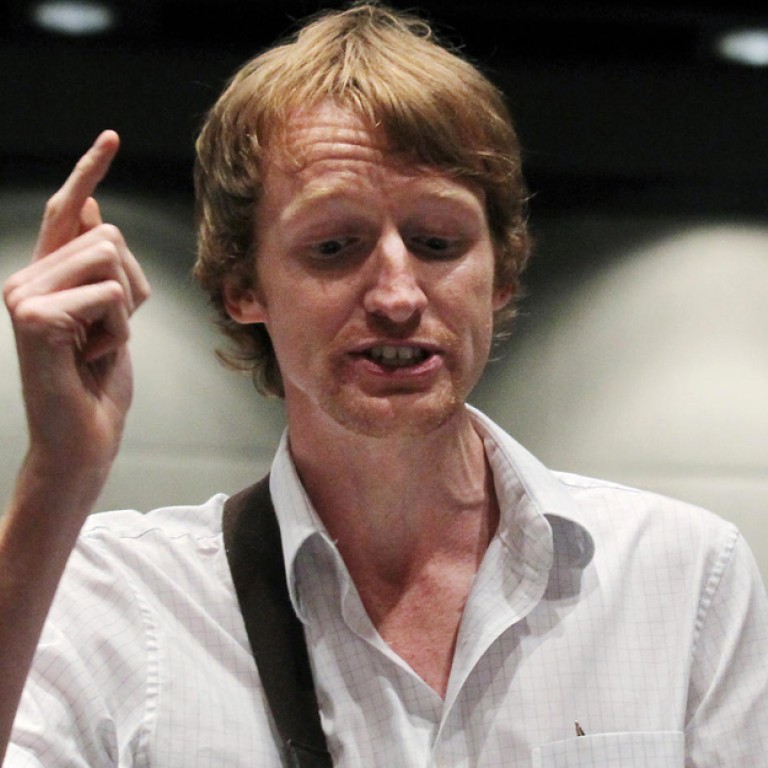 Website makes cash award to HK activist who tried to arrest Tony Blair
An activist who tried to make a citizen's arrest in Hong Kong of former British Prime Minister Tony Blair earlier this year has pocketed £2,420 (HK$29,700) for his trouble.
Briton Tom Grundy, 29, received the cash windfall from a website dedicated to rewarding those who attempt to bring Blair - who was British prime minister between 1997 and 2007 - to book for what they claim are war crimes relating to the invasion of Iraq, which action led to the deaths of thousands of civilians.
The site -
ArrestBlair.org
- was set up in January 2010, by the English writer and environmental and political activist George Monbiot and offers a reward to people attempting a peaceful citizen's arrest of Blair. Money donated to the site is used for no other purpose than paying bounties for such attempts.
"I contacted George Monbiot in June. I didn't think I'd be eligible, as it occurred on foreign soil - but it turned out I met their conditions and received the bounty this week," Hong Kong-based Grundy explained. "I don't think it's a problem what people's motivations are as long as they meet the aims of the campaign. The hope is this will happen to Blair… wherever he goes in the world."
Grundy confirmed all the money he received will go to various charities, including The Palestinian Centre for Human Rights, West Sahara Resource Watch and Democracy Now.
Blair was in Hong Kong in June to answer questions on the impact of faith and globalisation. He was giving a lecture at the University of Hong Kong to inaugurate a partnership between the Tony Blair Faith Foundation's global network of universities and HKU's Faith and Global Engagement Initiative.
He had only just taken to the stage when Grundy approached him from the packed auditorium and shouted: "Mr Blair, I'm conducting a citizen's arrest for crimes against peace under the Hong Kong power 101 law." The number refers to a section of the Criminal Procedure Ordinance.
Grundy got to within a few feet of the podium before Blair's two personal bodyguards intervened, but the activist stood his ground and continued to berate his target. He eventually left the auditorium of his own accord.
Grundy's payout comes in the same week that Archbishop Desmond Tutu withdrew from the Discovery Leadership Summit at the Sandton Convention Centre in South Africa because of Blair's attendance at it. It is unlikely he'll be seeking a similar payout.
Blair denies being a war criminal.
This article appeared in the South China Morning Post print edition as: Payout for HK activist who tried to arrest Blair