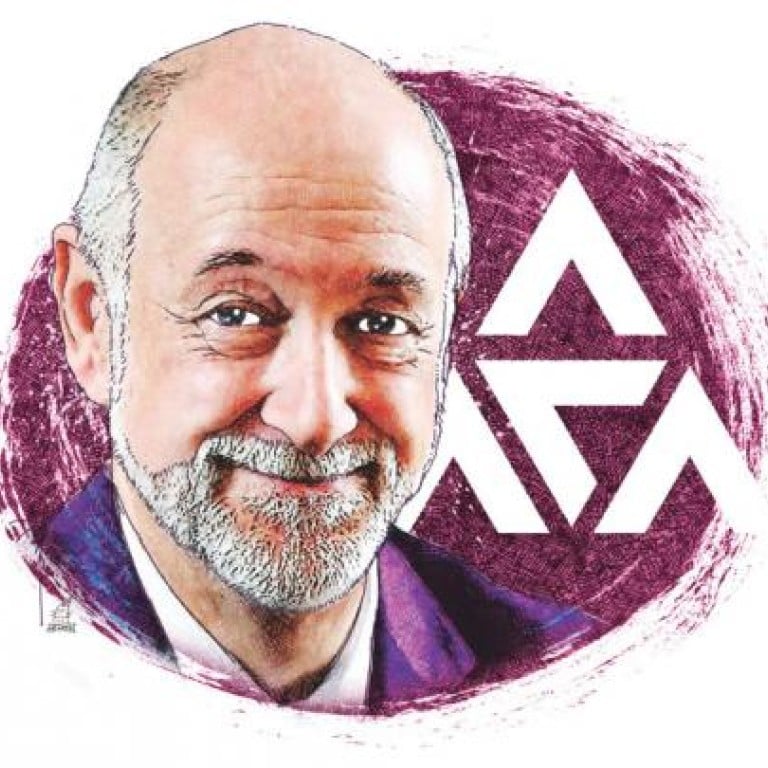 New chief Adrian Walter has big plans for HK Academy for Performing Arts
Adrian Walter has bold plans for performing arts academy, including raising its profile in the city and setting up a cultural policy centre
When Professor Adrian Walter says that he is excited about his new role as the director of the Hong Kong Academy for Performing Arts, he really means it.
During an almost two-hour interview, the 56-year-old talks excitedly, without taking a sip of water, about his master plan to revamp the academy during his four-year tenure.
"We are being asked too often what we do. We need to make it clearer. A lot of the misconceptions about what we have or have not done is the result of bad communication," says the educator and classically trained guitarist.
Walter is arriving at an important time, not least because he thinks this is a "golden age" for the HKAPA. Founded in 1984, it is now looking into making changes, with its first strategic position review drafted.
The review's recommendations include positioning the academy as a "top-tier institution in the region" with an emphasis on further developing the schools of music and theatre and entertainment arts, stepping up efforts in branding and fund-raising, and strengthening the HKAPA's connection with the cultural sector. It also highlights other issues such as raising students' artistic standards.
Walter was chosen for the job partly because of his experience in restructuring institutions since the 1990s, including four years at Charles Darwin University (CDU) in Australia as its first head of the school of creative arts and humanities, and dean of CDU's faculty of law, business and arts. From 2008 he was head of the school of music at the respected Australian National University (ANU) in Canberra, his last position before coming to Hong Kong.
Walter says the HKAPA review is a useful first step.
"It is like a road map. We need to identify our areas of strength, to know what we're good at."
Well aware of the many challenges that lie ahead, he already has some big ideas. He talks of developing sustainable partnerships with institutions locally and around the region, in particular on the mainland.
He also talks about the HKAPA's role in producing not only star soloists, but also an ensemble of graduates that will be the first choices of the nine major performing-arts groups.
He is keen to "engage in a dialogue" with the West Kowloon Cultural District and wants to set up a centre for cultural policy within the next four to five years.
"We might even do consultations for the government. Governments tend to think universities are not pragmatic enough, and that they want to turn everything into research output and publications," he says. "But we are not driven by that. Our interest in research is about what we do, and how we can inform the cultural sector."
As a guitarist, Walter has performed in many parts of the world. He was the first Australian to perform at the Russian Guitar Festival, and has given master classes and lectures at the London's Royal College of Music and the Beijing Conservatory. He has also commissioned many new works from accomplished and emerging composers.
But his appointment was not without controversy. Walter was accused of keeping the restructuring plan of ANU's music school from staff, as it could lead to job cuts.
His appointment to the HKAPA in May came as a shock to faculty members in Canberra. The HKAPA council was not aware of the controversy at the time it appointed him.
Walter, married with two grown-up children, says he was attracted to the HKAPA because of its emphasis on performance, which he says is a greater passion than research.
"ANU [regarded as Australia's leading research university] wanted the school of music to be more engaged in academic research, to harmonise with the philosophy of the university as a whole.
"That means significant changes to how the school is structured. There'll be less focus on performance and more emphasis on the academic side of the programme," the professor says.
"Staff are comfortable in their areas, so when they feel there's a change in the wind, they feel threatened. The main lesson of that experience, again, is better communication."
He says that after talking it through with the staff, they had a better understanding and will be able to find a new role in the new structure. He says that though he is no longer part of the school's restructuring, he still serves as an adjunct professor at ANU to offer advice. He will be publishing a book on 19th century guitar with the university next year.
The HKAPA has about 750 full-time students, while another 800 undertake junior programmes each year. The academy receives an annual subvention of HK$236.2 million from the Home Affairs Bureau, though there have been talks about transferring oversight of the HKAPA to the University Grants Committee. Walter says that he will work on developing indicators of the academy's performance, "to show that we are accountable for the funding".
In the review's indicative budget, it is estimated that the academy's total expenditure is about HK$336.8 million, with a shortfall of HK$288.6 million to be covered by government funding as well as other sources. Walter says that strengthening the academy's fund-raising ability will be one of his major tasks, and he will begin with a better branding strategy. For this purpose, he will set up a committee that will draw on council members' expertise.
Walter is also keen to exploit new strategies to market the academy. Besides developing a smartphone app to showcase students' works, Walter would like to use the academy's façade to show the public of what is going on at the HKAPA .
"I'd like to put a big screen outside showing what's going on in the rehearsal room. There's a bus stop [on Gloucester Road] where we can have a ready audience," Walter says with excitement. "How could they not watch it?"
Adrian Walter
Age 56
Currently Director of the Hong Kong Academy for the Performing Arts.
Previously Artistic Director for bi-annual Darwin Guitar Festival for eight years since 1999.
2008 Head of School of Music, Australian National University.
2006 - 2008 Professor and Dean, and Acting Head of Faculty of Law, Business and Arts, Charles Darwin University.
2004 - 2005 Inaugural Head of School of Creative Arts and Humanities, Charles Darwin University.
Education 2008 Doctorate, Charles Darwin University.
1985 Graduate Diploma in Education from South Australia College of Advanced Education.
1984 Bachelor of Music (Hons), Elder Conservatorium from University of Adelaide.
Personal Married with two children.
This article appeared in the South China Morning Post print edition as: Stage set for a new creative vision