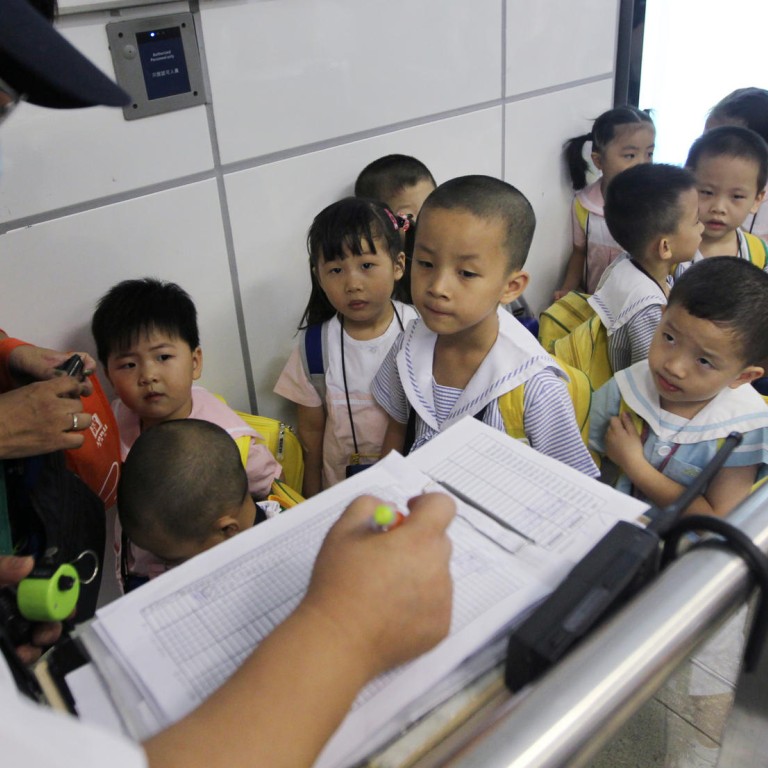 Lo Wu closed-border quota upsets parents of children studying in city
Mainlanders whose children study in Hong Kong left scrambling for school bus permits as Lo Wu keeps limit on passes
Some cross-border pupils were unable to start school yesterday because they lacked permits that enable them to reach their school buses waiting in the boundary closed area.
Their parents, who had been campaigning for an increase in the quota of closed-area permits available at the most popular crossing point, Lo Wu, were caught out when no change was made, and had to make last-minute applications at Lok Ma Chau, where they now face a wait of up to two weeks for approval.
In the meantime they could use public transport, but parents are unwilling to take this because of cost, time and safety concerns.
While the number of cross-border pupils has increased by 30 per cent this year, the permit quota at Lo Wu has been kept at 2,600. At Lok Ma Chau, which has more space for the buses, it has been raised from 4,000 to 4,600.
A representative of a parent group that has campaigned for more permits and curbs on soaring school bus fees says he and his wife have no time to escort their children, aged three and five, to school through the regular immigration channel and by train to their schools in Sheung Shui.
"My wife and I have to work every day," Calvin Wang Xixu said. "It is impossible for us to take hours off work to take our children to and from Hong Kong twice every day."
When their Lok Ma Chau permits are approved the journey will be 40 minutes longer than through Lo Wu, where they live near the crossing point.
From this year, the permits - which give direct access to Lo Wu Station Road and the public transport area at Lok Ma Chau - have to be applied for through the "nanny bus" companies, which have almost doubled their fees amid growing demand.
Parents protested in July against the increase from HK$600 to HK$1,100 a month, calling for more buses and a bigger permit quota.
"The government should add more buses and widen the quota of permits to accommodate the rising demand," Wang said. "More nanny buses will also lower the prices."
Wang also suggested that the government should allow for more frequent bus schedules at the Man Kam To crossing to ease the flow at Lo Wu.
Immigration Department spokesman Angus Leung Siu-kei said new features had been implemented at the border for pupils. "We are aware of the increasing flow of cross-boundary students. We have implemented e-channels and counters specifically for cross-boundary students at Lo Wu," Leung said. "We are also trying out on-board immigration for nanny buses at the Man Kam To and Lok Ma Chau borders to ease the heavy flow."
The police, in charge of issuing closed-area permits, did not immediately respond to questions about their distribution.
This article appeared in the South China Morning Post print edition as: Border quota upsets parents