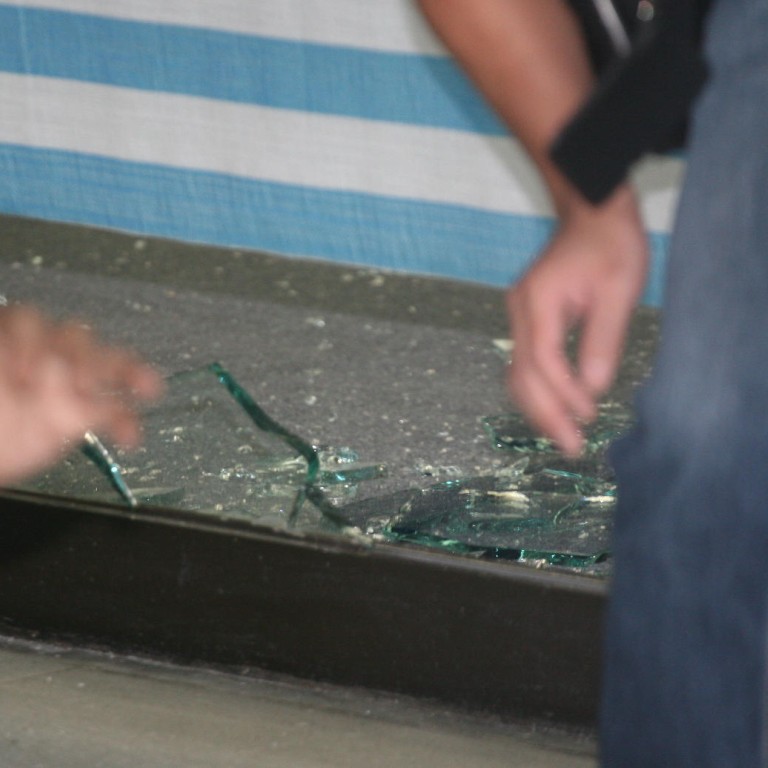 Armed masked trio damage Sing Tao's Tsim Sha Tsui office in second attack
Three masked men with axes damaged Sing Tao News Corporation's office in Tsim Sha Tsui yesterday - only five days after a car smashed into the firm's Shau Kei Wan headquarters.
The two attacks have prompted the company to step up security measures.
Yesterday's attack targeted the Sing Tao Centre, on the upper ground floor of Wing On Plaza in Mody Road, at about 11am. The office is used to collect advertisements and for gift redemptions.
One of the three assailants marched into the shop and struck the wooden counter with an axe two times after ordering two women employees to step away, police said.
"It's none of your business and go away," he told the two employees, according to a police officer. Two attackers stayed outside, using axes to smash two large glass windows next to the entrance, before all three fled.
Police said the three men wore face masks and caps to hide their identities. No employees were injured, and officers found two axes at the scene.
"Because the two cases happened one after another in a few days, it appears we were the target of [deliberate] attacks," a Sing Tao News Corporation spokeswoman said. Describing the attacks as "serious" and "unacceptable", she said security would be improved.
The Hong Kong Journalists' Association denounced the attack as "an apparent threat to press freedom".
Last Thursday, a stolen car was used to ram into the lobby of the Sing Tao building in Sha Kei Wan, damaging two large plate-glass windows in a pre-dawn attack. The car was later found abandoned and burning.
Police said the company had not received any threats or warnings before the attacks.
Sing Tao News Corporation publishes , and .
On August 8, four masked men marched into the office of another newspaper organisation - InMedia - in Wan Chai, smashing computers and a TV.
This article appeared in the South China Morning Post print edition as: Masked trio attack secondSing Tao News office