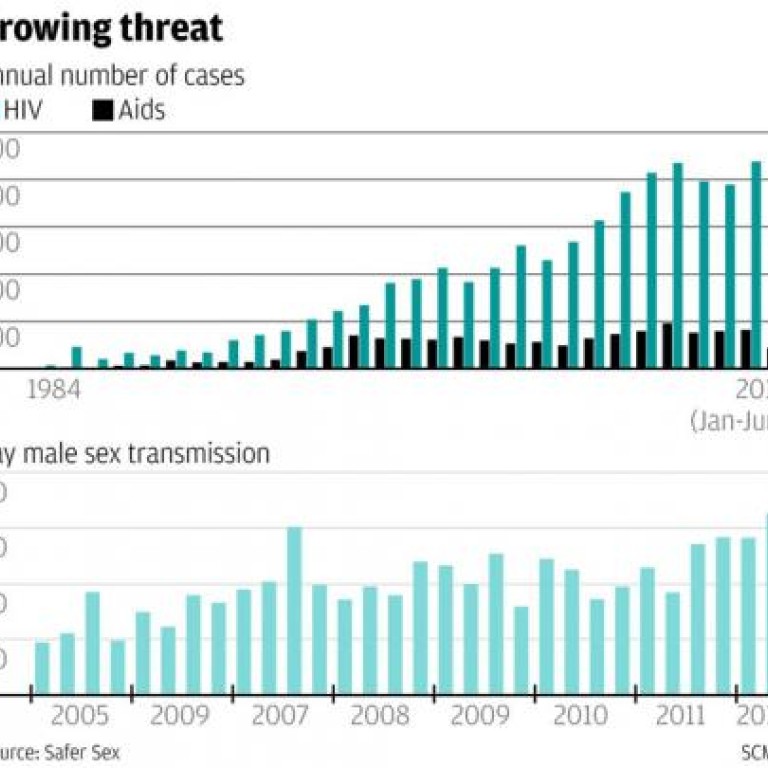 Record rise in new HIV infections in second quarter
Health officials call for better sex education, after worrying spike in younger men infected
New HIV cases in Hong Kong hit a quarterly high of 131 - the most since the virus was identified in 1984 - with male homosexual contact cited as the main factor by health officials.
An Aids support group criticised the ease with which social media and mobile technology now facilitates online contact, which may lead to sexual encounters.
The changing dynamics of the city had allowed for more sexual contact in recent years, Aids Concern spokeswoman Panda Cheung Yin-mei said. "Under the influence of social media, it is much easier for homosexuals to find sexual partners online and through smartphone applications," Cheung said.
The new record, reached between April and June, brought the total of HIV infections to 5,523, the Health Department said. The previous biggest quarterly rise in cases - 125 - occurred in the third quarter of 2007.
There were 122 new cases between January and March this year.
"The first half of this year already shows more than 250 cases," said Dr Wong ka-hing, consultant at the Centre for Health Protection. "Following the trend, we might see more than 500 cases this year, exceeding last year's 438 recorded cases."
Male homosexuals having sex remains the main means of transmission of HIV, the virus that causes Aids.
Of the new cases in the second quarter, 59 involved men who have sex with men (MSM), up from 52 in the previous quarter and compared with about 20 such cases for the whole of 2005.
Wong called for improved sex education. "Sex education is not sufficient or specific enough for MSM. We must educate them in practising safe sex."
A large number - 41 - of those newly infected through male homosexual sex in the first half of the year were young (aged 20 to 29), compared with 28 infected in that age group in the second half of last year.
"The younger generation are not as informed as their older counterparts [about sexually transmitted diseases]," Wong said. "They are not aware of the importance of preventive measures."
Cheung said: "Not only should we educate the younger MSM group in protection, we aim to boost their self-confidence and esteem so they can have open discussions with their partners about safe sex."
Wong suggested high-risk groups, including MSM, injecting drug users, prostitutes and men who use their services, use condoms and undergo HIV tests every six to 12 months.
This article appeared in the South China Morning Post print edition as: HIV cases rise most since disease first discovered