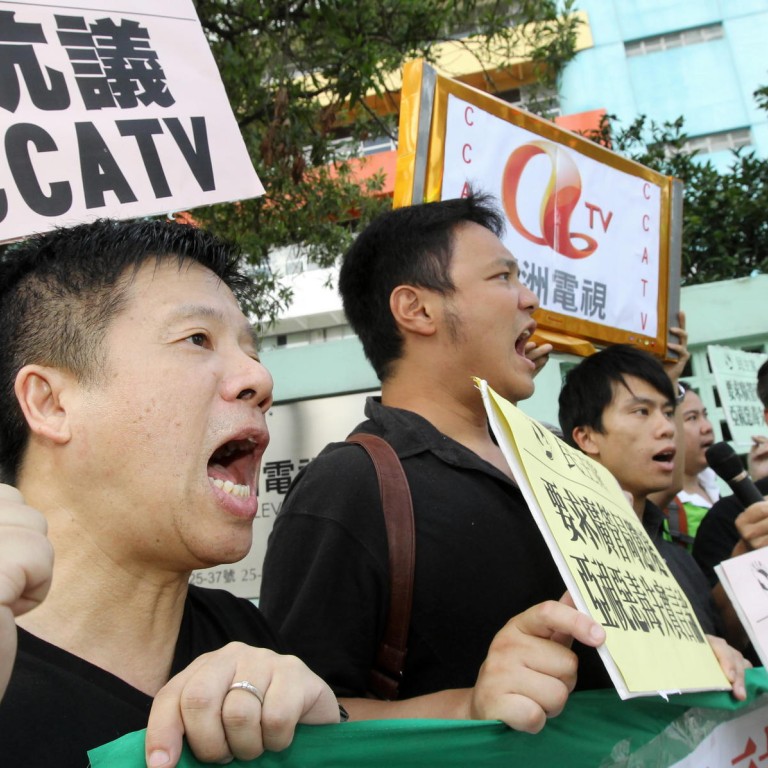 10,000 complain over ATV programme calling Scholarism a 'pawn'
10,000 complain over commentary accusing Scholarism of being 'pawn' of pan-democrats
An ATV news commentary attracted a record high of more than 10,000 complaints for claiming opponents of national education were manipulated by "destructive" politicians who had the backing of London and Washington in the Legco elections.
On
Monday's episode of
, the narrator said local student-activist group Scholarism was only a pawn controlled by the "destructive" camp to boost poll support this weekend.
"These teens are very poor at playing politics. They are in fact merely wilful young ruffians," said the narrator, whom the show did not identify. The programme carried a disclaimer saying it reflected only the host's view.
Last night, the show continued its attack on Scholarism.
The Monday clip was widely circulated online, with many web users urging people to complain to the broadcasting regulator. The communications authority said it had received more than 10,000 complaints that accused the programme of broadcasting untrue and biased content.
This was far more than the 1,629 complaints against the appearance of singer Gillian Chung Yan-tung on a 2008 TVB charity show after a sex-photos scandal involving her rocked the city.
The authority's code of practice says free-to-air television licensees shall ensure their programmes are accurate and impartial. Shows that air personal views should allow a broad range of opinions to be expressed.
Ronald Chiu Ying-chun, chairman of the News Executive Association, feared ATV had breached the code of practice on impartiality and he demanded an explanation.
An ATV reporter was booed as she covered the protest against national education outside the Admiralty government offices. Scholarism convenor Joshua Wong Chi-fung said he was disappointed with the programme for broadcasting falsehoods.
It is understood that the programme is under the charge of Louie King-bun, a former senior editor of leftist newspaper , which ran a front-page report with a tone similar to that of yesterday.
An ATV spokesman said freedom of expression and of the press should not be infringed, and hoped everyone's views could be respected.
Meanwhile, it was understood that Popeye Fung Siu-ning, chief editor of ATV news, resigned last night.
No mainland newspapers reported on the hunger strike. But a report on
netease.com
drew more than 23,000 comments, some supporting the protesters.
This article appeared in the South China Morning Post print edition as: Fury over ATV attack on student protest group